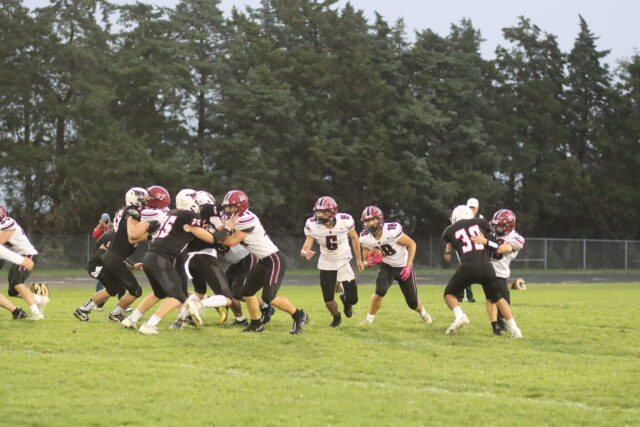 Carter Siebert #18 rushes for 154 yards and scores three touchdowns in the Heartland Huskies win over Sutton Friday night.

It was a misty night in Sutton with wet conditions on the field, but the Heartland Huskies managed to keep their balance and beat the Sutton Mustangs on their home turf 18-12. Last year, Heartland blew out Sutton at home, but prior to that, they hadn't been on their schedule for some time. Even so, it's still considered a rivalry game, according to Heartland Coach Lindsay.
"Last night, we played much better offensively. We spent all week practicing cleaning up our mistakes from last week," said Coach Lindsay. It was the Mustangs who scored first, but the Huskies capitalized on a Mustang fumble that led to a touchdown run in by Carter Siebert. Neither team made their extra points, so the score was 6-6 by the end of the first quarter.
"Our defense really stepped up after the first quarter and played with a 'bend but don't break mindset,'" said Coach Lindsay. The Huskies were able to stop Sutton on a fourth down play at their 22-yard line to start the second quarter. That stop set up the Huskies for a 57-yard run by Carter Siebert for a touchdown. The extra points attempt was no good, so the Huskies led the game at 12-6.
The next series of plays by both teams was full of penalties, but the Mustangs scored on a recovered fumble of their own. They were unable to convert on the extra points attempt, and the score was all tied up again at 12-12.
The wet conditions, making for a slippery ball, hampered the Mustangs more than the Huskies. The Mustangs fumbled the ball at the 18-yard line with 1:30 to go in the first half, and the Huskies recovered it. Heartland quarterback Hudson Regier kept the ball and made a first down near the goal line. Siebert dashed in for the touchdown with 28 seconds left in the half and the extra point conversion was no good. The score at halftime was the Huskies leading 18-12.
The second half remained scoreless for both teams. The Huskies' defense came up big, stopping the Mustangs on fourth down in the third quarter and forcing an incomplete pass near the goal line. The Huskies fumbled the ball with the Mustangs recovering it with about five minutes left in the game.
Another great stop by the Huskies prevented the Mustangs from scoring. Heartland took over on the Mustang's failed fourth down attempt and kept control of the game, running out the clock as they took a few knees, winning the game 18-12.
"We had moments of adversity, but the boys battled through it and never gave up. We didn't play perfect, but I thought our effort was perfect throughout the game," said Coach Lindsay.
Game Stats
RUSHING:
HEARTLAND – 248; SUTTON – 225
PASSING:
HEARTLAND – 26; SUTTON -108
RUSHING CARRIES:
Carter Siebert – 19 – 154 yards – 3 TD's
Hudson Regier – 16 – 87 yards
Kaleb Ostrander – 5 – 7 yards
RECEIVING CATCHES:
Carter Siebert – 1 – 18 yards
Andrew Franz – 1 – 8 yards
TACKLES:
Sam Quiring – 21
Hudson Regier – 19
Carter Siebert – 12
Andrew Franz – 9
Nick Thieszen – 8
Photos courtesy Deb Mierau