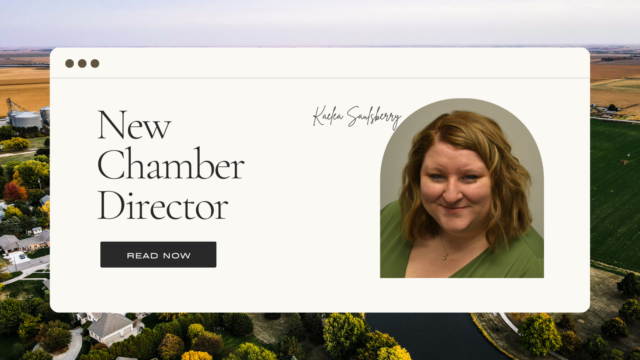 Written by Shannon Siebert
The Henderson Chamber of Commerce has hired Kaelea Saulsberry as their new full-time executive director. She hit the ground running, starting the job on December 27th and meet business community members. According to Henderson Chamber of Commerce president Jami Schmidt, she brings a wealth of experience and enthusiasm to the job.
"She loves helping people, partly because she was interested in taking this position and leaving her remote job at Nelnet. Judy Epp has been doing a phenomenal job working part-time at the chamber for the past year, but our goal was to find someone who could work full-time to help promote and grow our chamber businesses. I think Kaelea brings a lot of fresh new ideas and work experience to walk alongside our business community," said Schmidt.
She and her husband, John, are new to Henderson but have enjoyed attending community events and getting involved. They moved to Henderson relocating from Eagle, Nebraska, this past April after purchasing a home here. Before taking the chamber job, Saulsberry had worked remotely for Nelnet in their financial management division for the past two years.
Initially, Schmidt had contacted Saulsberry about being put on the nomination ballot to become a chamber director. She saw the sign at City Hall advertising the full-time Executive Director position and asked if it was still open. It was, so she removed her name from the director's ballot and applied for the executive director position at the Henderson Chamber of Commerce.
Her previous job at Nelnet was as an Account Manager for tuition management, serving private and parochial schools. "I was involved with sales, customer service, and technology for this job. Before that, I ran my own non-profit and a graphic design firm, so I hope to utilize all my past work experience for the chamber," said Saulsberry.
She and her husband's journey to Henderson were partly due to the current hot housing market. They had been in the market for purchasing a home in the Lincoln area for about three years and weren't having any luck with the competitive bidding process, so they changed directions and opened their search outside Lincoln.
Since they both worked remotely, relocating anywhere in Nebraska was in the mix. "The house we bought here checked all the boxes, had everything we wanted, and we felt like God was pulling us to Henderson. So here we are," said Saulsberry.
Her husband formerly worked at Nelnet remotely and is currently a Vendor Contract Manager at Cornerstone Bank in York. They have been foster care parents for the past six years and especially enjoy helping little ones who need support or get lost in the system.
She is a Nebraska native, and since her father was a school superintendent, her family moved around the state living in the Sandhills, the Fremont area, Nebraska City, and Lincoln.
Stop by the City Hall and warmly welcome Henderson's new Executive Director, Kaelea Saulsberry!