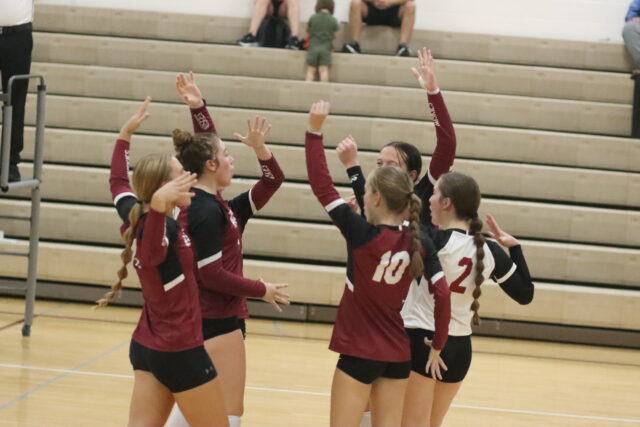 Heartland teammates celebrate during volleyball action this week at home.

The Heartland Huskie Volleyball team had a workout this week with two matches played at home. They hosted the Hampton Hawks on Tuesday, September 19th, and lost in five sets 2-3 (25-22, 21-25, 20-25, 25-16, 9-15). On Thursday, the McCool Junction Mustangs came to town, and the Huskies swept them 3-0 (25-7, 25-23, 25-14).
Hampton Match
The Huskies got off to a hot start behind Isabel Johnson's serving run, but the Hawks came back and kept the first set close. The Huskies had a six-point lead at 18-12, but the Hawks kept creeping closer, and Coach Brown called a timeout when the score was 22-19. The Huskies prevailed and won the first set 25-22.
The second set was a close one with a few long rallies and two consecutive aces from Mariah Tessman. The Huskies had the set tied at 21-21 but were unable to fire up any offense, and Hampton won 25-21. The match was tied at 1-1 with more volleyball to be played.
Set three was a battle, with a few lead changes early in the set, but the Hawks started gaining momentum and were leading 20-16. They were able to keep the lead and beat Heartland 25-20. The Hawks were leading 2-1.
The Huskies got off to a great start in set three behind two aces by Mierau and kills by Goertzen and Mierau, making the score 7-2. The Huskies forced Hampton to call a timeout when they were leading 10-3. The Huskies never lost the lead and won the set 25-16. The match was tied at 2-2.
Set five looked early like it might belong to the Huskies when they were leading 5-2, but the Hawks never let up. The Huskies allowed the Hawks eight unanswered points and called a timeout at 7-12. They lost 9-15, and the visiting Hampton Hawks won a closely contested match at Heartland.
Kills:
Mierau – 12, Boehr – 11, Klein -7, Goertzen – 5
Aces:
Isabel Johnson – 5, Tessman -4, Mierau -3
Digging
Johnson – 33, Mierau – 19, Epp – 17, Tessman – 11
Photos courtesy Deb Mierau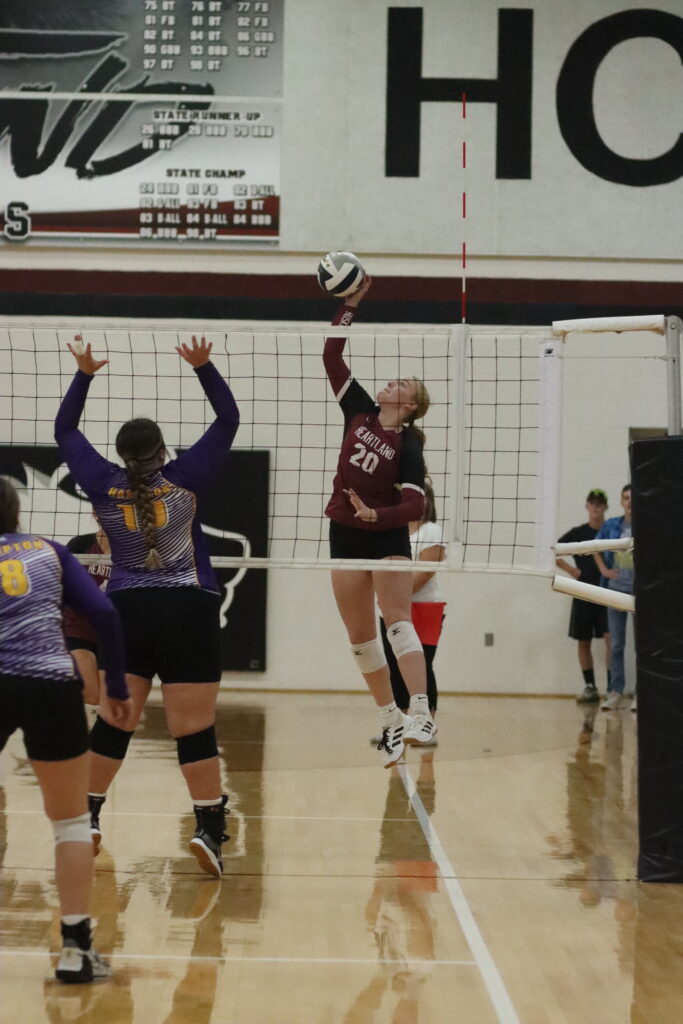 McCool Junction Match
The first set was all Heartland, giving them a lopsided win at 25-7. Mierau jumpstarted the set, serving for five straight points, giving the Huskies a commanding lead at 6-1. Set two was a different story, with the Huskies finding themselves down 1-7 before they woke up and found their offense.
They finally tied up the set at 13-13, and there were two other ties at 15-15 and 20-20 before the Huskies finished the set winning 25-23. In set three, the Huskies led by as much as nine points at 21-12 and finished off their sweep of McCool 25-14.
Kills:
Mierau – 6, Boehr – 5, Goertzen – 5, Klein – 4, Jahnke -1, Tessman -1
Aces:
Mierau – 4, Klein – 3
Photos courtesy Deb Mierau