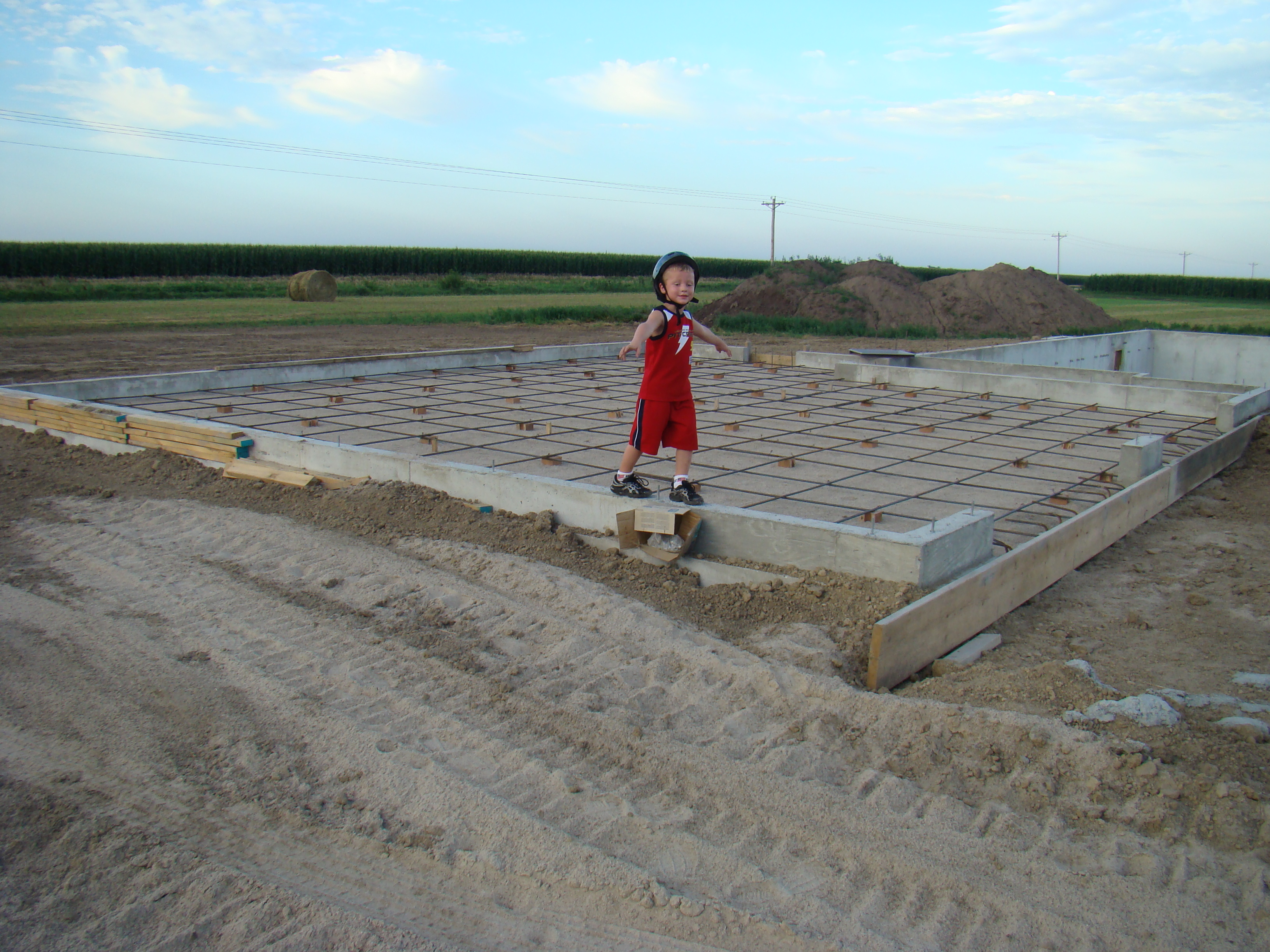 We have had an exciting week. The excitement started on Monday when we were trying to leave for vacation. The week concluded with a complete basement floor and a whole lot of dirt.
The construction action began when our family was packing up to leave for vacation. First, we had a crew arrive on our yard to hook our current home up to the city sewer (that project had started on our yard in March and not been touched since). Meanwhile, across the road, a crew arrived to pour our basement floor. We were glad we got to witness the action before we left, but it also increased the chaos of our getaway.
As I did a final baggage check, Jim talked to the workers on both sites and took pictures of the pour. The building site was buzzing with workers. The plumbing lines were being laid on one side of the basement, while a crew worked on the pour on the other side. The pour began in one corner of the basement. As soon as the cement was poured, workers used tools and a smoothing machine to create a level surface on the floor. They poured in sections, smoothing as they went. We didn't stick around to see the entire pour, but I've been told float boards are used in the end to smooth out the final corners of the basement floor.
Our floor dried in the hot sun while we were gone. When we returned on Thursday, we were greeted by a bunch of big dirt piles on the South side of the site. Since then, a lot of dirt moving has been going on around the foundation to ensure that the water will run away from our house when the rain falls. I laughed out loud when we drove by Saturday night, because the current piles make our site look like a compound protected by a dirt pile fence.
As far as other house projects, our garage floor is braced with rebar and is ready to be poured. The front porch will be saved for a later time. I also did a little more work to keep my kitchen on the front burner. I met with my kitchen designer to ensure we are still on the same page. Then, Jim and I had a date to another appliance store to try to narrow down our appliances. We are currently comparing two brands. The appliances greatly impact the design of my kitchen so it is essential that I have a clear idea of my selections.
Nora Ohrt
Comments
comments
Powered by Facebook Comments