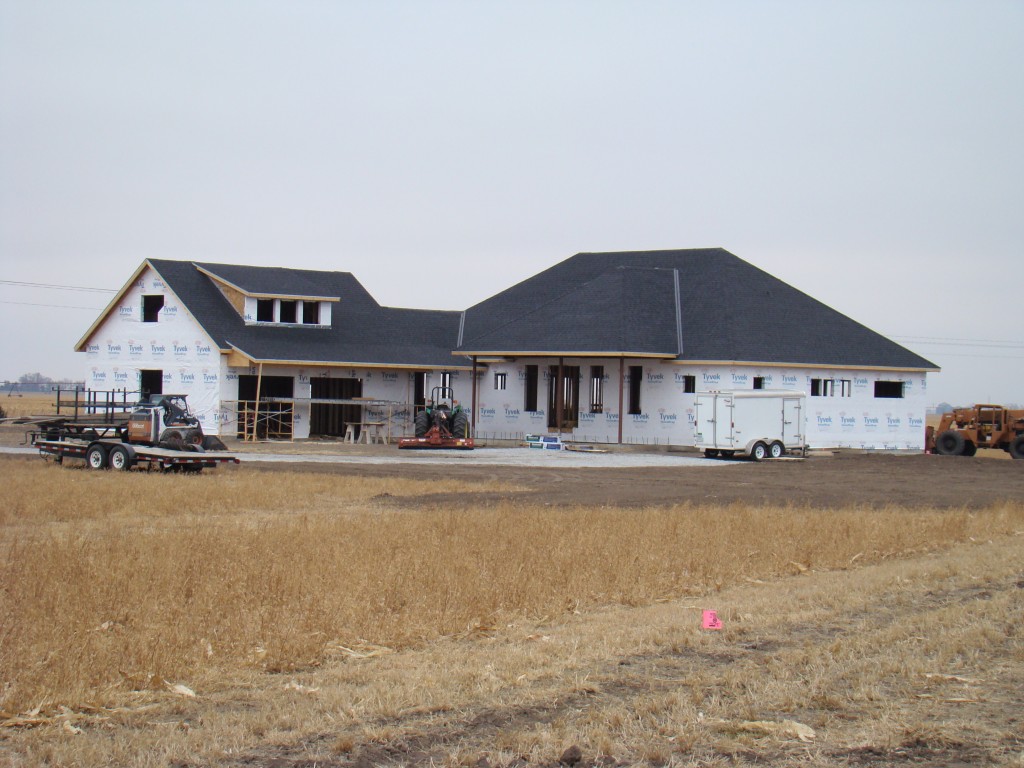 We are excited to bring you a closing post in the "Building a Dream" series following Dr. Jim and Nora Ohrt as they built their new house. Â We would like to thank Nora for taking us along on the adventure and sharing her thoughts with us.
"All encompassing" is the best way I can describe the building process. I am so thankful that we had lived in a number of houses. We had been dreaming of building for ten years, so by the time we started the process we had a good grasp of the chaos of our family and our functionality needs. I'm also thankful that I had the internet at my fingertips for the building process because it saved me hours by backing the decision process with research. I put a lot of pressure upon myself to select timeless choices that would serve our family needs since I knew that building in rural Nebraska makes this house my forever house. If we lived in a larger city, we probably would have looked for a house that best fit our needs, or we may have built something that we could sell in a few years. Our previous home was a "best fit" for our family when we moved here. Building allowed us to start with a clean slate and design according to the way we live. Furthermore, I was really glad that I held off some life changes to focus on the building process. I wanted to make the right decisions the first time and I didn't want to be distracted by additional stress. I had to give up a few commitments, but it was important so that I had the time to research, make selections then seek advice and assistance when necessary.
I was recently asked for words of wisdom from someone who is embarking on the process of building. My best advice is to trust the process. You need to select a builder you trust, who will work with your needs. I can make decisions, so I just needed my builder to guide me in what options were available. After building, I understand why builders in the cities limit plan choices and material options to streamline the process. If you get easily overwhelmed in decision making, you will need that type of building process. We had a custom builder we trusted and the process worked. Building can be frustrating because you reach a point where you are overwhelmed by all of the choices that are required of you and you are stressed about costs, selling your house and getting into your new home. There is no perfect, but I assure you that the efforts are worth the end result when you can finally enjoy your new home.
We've been in our new house since the middle of July. We are not completely settled yet, but we are slowly getting things in order. It was our most chaotic move because we have doubled our number of children (and amount of stuff) since we moved to Henderson. We were blessed to have our home sell quickly, with a timeline that was reasonable for both parties. It is strange to drive by my former home often, but we feel very comfortable in our new space. We are still recovering from all of the selections we had to make. In fact, I really struggled to select my wood floor stain in our main room and our barn color because I was past making decisions. Most of my walls are still blank, but I can find most things on a daily basis. We often remind ourselves that it took us five years to feel like our last house was put together. We know that we will get there eventually.
Finally, I must note that the process doesn't end when you move into your new house. It just slows down substantially. We stuck with our move in date and a few adjustments had to be made to our kitchen cabinets, so it took awhile to get that room settled. You also have to use everything to make sure it works correctly. Just this weekend, we found a few outlets that are dead. We have also had to adjust the air vents and have had the sump pump worked on a few times. Some details also have had to be reworked. For example, after we moved in, we found that we entered our master suite differently than the light switches were designed. Small details like that can drive you crazy. We added another switch and I still stretch for one that we lived with in our closet. In addition, my kids took over my office at first so that really made me feel like I couldn't get organized. We recently moved their computer so I can have my own space. It has helped immensely.
If you are dreaming of building a home, I'd encourage you to plan, dream and enjoy the process. Try to really think about how you live and what you absolutely need in your home. I had to dig in my heels on a few details because I knew I'd regret it if I just lived with what was easier at the moment. I've found that when something is important to the way you live it's worth the effort to have the task completed correctly.
Comments
comments
Powered by Facebook Comments