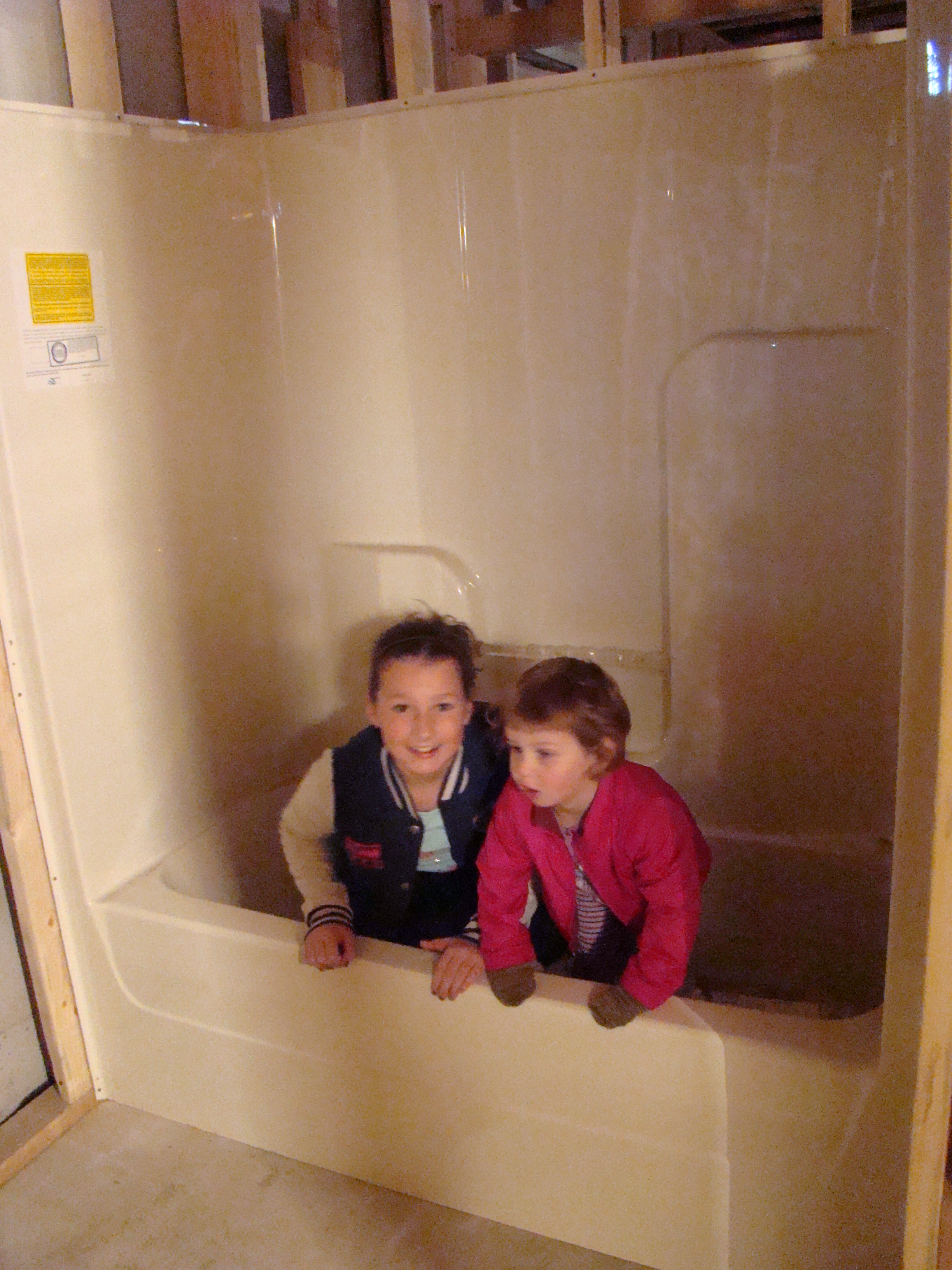 As the chaos of the holiday season has subsided, the activity within our new home is moving at a bustling pace. We have made a lot of decisions since Thanksgiving.
Faucets and Fixtures
Jim and I met with another kitchen and bath supplier the Saturday after Thanksgiving to select faucets as well as the tub and shower for our kids' bathrooms. The company was as good as their commercial. They went through each room in our home design and helped us select our faucets and fixtures. Time worked on our side once again because we came full circle on the kids' tub and shower. Originally, our builder had recommended a one piece, acrylic base for the kids' bathrooms. However, I was hesitant because I had pictured more of a tile or solid surface look for their bathrooms and the one piece showers and tubs I originally found had very high shelving in them. I became more willing to incorporate the one piece option when I was shown styles with shelving at a height that accommodated the kids. In addition, the one piece options will be substantially less expensive. Instead, we will tile around the solid bases to dress them up and prevent water damage around the edges. At this time, the kids' tub and showers have been set in place and are awaiting their fixtures.
It seemed easy to select faucets in the showroom, but when I returned home, I questioned my choices. It's tough not to look back and wonder what you selected and why when looking at the spec sheets kitchen and bath suppliers provide. Sometimes items, like a bathtub, include specific names that can be used to look up the item. However, smaller items, like faucets, sinks and stools, are harder to research because they are often listed by company referral numbers. It is also difficult to compare kitchen and bath suppliers because they often carry different products. In addition, these businesses always supply two spec sheets; one references the builder cost and the other the retail cost. It feels like you are dealing with a moving target, because when I asked about this I was told my cost will hit somewhere in between.
Kitchen Design
Our kitchen design has had the greatest progress in recent months. We had purchased a new kitchen table recently. Unfortunately, the tabletop was damaged in the first month of ownership. Due to past experience, we purchased insurance for our new table. I was excited to find out that we could buy a second table at a greatly reduced cost than we paid initially. This additional table spurred us to rearrange our kitchen design. Our two round tables will parallel each other in the dining space between our great room and kitchen. This move allows us to move our serving island away from our great room, where it will parallel the main working island in the kitchen. There is also Pittsburgh Appliance Repair offering stove repairs in case there is a problem. We love our new table style and function and this solution eliminates the awkwardness of floating the serving island between the great room and kitchen. In addition, the proximity of the second island will allow my family members and guests to converse with me, while I have the space I need to work. I've also been inspired to place the serving island on wheels so that I could put the islands together if I want. Time will determine the final design of the serving island because we need to make it fit the style and atmosphere of my kitchen.
Our next stop on Thanksgiving weekend was another visit to the appliance store to research surround sound options and to review my kitchen appliances. I wanted to make sure my cookie sheets fit in my new dishwasher, so I do not have to hand wash them. I actually took my cookie sheet into the showroom and placed it in the showroom dishwasher. It fit, so I'm set on my dishwasher selection. It was also a great day to visit the showroom because the store's chef was on site. I appreciated the chance to talk to someone who has actually used the appliances I'm considering.
During my visit, I continued my quest for the perfect refrigerator for our space. We had been planning on placing two bottom freezer fridges next to each other in our kitchen. However, I could not find two fridges that would balance each other visually and include ice in the door. The show kitchen had a cabinet depth, side by side fridge with my required square footage. I had not been interested in a cabinet depth of fridge until I saw one in use at a relative's home during Thanksgiving. I appreciated the way you do not loose items in the back of a cabinet depth fridge. Jim was on board with this new option because he hates searching for things in the fridge. The cabinet depth fridge also allows for additional cabinet space that I was missing in my kitchen design.
We've been meeting with our kitchen designer to plan our kitchen cabinet function and style. I was also relieved to finally select a wood species and style for our cabinets. This has been a tough decision because I wanted a wood floor in my new kitchen. It is difficult to select a wood floor and wood cabinet without creating an atmosphere that is too dark or too busy. In addition, just about every visual sample on the market today includes white cabinetry. We selected a species and stain sample that has a subtle grain in a rich brown color. Furthermore, the possible addition of wheels on the serving island and the beating my family will give our kitchen floor is making me seriously consider a gray, slate look ceramic tile I'm using in other areas of my house.
Furthermore, it's amazing how much easier it is to envision a space when you can stand in it. We were able to determine the size of our kitchen islands with cardboard cutouts. I also was able to make a selection I'm excited about for the master bath. We have a walk through shower that sits behind a freestanding tub. I had been looking at drop in tubs, but when I stood in my bathroom looking at the cardboard tub cutout, I realized a freestanding tub will fit and look better in that space.
Additional Projects
Additional items that have been completed on our house in recent weeks include:
Fireplace installation
Front door installation
The installation of our heat and air ventilation system.
Sewer waste removal and leech field installation
Electrical installation
Brick delivery
Stair completion
Establishment of lighting and electrical placement
I've found in life that any project worth completing, effort is required to complete the job. We have reached the point in our project where we must simply press on to complete our house. In recent weeks, we have found ourselves pressing on to make well processed decisions so our new house will serve our needs. We are looking forward to seeing the addition of brick to the exterior and the other results of our labor in the next couple of months.
Nora Ohrt
Comments
comments
Powered by Facebook Comments