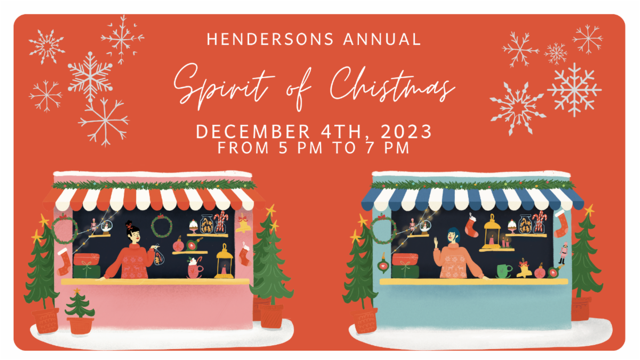 Henderson Chamber of Commerce press release
As the holiday season approaches, we are thrilled to invite you to partake in the annual Spirit of Christmas event, a cherished tradition that brings joy, community spirit, and festive cheer to Henderson's Main Street.
Date and Time:
December 4th, from 5:00 PM to 7:00 PM
Location: Main Street, Henderson
This year, we're excited to announce that Main Street will be bustling with open houses, offering everyone a chance to experience the warmth and hospitality of our local businesses. It's a fantastic opportunity to showcase your offerings, mingle with the community, and spread holiday cheer.
Details on vendors and stops to come!
Call for Propane Patio Heaters:
To ensure everyone's comfort throughout the evening, we are seeking propane patio heaters. If you have one that you could lend us for the event, please reach out to Kaelea at hchamber@mainstaycomm.net . Your support in creating a cozy atmosphere for all attendees would be greatly appreciated.
We hope to make this year's Spirit of Christmas a memorable one for our community, and it wouldn't be possible without your involvement. Let's come together to make Main Street a magical place on December 4th.