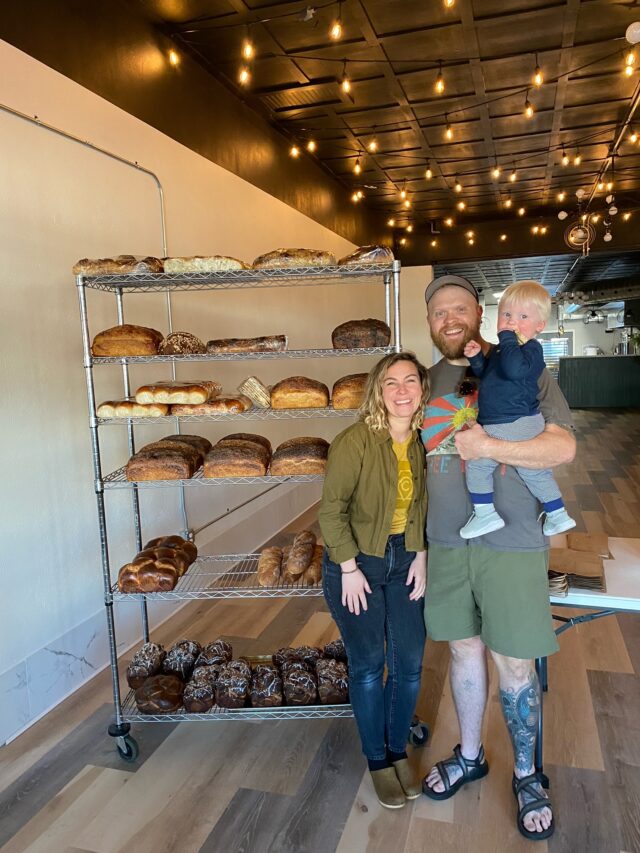 Saltine owners James & Aubrey Isom and their son Henry at the Hatchery for their weekly Tuesday pickup day.

Henderson's newest business, Saltine, owned by James and Aubrey Isom, is located in the Hatchery in downtown Henderson. They have hit the ground running selling hundreds of loaves of sourdough bread, focaccia, yeast bread, baguettes, dinner rolls, and cookies. These are just a few of the items they have coming out of their ovens every week for their growing bakery.
James is no stranger to the world of baking. He spent seven years learning and mastering the art of bread making at Whole Foods in Omaha, where he headed up their bakery department. He is from Valentine, Nebraska originally and met Aubrey in Omaha, where else but in a kitchen when they were both working on a food project.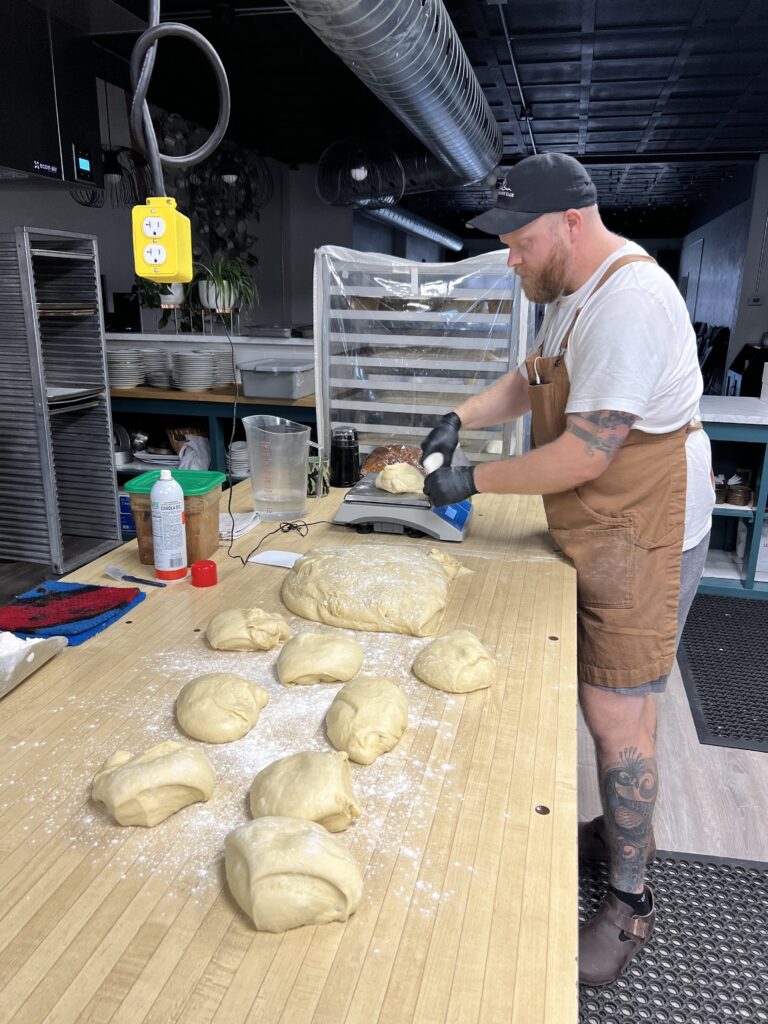 Watching James cut, weigh, and shape his loaves is a testament to his finely honed bread-making skills. He begins the sourdough process on Sunday, feeding the starter, and by Monday, is ready to begin baking the variety of sourdough loaves and focaccia for pickup on Tuesday.
"I fell in love with the art of repetition and perfection baking bread required," said James. He admits the preciseness required in successful bread making, and the ordered steps appeal to his personality.
On Tuesdays, he begins at around 5 a.m. on the yeast products they offer that week, such as Challah loaf, cinnamon babka, Parker-house style dinner rolls, baguettes, and white sandwich loaves.
Aubrey (Saltus), who grew up in Henderson, has a strong background in the world of food. "My family was more artistic, and I guess I feel that I have an artistic flair with food," said Aubrey.
While living in San Francisco, she began working as a chef for a startup tech company that provided daily meals for their employees. She quickly learned how to create a successful food program and also began catering for private events.
Together, James and Aubrey have combined their culinary skills and passion to make Saltine a reality. Besides helping run their new business, Aubrey works full-time remotely in the human resources department for a tech company while James takes care of filling their growing weekly bread orders.
Currently, they email out a Google Doc form for their customers to place their orders by Sunday, and pickup is on Tuesday afternoon. The choices may vary from week to week, with additional sourdough breads like cheddar, olive and cranberry walnut varieties available.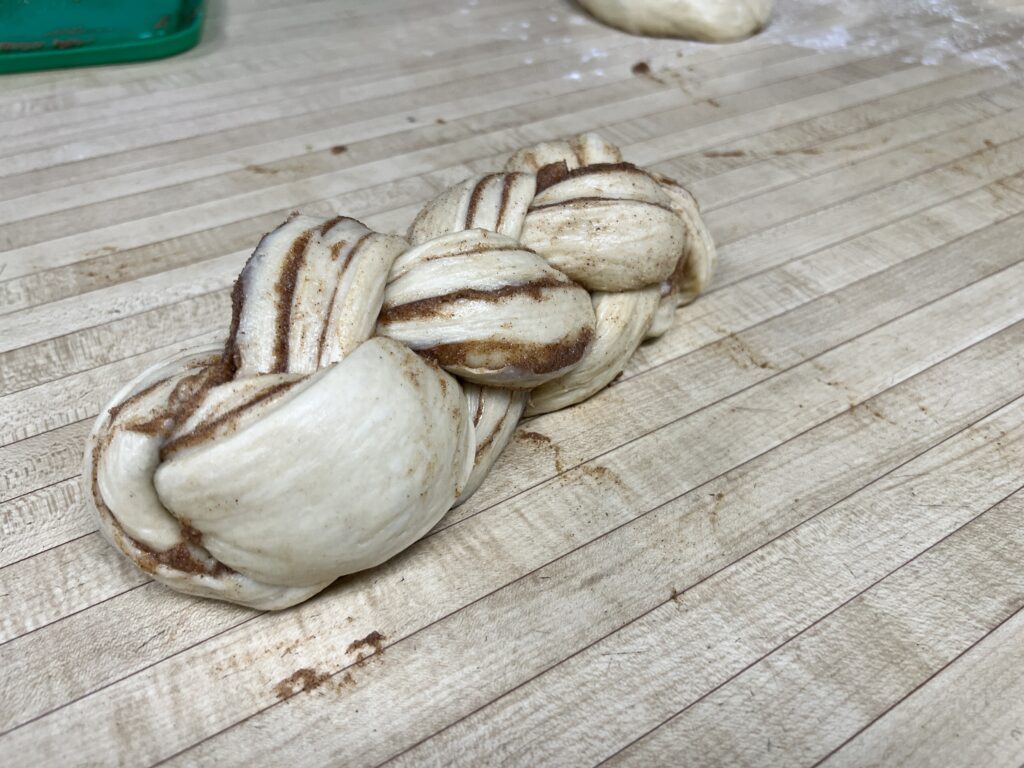 They also change up the sweets they offer, such as cinnamon babka (a sweet braided loaf with a cinnamon sugary swirl) and brown butter chocolate chip cookies.
Delivery is available to the school and hospital for orders. 
After the first of the year, they plan on offering pastries, coffee, and fresh, healthy, grab-and-go food selections at the Hatchery a few days a week.
If you are interested in ordering any of their breads, you can sign up for their weekly email at saltinefood@gmail.com . Follow them on Instagram at saltinefood to see more of their products! Their business is a welcome addition to Main Street and is flourishing because of the high quality products they offer their customers.