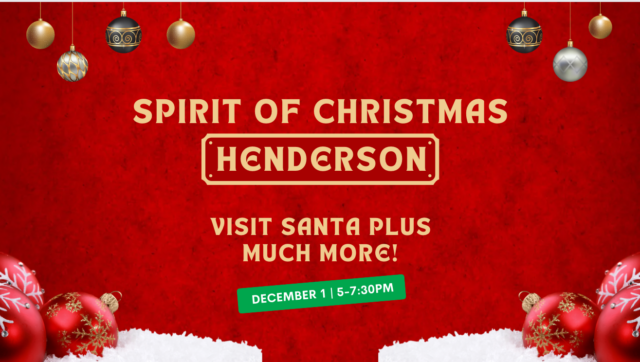 Celebrate the Spirit of Christmas in Henderson! Thursday, December 1, from 5 – 7:30pm on Main Street and around Henderson! Bethesda Church will host an open house in their Fellowship Hall with gifts such as those greek style outfits, books, food & more.
Santa will be at the Pharmacy back room. This a great time to get a picture, we will have a photographer helping with this! There will be treats for the kids and coffee available.
Each year businesses open their doors and offer cookies or special treats to say thank you! It's so festive and beautiful on Main Street, the lights, decorations, music, and people make for an enjoyable evening! We not only celebrate the birth of Jesus at Christmas but it's a wonderful time to show gratitude and greet our community with joy and fellowship!
Who to visit:
Mainstay Communications
Henderson Pharmacy & Kerri P
Cornerstone Bank has open house & drawing.
Sparrow's Branch Cafe
Henderson State Bank
Headquarters salon
Ivy & Main, 1016 Main St.
Kroeker & Kroeker Ins. & Real Estate
Heritage Park
Food Mart has food stations within the store!
Bergen Friesen Agency
Henderson Community Development Center is at City Hall
Vern Friesen Art Gallery
Post Office
SANTA is in the back room of the Pharmacy! Cornerstone Bank will hand out a bag of treats. Henderson Healthcare has Candy Canes for the kids!
Heartland Preschool is with Santa, they will have an activity for Preschoolers!
BETHESDA FELLOWSHIP HALL – MEAL – Free will donation
Faith & Life Book Store
Ten Thousand Villages Fair Trade Gifts
Willow Station
EyeKara Crafts
Balaban's
Creations by DGH
Country Glamour
Bethesda Preschool Popcorn and Chocolate Advent Calendars
If there is a way you would like to add something to this evening call the chamber office or send an email or message on facebook at heyhende!Chamber: 402-723-4228 or hchamber@mainstaycomm.net