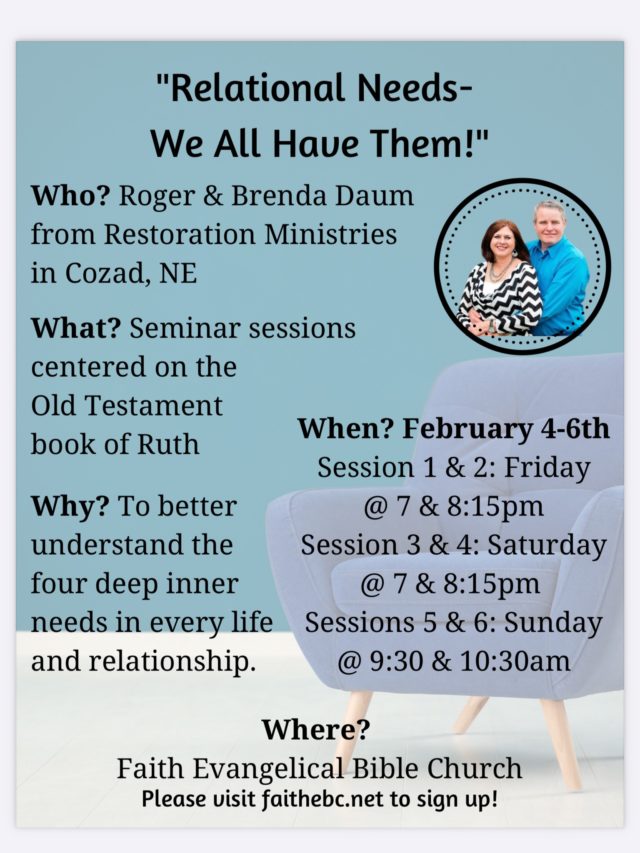 Roger and Brenda will be speaking at the Faith Evangelical Bible Church in Henderson NE. Feb. 4-6, 2022.     

There are four deep inner needs in every life and relationship including marriage.  There is a need for acceptance instead of rejection, for security instead of insecurity, for identity, and for purpose in life.  How can we see these needs met in our life and marriage and family relationships?

We will be teaching "Relational Needs? – We All Have Them", illustrated beautifully in an Old Testament love story found in the book of Ruth.  We will share how Jesus Christ can meet these needs and how marriages can be transformed as a married couple joins the Lord Jesus in meeting these needs.
Friday – Feb. 4 from 7 – 9 PM – Sessions 1 & 2
Saturday – Feb. 5 from 7 – 9 PM – Sessions 3 & 4
Sunday – Feb. 6 – 9:30 AM – Session 5
10:30 AM – Session 6
For more information go to: https://www.faithebc.net/page/bible-conference2022
Comments
comments
Powered by Facebook Comments