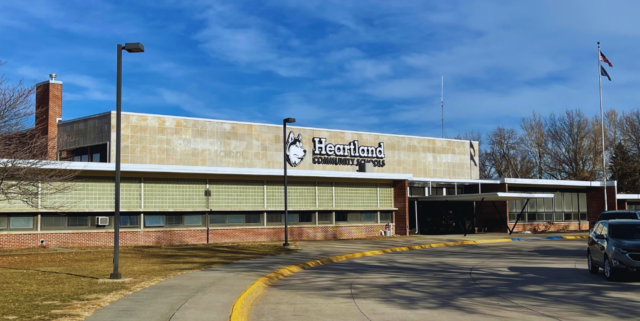 After a selected group from the community gave insight on nearly 20 applicants to take the position of Heartland School's next Superintendent, the School Board has selected Jeremy Klein, former Logan View (Hooper, NE) superintendent, for the position to follow Brad Best's retirement.
Change is hard but can be a great thing. Numerous questions always surround big change and big decisions like this, so we caught up with Gary Braun, school board member as well as Heartland's incoming new leader in Jeremy Klein to give us some insight into their thoughts and how the decision was made.
"We were seeking an executive with a complete understanding of the duties and responsibilities of a school Superintendent's position, who is well-positioned to immediately and positively impact Heartland and has the knowledge, skills, and confidence to lead our school district well into the future," Braun said of what the Board was looking for during the interview process.
On the flip side, we asked Klein what attracted him to the opportunity at Heartland.
"Heartland Community Schools has many characteristics that make it an attractive school district to be a part of. For me, the first thing that stood out was the tremendous stability that is characteristic of the district. That stability is evident whether you're looking at finances, facilities, people, or communities. When you're looking to make a long-term commitment to a place, whether that be from a leadership perspective or from a family perspective, the overall stability that has been demonstrated by the Heartland Community Schools district is really quite ideal. Another thing that I found really attractive about HCS was the opportunity to lead an organization that has a history of success, has tremendous support from its communities, is uniquely positioned for a bright future, and is driven by an incredibly talented, caring, and enthusiastic team of staff members. Aside from those things, you really want to look at things from the aspect of, 'can I see myself being successful here?' Is this a place that I want to call home? Is this a place where I want my daughter to live and to go to school? It was very easy to say 'yes' to these important questions when it came to exploring the potential opportunity that Heartland Community Schools presented to us."
As the deliberations of the interview process started to show signs that Klein looked to fit the bill for Heartland, we asked Braun what skills and strengths did Jeremy have that was exciting for him to bring to Heartland.
"Jeremy is methodical, disciplined, and focused on the successes of students, faculty, and communities. His aptitude with financial management and budgeting will allow us to grow the monetary strength of the school district. He has been able to successfully navigate a school bond issuance for a building project, developed a comprehensive plan for food school district renovations, and is well versed in a cooperative arrangement with surrounding schools for extracurricular activities (e.g. football, basketball, volleyball, etc.)"
Klein noticed the community quickly and the passion it has to thrive. When asked what he saw of the school and community that was exciting to think about being a part of, he responded with, "Easily the thing that is most exciting about coming to Heartland is the people. Having the opportunity to be a part of such a proud and positive community is tremendously exciting. Having the opportunity to lead a first-rate school district and to serve the outstanding students, staff, parents, and communities is just incredible. There are so many good people that make up the HCS community and there is so much genuine enthusiasm for the school – it would be impossible to not be excited about being entrusted to lead and to serve the Heartland Community Schools district."
New beginnings are ahead for Heartland Community Schools and the community that surrounds and supports them. Everyone is rooting for a smooth transition and thriving years ahead for our students; the lifeblood of our school and community. It would be an understatement to say 'thank you' alone for the ten years of commitment, compassion, and dedication Brad Best gave to our students, our school, and our community. As this community looks to the new leader of Heartland, we hope for greatness ahead. Klein left these thoughts to believe in as we look to our future:
"I've been fortunate to be a part of some really good school districts. From this experience, it's clear to me what I look for in identifying a great school. Heartland Community Schools is a great school, and its communities are great places to live. HCS has great people within its organization and it has definitely benefited from great leadership at just about every turn. Mr. Best has done a tremendous job in continuing to lead the district forward in his time as the superintendent of Heartland Community Schools – he's very much admired and respected for the outstanding work that he has done and he should be proud of what he has helped the district to accomplish. I'm excited about the opportunity to continue to provide HCS with outstanding leadership, and I'm excited about the challenge of helping HCS continue to reach for new levels of excellence while still embracing the pride, the tradition, the identity, and the culture that make Heartland Community Schools such a distinctly special place to be."
Go Huskies!
Comments
comments
Powered by Facebook Comments