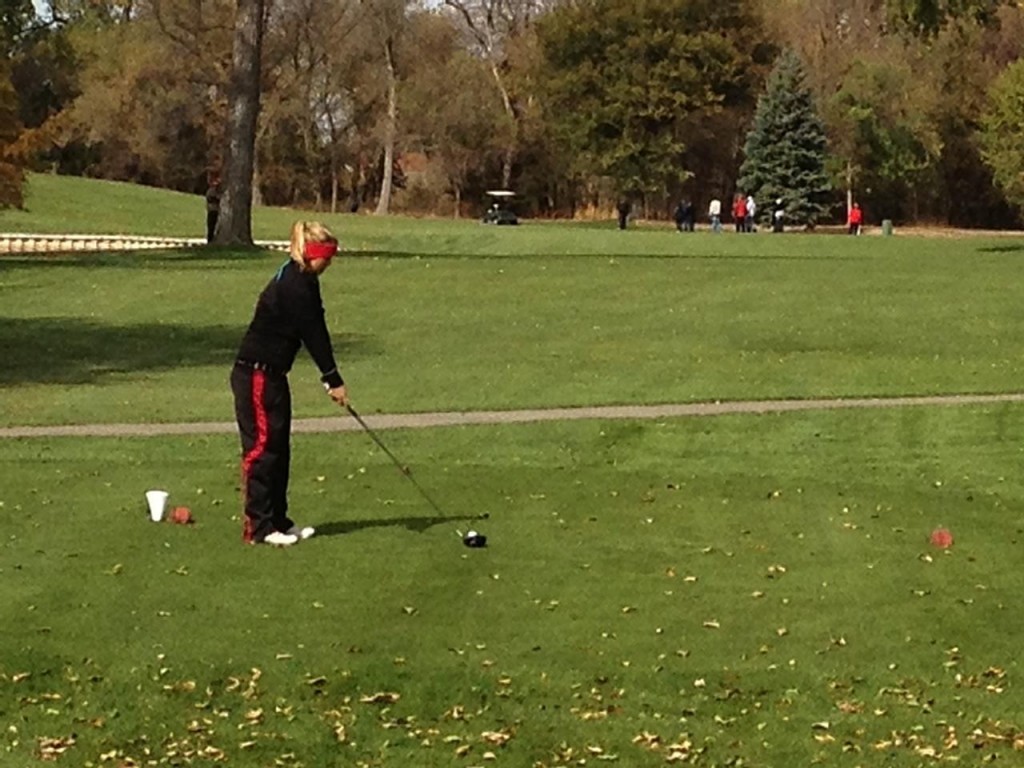 Paige Mestl just completed her two days of State Girls Golf held at Quail Run Golf Club in Columbus, NE.  State Golf is a two day tournament in which a player plays eighteen holes of golf each day.  Paige shot a 99 on the first day and a 96 on the second day for a two day total of 195.  This total placed her 18th overall in field of over 90 girls in Class C.  This was Paige's second chance at state, and I felt she did a great job of managing her game as a whole in some very difficult situations.  The weather was less then perfect.  I know that Paige is a bit disappointed that she didn't come away with a medal, but I am still proud of her effort and how hard she worked to get to where she ended up.
On day one, Paige drove the ball very well, but couldn't find her putting stroke.  The greens were very quick, and that was something that Paige had a bit of trouble adjusting to.  As a whole, she really hit the ball well from tee to green.  I felt that Paige played much better than she felt she played, and I felt that she was just a few breaks away from shooting a much lower score.  That being said, Paige placed herself in a place that allowed her to be in a position to still place on day two.   On day one, Paige just needed a break, and as the day went, she just never received that break.
Day two was another tough day to play.  It was very windy, and it was cold.  When you are stuck standing and waiting for a good bit, it can be tough to stay focused and loose.  I thought Paige did a good job of staying focused and staying aware of how she felt and stayed the course.  As day two went on, Paige had chances to really shoot a big score, but because she remained focused she was able to work her way around the course.  Paige really was about two holes away from being where she wanted to be to end the day.  I know that Paige was very disappointed with her scores, and that she didn't secure a medal in her second trip to state, but I am very happy with how she went about her season and can't be anything but excited to work with her going into next season.
The season as a whole for our golf team was great.  We won three duals and placed second in our quad.  We were second overall as a team at the Tri County Invitational this season with team score of 405.  That is also a team record.  Paige Mestl shot an 80 at the same meet and set the low 18 hole round and tied the lowest 9 hole score in school history with a 39.  We  won the Fullerton Invite as a team as well.  Overall, I am very pleased and excited about this season and the future of our golf team.
We will be losing three seniors of this years team.  Two of the seniors were new comers this year to golf. Emily Ott was a wonderful addition to our team and was a joy to work with.  Emily was a great teammate and someone who always supported her teammates.  I know that her scores may not have always been what she wanted, but her ability to add good things to our team was something that will be missed.  Stephanie Stamp was another new comer who really added some depth and ability to our team.  Steph started out rough, but really caught on quick.  She became a solid contributor to our team and even placed second at the Fullerton Invite this season. Steph was a great deal of fun to work this season.
Sam Boardman was a three year player for me on the girls golf team.  Sam was someone who got better and better each year and was a very valuable part of our team.  I know that I enjoyed coaching Sam a great deal over the last three years.  Watching Sam receive a first place medal this season and seeing how great of a moment that was for her was a really great experience.  Sam is going to be missed next season.
The returning players for our record setting team next year will be Paige Mestl, Kaitlyn Quiring, Lydia Quiring, and Kaeli Lundstrom.  It is hard not to be excited by the fact that all these girls are sophomores right now and we have two more years to get to improve.  Our goal next season will be pretty simple; make it to state as a team.  This group of girls has a chance to do that.  A major key for this group will be their want and commitment to getting on the course over the summer and playing the game.  I am very excited to see what this group is capable of.
I would like to also thank the parents for their time and effort this golf season.  You have been a wonderful help and support group for this group of athletes.
Coach Jon Baehr
Comments
comments
Powered by Facebook Comments