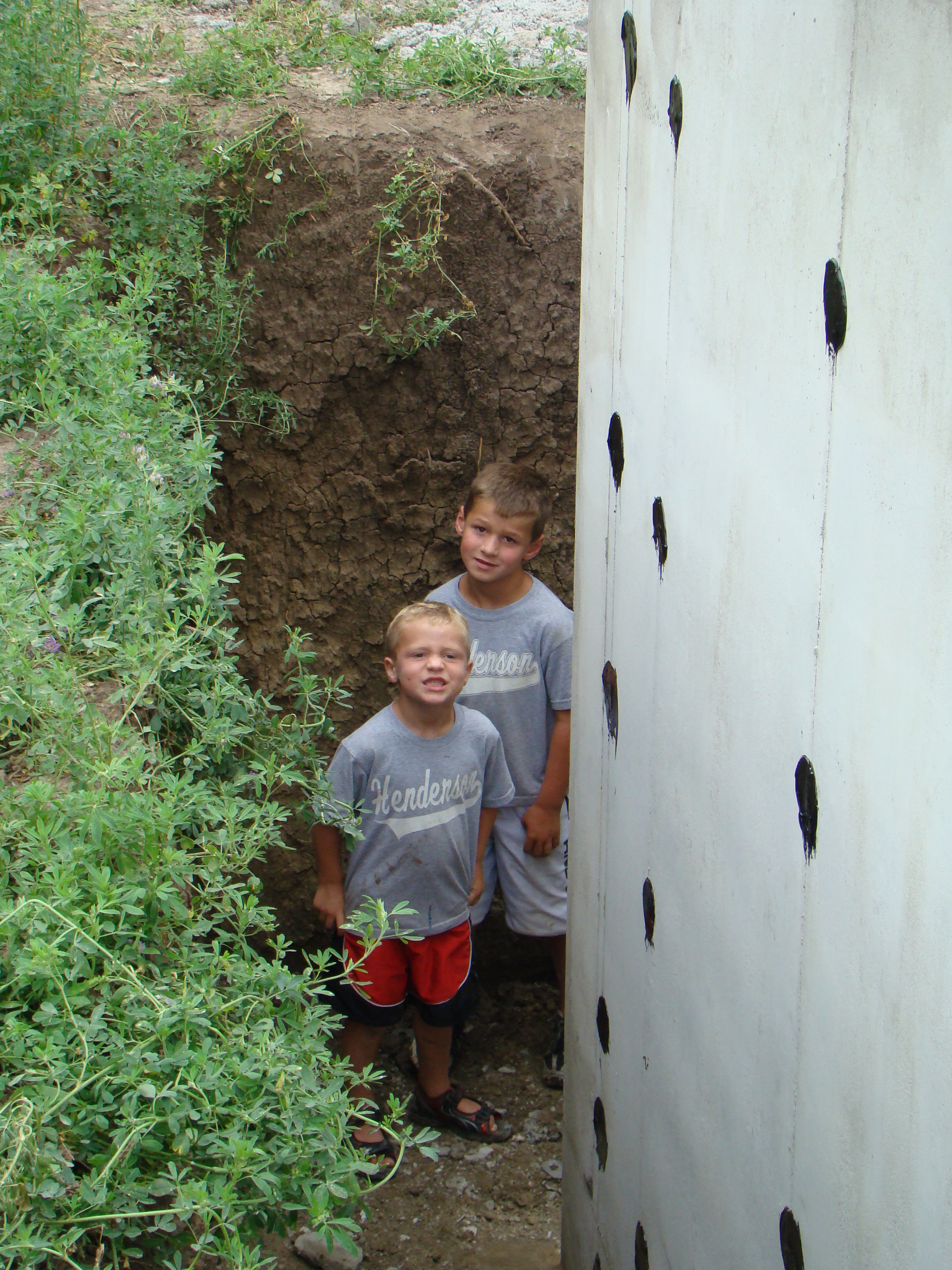 When one gets through the month of June, one expects the weather to turn hot and muggy. We have arrived at hot and muggy here in the latter part of July. However, it was more wet than anything a couple of weeks ago, which is not the best situation when you are in the process of building a home. The mud left after the rain dried out quickly with a little pumping and a dose of sunshine. Fortunately, the majority of the wall forms were in place, so the walls were poured without much further delay.
It was an interesting process to watch the workers place the forms for our foundation. The forms were put into the hole with a crane. Then workers would place the rebar and the forms. They also lubricated the forms to aide in their removal after the pour. Our builder pours the window wells which prevents water seepage and makes it easier for us to place where each room will be. Jim took a neat picture of the rebar between the forms.
After the rain delays, we were excited to see the cement truck arrive to pour our walls. They used another cement pumper to fill the space between the forms. It was great to finally have our walls poured. The site took on a whole new look when the forms were removed. It was also amazing how deep the poured window wells go.
Speaking of windows, I am feeling much better about the ones we are getting since I met with my builder a week ago. He went through every window one by one with us to make sure we are getting what we want in our home. We talked through each window on the plan and made decisions based on size, function and economy.
The next step on our home included tarring the spots where the forms attached. Meanwhile, our boys enjoyed running through the gap around the foundation walls. Then, the initial plumbing was laid on the foundation floor, the walls were tarred and dirt was backfilled into the space around the foundation. You can also see the sand in the background that was delivered to be place on the foundation and garage floors. (Jim tells me they use sand because it is a fine element that does not settle a lot.) Our floor tresses are waiting in the background as they will be placed after the floor is poured. We are eager for the framing to begin so we can see our dream take form.
Comments
comments
Powered by Facebook Comments