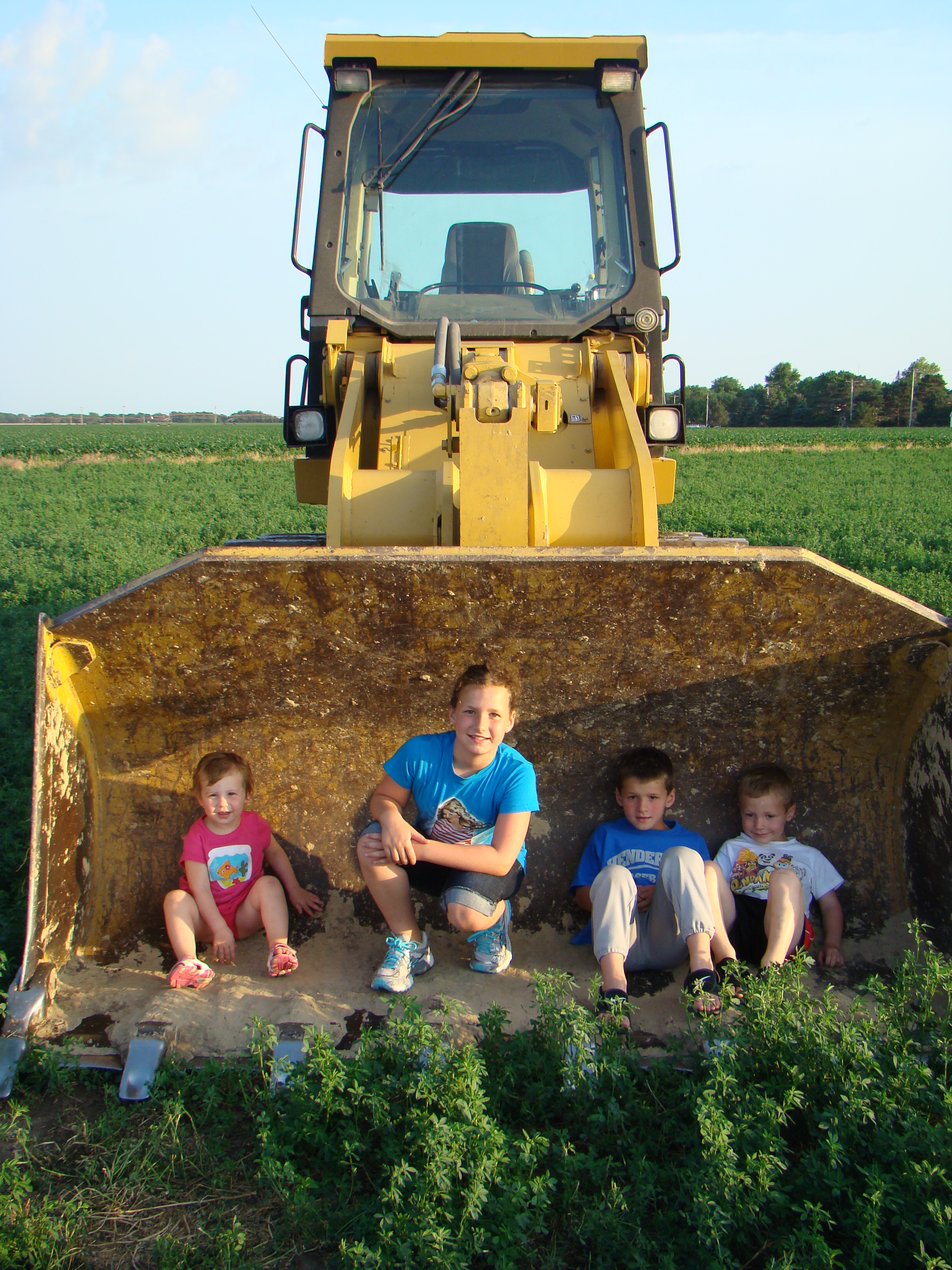 We have officially broken ground on our new home. Our kids were as excited about the digging as we are. We had our older three children stand on their future front porch before the digging began so that you will have a starting point of reference as the house goes up.  Once the excavating started, the dirt quickly piled up starting on the South and working its way to the North. The size of the hole doesn't seem relational to the amount of dirt that piles up.  I am told that the foundation walls will take up about two feet of space in the hole all the way around the basement.
It was also amazing to see how the ditch witch left big cracks in the ground it had loosened.  Progress was made this week as the photos depict the way the hole slowly deepened. Our kids have really had a ball sliding down the resulting dirt piles. In addition, as the depth of the hole increased, it was interesting to observe the difference between the topsoil and clay in the soil layers.  Before we knew it there were five dirt piles on our land and the hole was above all of our heads.
We have worked on other things besides the breaking ground at this point. We have had a culvert and an additional power pole installed. Work has started to bury our power line in our yard. We have also done plenty of research on kitchen appliances and windows. Both of these searches have been overwhelming and complicated.
In our search for the right windows, we researched windows online, surveyed friends and family, met with a couple of reps and even visited a showroom in Omaha to try to refine our choices. Unfortunately, the showroom did not have as much hands on selection as we had hoped. The reps are knowledgeable, but I do not feel that I'm offered much more than flyers and a trusty sales rep. I really want to touch, feel and see samples of my windows prior to ordering because it is such a huge purchase. Unfortunately, the industry does not seem to operate that way. It is very frustrating.
In regard to my kitchen appliances search, besides my online research, I have visited two stores, five times already. At this point, I do not have a clear direction as to which appliances I will place in my kitchen. The pressure mounts as I realize how much the appliances I choose affect the kitchen design. In addition, it is hard to guess how you will use an appliance with features you have never owned. Time will eventually force me to make a decision, but for now we will press on, continue to research online and visit showrooms for inspiration.
In the coming week, we look forward to seeing the footings and foundation of our home poured. Keep coming back for a peek at our family circus and the building of our dream.
Nora Ohrt
Comments
comments
Powered by Facebook Comments