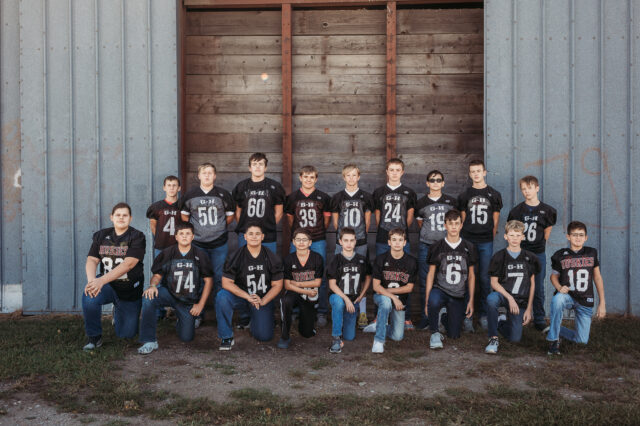 Members of the Heartland Junior High A & B Football Team. Back Row L – R: Waylon Tessman, Jagger Regier, Rigs Newton, Wyatt Friesen, River Glinsmann, Brian Bearinger, Benjamin Thomas, Brooks Burgess, Damon Ostrander
Front Row L – R: Michael Dente, Ty Nunnenkamp, Hayden Perez, Roman Wolfe, Aiden Bartek, Jack Goertzen, Luke Janzen, Carter Peters, Hudson Gloystein (Not pictured are 12 Giltner team members) Photo courtesy Cody Farrall

From Coach Wetjen:
The Heartland-Giltner junior high football team made huge strides in improvement over the course of the season. The Heartland-Giltner football team was coached by Jordan Grantham, James McCartney, and Erik Wetjen.
The team started off slow but improved each practice from drill work, watching film, paying attention in practice, and learning the game. The players supporting each other grew as the season went on, which helped build individual and team confidence.
Coaches were proud of all the athletes' enthusiasm and willingness to improve. We finished with a great win and look forward to next season. We wish the 8th graders luck in playing with their respective high school teams.
Huskie Football A Team Results:
Loss @ McCool: 6-12
Loss @ Lawrence-Nelson/Superior: 14-42
Loss @ home to Sutton: 6-50
Win @ home versus Kenesaw: 24-22
Loss @ Sandy Creek: 6-88
Win @ Exeter-Milligan-Friend: 50-38
Record:  2-4 
Photos courtesy Cody Farrall