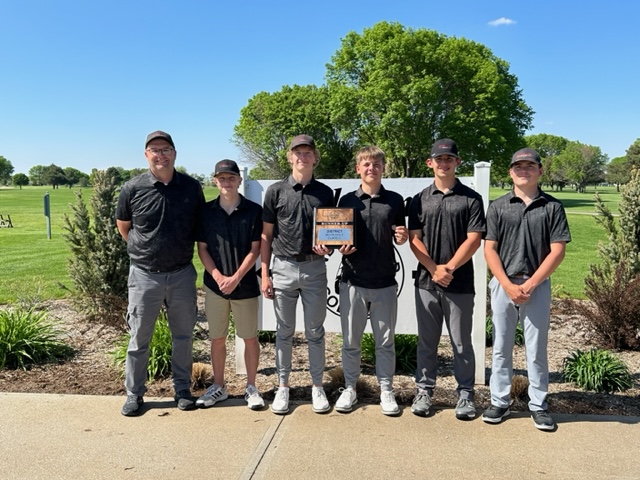 It's been a very successful season for the Heartland boy's golf team, and their performance Tuesday, May 16th, at the C-4 District meet at Indianhead Golf Course in Grand Island sent the team to state!
"I'm really proud of the effort the boys put out today. It was a total team effort, and it took every one of them to bring home the district runner-up trophy. The boys have worked hard all season, and it has really paid off by the team qualifying for the State Meet," said Coach Buzek. 
Sophomore Creighton Friesen led the team, placing 5th, carding a score of 77. Their team score of 340 was enough for second place after winning a tie with St. Paul. Grand Island Central Catholic won districts with a team score of 314.
Heartland Individual Results:
Creighton Friesen – 77 (36-41)
Jacob Regier – 83 (41-42)
Andrew Franz – 86 (45-41)
Reeve Oswald – 94 (45-49)
Zachary Miller – 97 (49-48)
The team will be traveling to the Elks Country Club in Columbus Tuesday, May 23, competing for two days at the Class C state competition.
Click here for full C-4 Districts Results