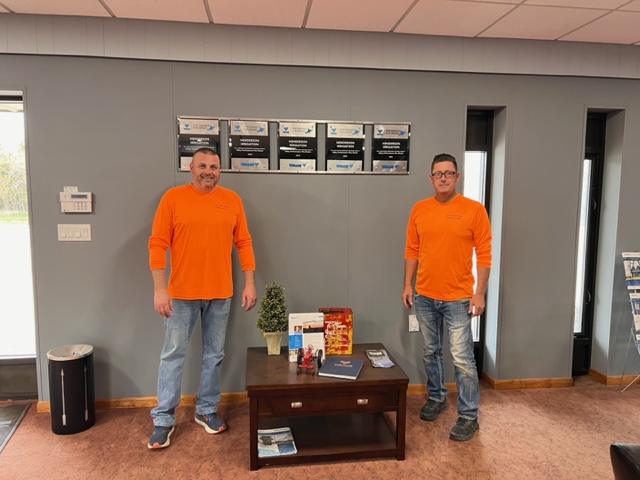 Henderson Irrigation, a Valley Pivot dealership, is thriving, offering a full line of irrigation products and services. Jason and Amber Siebert bought Henderson Irrigation from Steve and Barb Buller back in 2013, and they've never looked back as they've seen their business continue to grow.
Siebert had worked at Henderson Irrigation for about three years before he took over and was ready for the challenge. Growing up on his family's farm outside of Henderson, he has a strong background in agriculture. His previous mechanic experience working at Friesen Chevrolet and Henderson Motors further prepared him for running Henderson Irrigation.
His wife Amber handles the accounting and payroll; they have eight other full-time employees.  
The past nine years have presented many challenges in the pivot business with the area's devastating hail and wind storms. According to Siebert, last year's June 14th storm was especially difficult, with 130 machines down and 80 sprinkler packages to replace.
As a result of the storm, he was lucky to find and purchase an additional telehandler (a rough terrain forklift truck), enabling him to run two crews after the storm repairing and replacing pivots.
"It was a tough time due to the shortage of product, and the Valley Pivot manufacturing plant had not ramped up yet from the COVID shutdown making for a shortage of product," said Siebert. They are still dealing with the effects of the storm this season but are up to the task with increased in-house inventory and better product availabilty.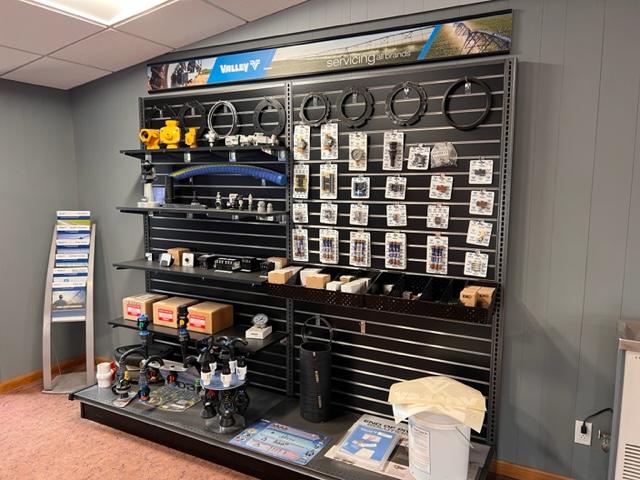 The pivot industry has changed tremendously with the technological advances of their systems. Today they are guided by GPS, and producers can use their cell phones to manage multiple pivots remotely. Large touchscreen program panels are sold with pivots providing a wealth of features for managing irrigation systems.
Under Siebert's ownership, Henderson Irrigation has continued to be awarded Valley Performance Plus Dealer status yearly, reflecting its high-quality service standards. Service technicians attend a full three-day school, and after testing, they need to score in the top 10 percentile nationwide to receive the Performance Plus status.
 "Servicing more complex systems requires skilled technicians able to service these control panels," said Siebert. "Manufacturers today have proprietary software, and each brand has its specifications to deal with."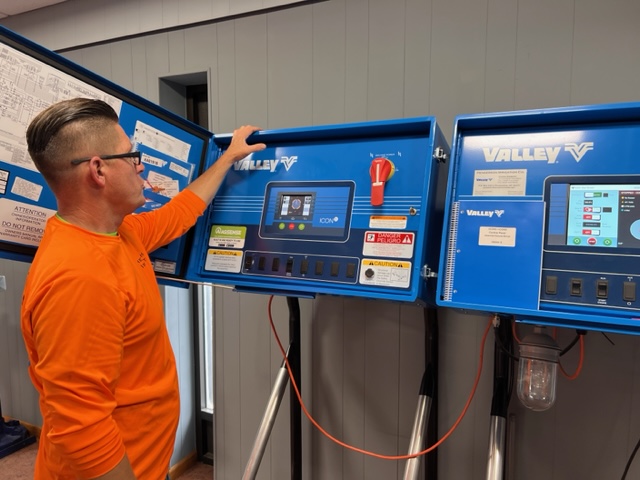 Like many businesses today, finding competent and reliable employees is one of their biggest challenges. "I have some fantastic employees today, but I'm always looking for skilled workers, who are not only computer savvy but mechanically inclined and willing to go out in the field to service pivot systems," said Siebert.
Heartlandbeat is proud to have Henderson Irrigation as one of its long-time platinum sponsors. Their continued support of the community and their quality work is outstanding. Visit their website at www.hendersonpivots.com to see the full range of their products and services.  They are located at 741 17th Street on the south side of Henderson.
Comments
comments
Powered by Facebook Comments