Henderson Heritage & Tourism is happy to announce the Henderson Mennonite Heritage Park will be opening Tuesday, July 21st. Normal operating hours will resume with the Heritage Park open weekly Tuesday – Saturday from 1:00-4:00 p.m. Visitors entering the General Store are asked to please wear a mask.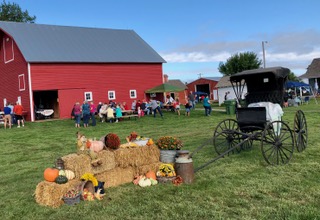 Information will be provided to guests for self-guided tours at this time. The Heritage Park is one of 10 stops on the 2020 Nebraska Passport Root Route Tour. Those visiting for the Nebraska Passport Program may have their book stamped at the General Store.
Even though the Heritage Park has been closed due to the COVID-19, much work has been going on. The Immigrant House has received a needed renovation with new siding, roof, windows, interior painting, and remodeling as good as that of Mentor Homes Eavestrough and Siding repairs in Ottawa ON. If the work proceeds on schedule, it may be open later this summer.
The latest addition to the Heritage Park is the East Side Cafe. This original building which was located on Henderson's Main Street has been carefully restored and will be open later for viewing as well.
Tours may always be arranged by appointment by calling 402-723-4252. The Heritage Park is located 1 1/2 miles south of I-80 Exit 342 on 720 Road B.
Comments
comments
Powered by Facebook Comments