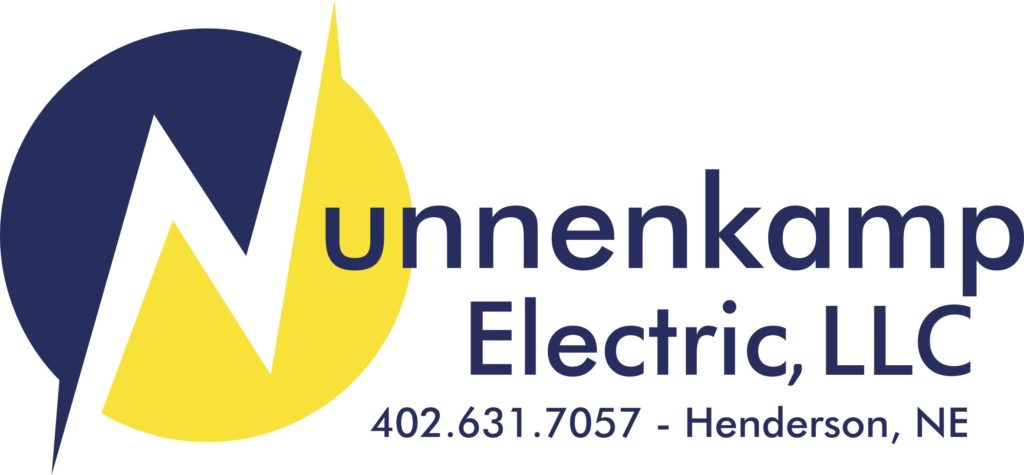 Nunnenkamp Electric LLC, owned by Trevor and Anna Nunnenkamp of Henderson, is celebrating its 7th year in business this month! Since its inception, Nunnenkamp Electric has grown to include services such as selling, installing, and servicing generators, selling and installing solar equipment, pivot inspections, and installing security pedestals for merchandising businesses along with providing electric services in homes and businesses. "I enjoy learning new things and implementing them in my businesses," says Trevor. "I get bored with doing the same things so am always looking for ways to improve or offer services my clients may need." One of these recent services is offering smart controls in homes. Smart controls allow you to access your lights and outlets from your smartphone. Outlets and lighting can be put on schedules which help with energy savings and those panic, "Did I turn off the lights on the Christmas tree?" moments.
Trevor always knew he wanted to work with his hands. Following high school, he worked some weekends for his uncle who owned a heating, air, and plumbing business. To get a plumber help you with your renovation you can find out more here. During that time a friend encouraged him to look into electricity. In 2007, Nunnenkamp began a course in Electrical Technology through Central Community College in Hastings, Nebraska. While in school, he worked for two different electrical companies in Hastings. Following graduation, Trevor began working for an area electrical contractor. During this time, from 2007-2011, he worked his way through the required steps to become a Licensed Electrician. Step one is to apprentice for four years, or for three years if you have an Electrical Technology degree. Following this apprenticeship, an electrician can become a Journeyman and work as a foreman with up to three people working under their leadership. The final step is to receive a Contractors' License which allows an electrician to own their own company.  Nunnenkamp received his Contractor's License in June of 2012 and started building his clientele. In July of 2013, Nunnenkamp Electric was officially in business.
"The first year of business, as it is for many new businesses, was challenging," say the Nunnenkamps. "Anna created a logo for us and Matt Buller provided a wrap for our van, and we parked it in the driveway so people would see it. Anna went around to the various business in town to let them know about Nunnenkamp Electric." Over the years, the Nunnenkamps have participated in the Spirit of Christmas, The Henderson Home Show, the Community Days Parade, and started a Facebook Page. "It's important to get your name out there and get your 'foot in the door' with contractors," says Nunnenkamp. Their persistence was rewarded when they were offered a contract on a new build in town. After that, word spread and the business grew.
In 2014, Trevor and Anna purchased the "Virgil's Plumbing" shop building from Scott Erb and remodeled it to include an office, break room, bathroom and parts inventory. Their first employee was hired in 2016, and he continues to work for Nunnenkamp Electric. "We have enjoyed expanding the business over the years." says Nunnenkamp. Along with electrical services, they sell home standby generators from Generac and travel throughout the Midwest to install security pedestals for merchandising businesses.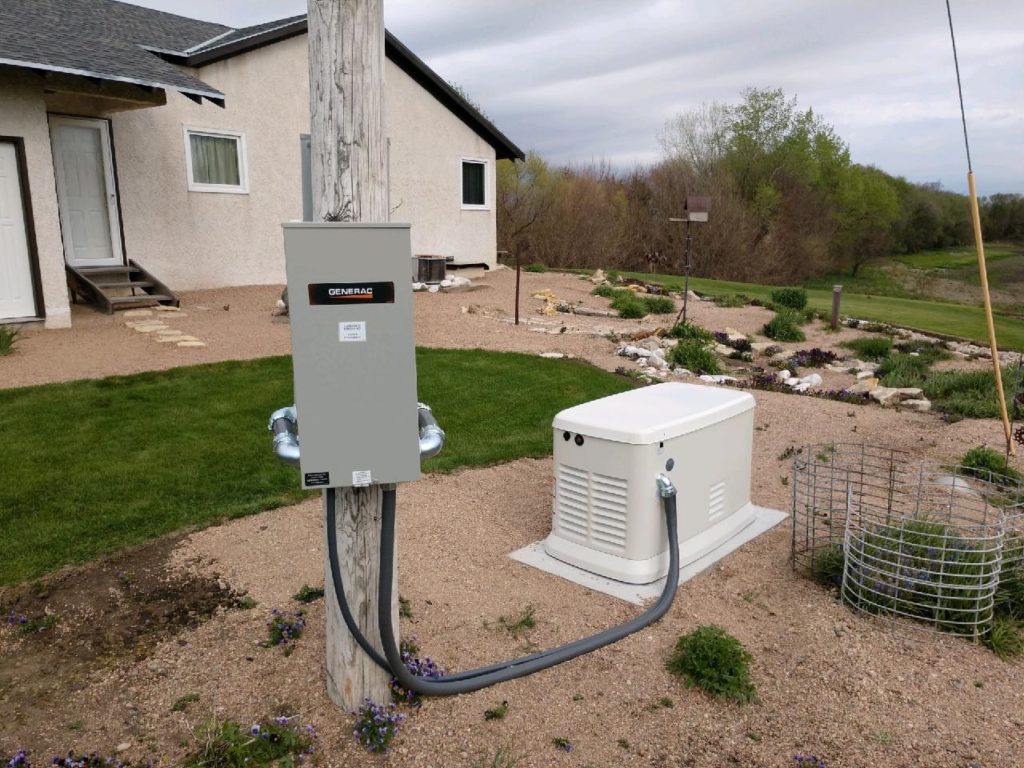 They also offer yearly inspection of your home or business electrical system. This inspection includes:
Testing Ground Fault Circuit Interrupter (GFCI) receptacles (the outlets with the test/reset button required in bathrooms, kitchens, exterior and garages) and which should be done monthly by a receptacle GFCI tester
Re-torquing all connections in electrical panel to manufacturer's specs
Checking receptacles for wear
Looking over attic/basement wiring for unsafe wiring, open junction boxes
Verifying GFCI protection where required by code
Exercising the breakers, which should be done yearly
"We are excited to offer solar energy options to our customers as well. We can install and service off-grid systems or on-grid systems which are on the house itself or can be ground mounted." There are various types of solar options, most of which pay for themselves in 7-10 years and then start saving the customer money on their electricity costs. They have a warranty of 10-25 years depending on the product. Trevor is happy to talk with anyone interested in solar energy for their home or business.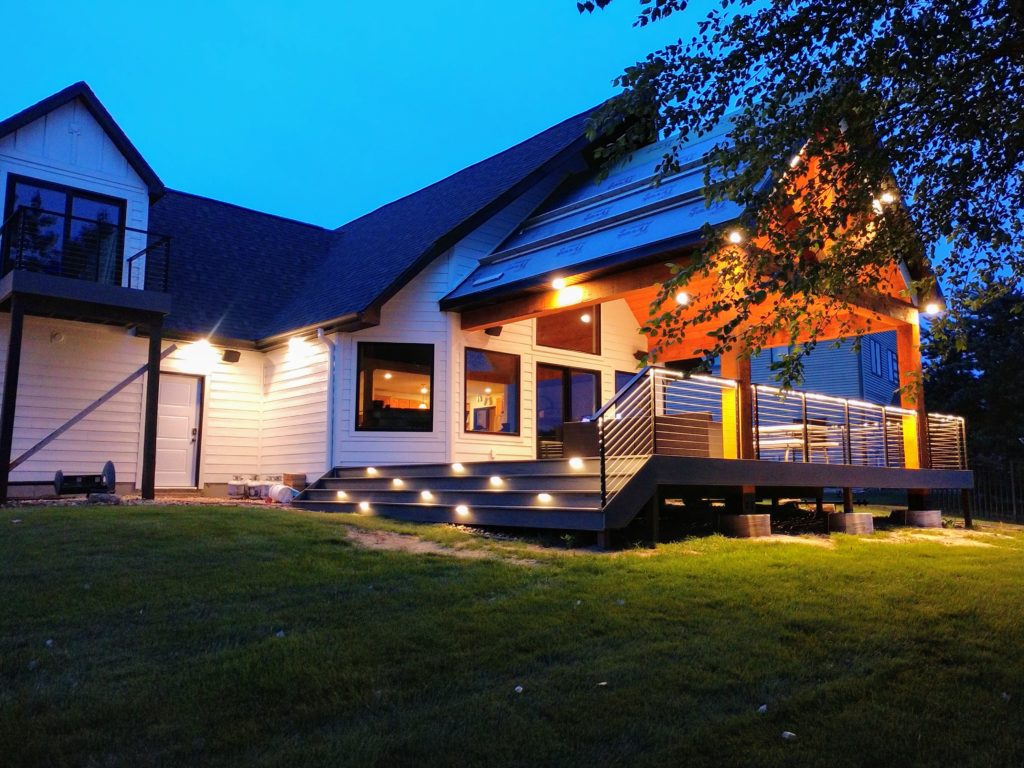 What is in the plans next for Nunnenkamp Electric? In the near future, Trevor and Anna plan to build a shop/house combination outside of Henderson. It will be set up with Smart Technology and be completely solar energized. Not only will this save them money in the long run, they feel it will be a good advertisement to show to potential customers regarding the uses of these two "newer" investments. "Many people feel that new technology is expensive, but it is more affordable than most people think."
Nunnenkamp Electric also is looking forward to possibly hiring another employee in the future.
"We are a local family business, and we want to see other local businesses succeed," says Nunnankemp. Along with sponsoring Heartland Beat, the Nunnenkamps have used local business whenever possible. For a small town to thrive, its businesses must also thrive. "It's important to support one another and support our customer's businesses."
Comments
comments
Powered by Facebook Comments