Written by Brandi Clement
According to the American Red Cross, 3 out of every 100 Americans donate blood. In fact, every two seconds someone needs blood. Ranging from accident victims in emergency rooms to new mothers with complicated childbirths.
Because of stories like these, Henderson local Amy Janzen started volunteering with the American Red Cross in August of 2008 by coordinating local blood drives to help patients who are in critical need. In a recent interview, she was asked how she originally got started organizing blood drives. She stated, "Stephanie Mousel (Donor Recruitment for the American Red Cross) was my first connection. We worked together at York General Hospital, and she thought I would be a good fit for the position."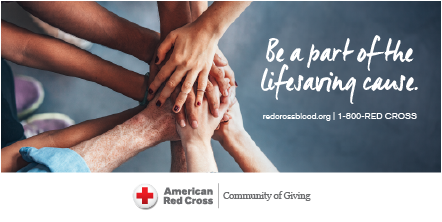 Since becoming a volunteer for the American Red Cross, Amy has been fervently planning blood drives here in Henderson. As there is always a high need for blood, the need is especially high in the summer months as individuals are participating in more outdoor activities that are more prone to accidents. Unfortunately, the timing of this is not the best as statistics have shown that blood donors are less likely to give within the summer months because of scheduling conflicts. Lucky for donors, there is a blood drive happening Tuesday, July 30, at Faith Evangelical Bible Church from 12:00-6:00 p.m.
Donating blood isn't the only one way you can get involved. If you aren't able to donate blood, you may also volunteer your time during the day by managing the check-in or refreshment table, participate in recruitment calling, and/or unloading and loading the truck before and after the blood drive. In addition, there are scholarships available for students who volunteer their time with the American Red Cross.
The American Red Cross Blood Drive will be held at Faith Evangelical Bible Church on Tuesday, July 30, from 12:00-6:00 p.m. Contact Amy Janzen at 402-366-5191 or by email: jajanzan@gmail.com to get involved or if you have any questions. Donors may walk-in or make an appointment online to donate. A special thanks goes out to Subway for donating cookies for this event as well as Henderson Food Mart for donating sandwiches.
If you have Type O, B negative, or A negative, you are encouraged to donate with Power Red. Donors through Power Red give a concentrated dose of red blood cell during a single donation to maximize their impact. During this donation, red blood cells are separated from other blood components, and the plasma and platelets are safely and comfortably returned to the donor.
Just imagine a world where the letters A, B, and O are missing. M_m would not be Mom without the O, and D_d wouldn't be Dad without the A. Everything would be out of balance without these three important letters. When A, B, and O blood is missing from hospital blood shelves, patient lives may be in jeopardy. We've attach an online sign-up for blood donors HERE.

Comments
comments
Powered by Facebook Comments