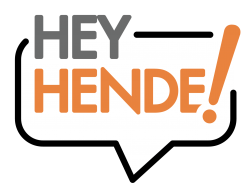 Logo Designed by Abbie Friesen, Owner of Simpatico by Designs.
HeyHende! Whether you live here or just should be living here, don't miss out on what is happenin' in our small community infused with rich culture, active leisure and a vast quality of life. Come join us in the ride as our community shows off its strong, growing atmosphere.
Henderson Community Days is just around the corner, and in conjunction with this and with the help of the Henderson Chamber of Commerce, we are so excited to launch the 'HeyHende!' campaign. Please help us in sharing why Henderson, Nebraska is such a great town to be affiliated with by using the hashtag #HeyHende throughout this weekend and the year!!!
Here is the launch video to our campaign. It touches on just a few of the great aspects and amenities of this great town we call our own…
Comments
comments
Powered by Facebook Comments