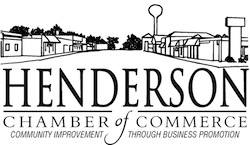 The Henderson Home Show is less than a week and away and if you haven't highlighted February 25 and circled it in red on your calendar, you should do so right away.
The Henderson Home Show will start on Saturday, February 25, bright and early at 7 a.m. with the Henderson Chamber of Commerce Pancake Feed for breakfast. Â Come for pancakes and sausage for a freewill donation from 7-9 a.m. in the Heartland School Cafeteria. Â We will be raising money for a new computer for the Chamber.
At 9 a.m. the Henderson Home Show will begin with a long list of vendors. The number of vendors has increased significantly compared to previous years, with many new vendors who have never been at the Henderson Home Show. Â This years booths include:
Baer's Furniture
Bio Green
Henderson Chamber
Q125 Committee
Cats Cradle Photography
Cornerstone Bank
Cloth Convert
Critel Enterprises
Dale Lawn and Sprinkler Repair
Friesen Landscaping
Galaway Creek Golf Course
Heartland Community Schools
HeartlandBeat.com
Heartland FFA
Henderson Foundation
Henderson State Bank
Heritage Park
HHCS Jr. Auxiliary
Hiebner Body Shop
Ignite Dance & Cheer
Just N Time Construction
Lemonds Siding
Mainstay Communications
Mainstay Satellite Systems
Mary Kay Cosmetics
Miller Seed and Supply
Northern Lawn & Underground
Perennial Power
Premier Jewelry
Ratzlaff Farms
Royal Family Kids Camp
Subway
Smorgasbord
Teckmeyer Financial/ John Kroeker
York Heating and Air
As we continue to Celebrate the 125th Anniversary of Henderson in 2012, the Q125 Committee will be unveiling the first pieces of memorabilia which will be sold during the Home Show. Â During the Home Show there will be a running slide show of pictures from the Centennial, and the Centennial video will be shown at 10:00 am at the north end of the gym.
While the number of booths are sure to keep you busy, there will also be activities throughout the day provided by the vendors including FREE kids activities. Â Stop by the Chamber booth for a map of the booths with kids activities.
IGNITE Dance and Cheer will also be holding a performance at the north end of the gym at 1 p.m. Â The PTO will also have a Scholastic Book Fair on the stage in the old gym, with a large selection of books for sale.
Various food options will be available throughout the day with the Hospital Auxiliary luncheon from 11a.m to 1 p.m. and the Jr. Auxiliary Homemade Ice Cream stand.
As you can see, there is more than enough exciting exhibits planned to keep you busy at  the Henderson Home Show, on Saturday, Feb. 25, at Heartland Community Schools from 9 a.m. to 2 p.m.  Don't miss this great community event.
Kelsey Bergen
Comments
comments
Powered by Facebook Comments