The Huskie Girls Golf team has been extremely busy with four golf meets in the last week. Here are the results and recap's from Coach Jon Baehr at the Tri County and Fullerton golf outings.
Heartland Girls Golf @ Tri County Invite September 2, 2011
We finished 7th out of 11 teams.
We had an okay day as a whole for our team. Â We are continuing to have lower and lower scores posted as the year is going on. Â That is a great thing to have so far. Â We played at Hidden Acres in Beatrice. Â This course as a whole is a tougher course for the girls. Â There are a lot of quality golfers at this invite, and it is a real test for the girls. Â We had one girl medal and several other girls shoot their best rounds to date. Â Our team total was 450. Â I really feel we are getting closer to what we are capable of, but I still feel we have a ways to go before we actually reach what we are capable of shooting.
Scores:
Jen Yoder 113: Jen did a nice job of coming back after having a rough round on the front side. Â She did a good job of not getting to out of it when she struggled early, and even though she was not happy with her round as a whole, it showed some growth as she didn't give in and completely blow up.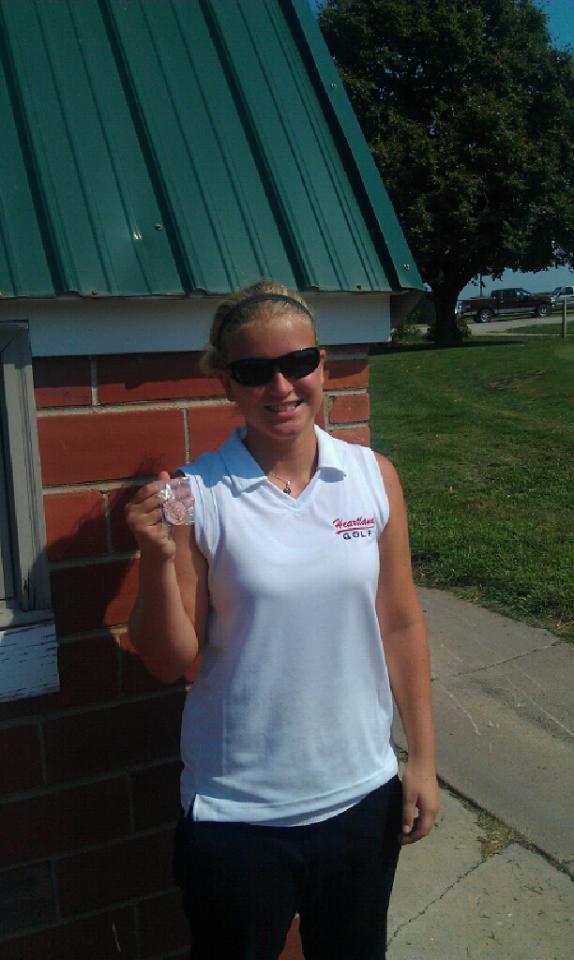 Paige Mestl 98: Â Paige earned a 7th place finish. Â She had solid day as a whole, and she is starting to get better at her short game and also managing her game around the course. Â I really liked how she played.
Sam Boardman 118: Â This was Sam's best round of high school golf. Â She is really improving and getting better as she plays. Â Sam has consistently lowered her scores and gotten better over the course of the year and you can even go back to last season and see how much she is improving.
Kim Stort 121: Â Kim is really new to the game as a whole. Â In her first 18 hole round she came out and shot a pretty good score for someone who has golfed as little as Kim has. Â The more she plays, the better she will get as she actually hits the ball pretty hard. Â If she can continue to develop a better touch around the green, she may see her scores go down even more.
Kaitlyn Quiring: 134: Â Kaitlyn had a solid 9 holes of golf, but struggled to finish her round. Â She is getting better, but Kaitlyn is working to be more consistent with her swing and with her ball striking. Â She is improving as a whole, and that is the main thing. Â I think by the end of the year she could surprise herself with the type of score she is capable of shooting.
Overall, I liked what we got down as a team at this meet. Â I think we are getting better, and I think we are showing some improvement, but it will be important to work at some little things to continue to drop our scores.
Jonathan Baehr
---
Heartland Girls Golf @ Fullerton Dual September 6, 2011
Heartland Results:
Jen Yoder – 53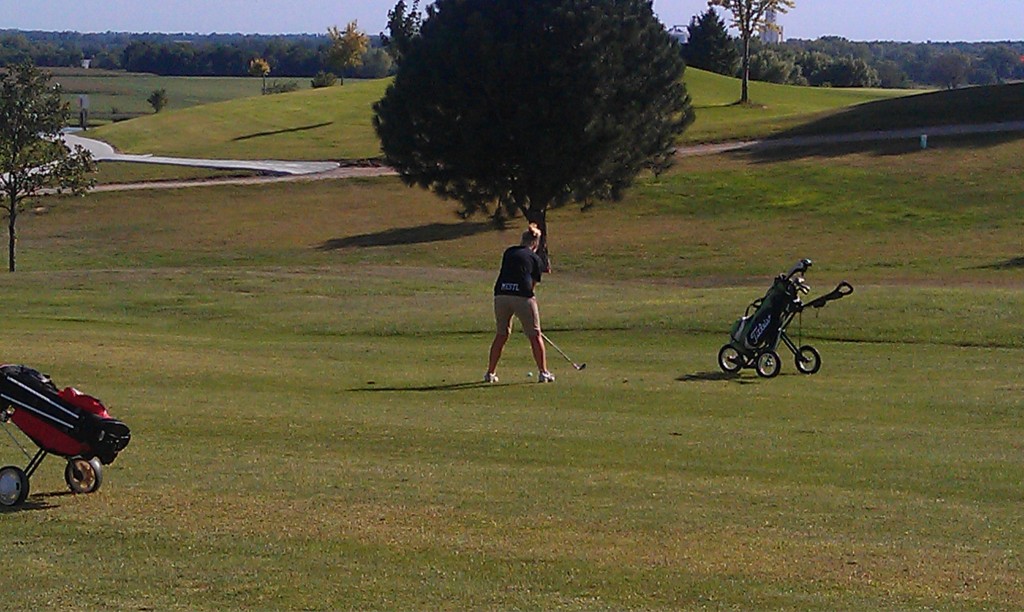 Paige Mestl – 49
Sam Boardman – 62
Kim Stort – 68
Kaitlyn Quiring – 73
Team Total: 232
Heartland Reserve Scores:
Lydia Quiring – 69
Kaeli Lundstrom – 70
Fullerton Results:
Morgan Malander – 55
Tori Ostrander – 55
Amber Meyer – 60
Maggie Foland – 63
Ellie Lesiak – 66
Team Total 233
Fullerton J.V. Scores:
Krystal Bialas – 68
Kaylynn Shepard – 71
Comments from Coach Jon Baehr:
As a whole I thought we played a bit below what we are capable of. We are getting better, but today it didn't show up as much as I would have liked. I thought we came out a bit unfocused and not really ready to go, and that happens to us when we have duals at times. That is something that I need to do a better job of as a coach, getting our girls focused and ready to go when we have a dual. We also need to play with a bit of pressure. We have had a couple of good meets and then we have followed them up with scores that are higher than what we want. We are going to have to work on being consistent.
Jen Yoder played pretty well, but her driver caused her a bit of trouble as she had to O.B.'s which hurt her overall score. She is playing pretty consistent, and is getting closer and closer to really hitting her stride on the course. I think she is on the brink of shooting some really good scores.
Paige Mestl had the low round of the dual. She shot a 49. Paige is playing pretty well for us right now. She has posted some solid rounds as of late, and if she can iron out a few little issues in her short game, she will find herself shooting lower scores yet.
Sam Boardman has been pretty consistent for us this year. She struggled a bit more for us today, the course length hurt her a bit as she struggled to get off the tee's today. She made an adjustment a bit to late, but as a whole she pushed through the round and finished with a 62.
Kim Stort has been getting much better as the year has gone on, but is still struggling to have some touch on her shots and that has hurt her around the green. She is hitting the ball much better than before.
Kaitlyn Quiring had a rough day today shooting a 75. I would have liked to see a lower score from her as she has been playing much stronger as the year has gone on, but today was not her day. I would expect her to bounce back tomorrow.
Kaeli Lundstrom had her best day of the year on the course. She shot a 70. She had a nice day, and is getting a bit more confident as she continues to play. The key thing for Kaeli is getting off the tee and making good contact as she advances the ball toward the hole. I felt good about her day, and I think Kaeli is feeling much better about her game as well.
Lydia Quirng also had her best day of the year. She shot a 69 today. Lydia is getting much better this year. This is her first year golfing, and it was a rough start, but she has really tried hard to get better, and has really worked on her swing as she has gone on this season.
Comments
comments
Powered by Facebook Comments