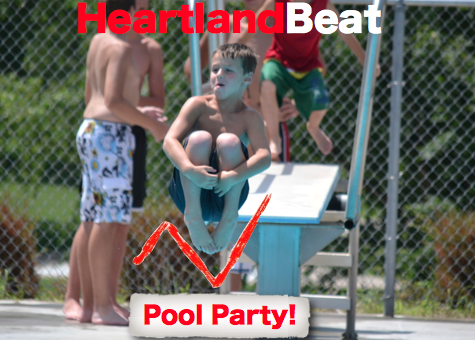 We are very excited to have our 1st Annual HeartlandBeat.com Pool Party tomorrow evening from 6-8 p.m. at the Henderson Aquatic Center. Â If you are not sure about coming, here are five reasons why you should attend.
1. It's hot out, in fact it's been really really hot so you deserve to come to the pool and relax and cool off in the water!
2. Contests: We'll be having several contests throughout the evening such as, Biggest Splash, Smallest Splash, Swimming Relays, and a surprise game that you won't want to miss! Â The winners will receive a HeartlandBeat.com T-shirt and other prizes.
3. A great time to hang out with friends and family at the pool. Â Also we'll keep your kids occupied with games and contests so you can relax for a little bit, unless of course you are competing against your children in the games and contests!
4. Support the Henderson Aquatic Center. Â As most summers do, this one has definitely flown by. Â We're almost to August and before you know it summer will be over and the pool will be closed. Â So come out and enjoy Henderson's fantastic pool!
5. We'll take your picture! Â Whether you're going down the slide or doing a cannonball we'll be snapping pictures the whole night and posting them this week on HeartlandBeat.com. Â If there is a particular photo you absolutely have to have we've got you covered. We'll be posting them on our Photo Gallery so you can purchase the photos.
Remember that the Pool Party is for all ages. We hope to see everyone tomorrow night from 6-8 p.m.
*In order to keep the pool hours regular during the week and support the pool, it will still be open to the public tomorrow evening. If you do not have a pass you will need to pay to get in.
Comments
comments
Powered by Facebook Comments