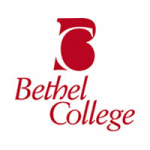 NORTH NEWTON, KAN.—The Bethel College Alumni Association will host its 18th annual Summer Thresher Golf Classic at Galaway Creek Golf Course, Henderson, Saturday morning, Aug. 13. Bethel College, located in North Newton, Kan., is a four-year liberal arts college affiliated with Mennonite Church USA.
The 18-hole, four-person scramble for men and women promotes fellowship and supports the college through its Alumni Association. All golfers are welcome. Players may register as teams, or as individuals who are then placed on a team.
Registration forms are available at the course (401 S. 15th St.), from the Bethel College Office of Alumni Relations(316-284-251, alumni@bethelks.edu), or at www.bethelks.edu/alumni/events/golf.php.
Registration cost is $65. However, a $10 discount applies if the form is postmarked or delivered with payment by Thursday, Aug. 4, to Bethel College Office of Alumni Relations, 300 E. 27th St., North Newton, KS 67117. The tournament is free to current Bethel students and to youth in high school in 2011-12.
Hole prizes as well as team prizes for first, second and third place will be awarded at a barbecue lunch that follows. The meal is prepared by alumni and friends who attend Bethesda Mennonite Church, Henderson. The lunch is free to those who played. Others are welcome, as well, with a suggested donation of $6 to defray costs and support the college.
Bethel College is the only private, liberal arts college in Kansas listed in the 2010-11 Forbes.com analysis of top colleges and universities in the United States, and is in the first tier in its category in the "U.S. News & World Report" annual ranking of "America's Top Colleges" for 2011.
The term "Threshers" refers to Mennonite wheat farmers who founded the college in 1887. Current students as well as alumni refer to themselves as Threshers, and it is the name given the college athletic teams.
Comments
comments
Powered by Facebook Comments