Summertime for the average high school student involves sleeping in, late summer nights, occasionally putting in some work hours, but mainly just savoring every second of it with friends and fun. Â However, for Heartland soon to be Junior, Mikaelyn Dick, summer has entailed a whole lot more than that.
Mikaelyn was selected to be a member of the 2011 Pinnacle Bank Nebraska All-Star Junior Team.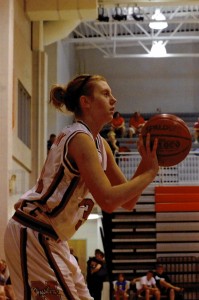 Selection for this prestigious team was formed from tryouts at three locations prior to summer hitting. Â The locations were Grand Island, Lincoln and Omaha. Â Mikaelyn made her way to Grand Island to give it a shot. Being selected for this team is a high honor. Â The selection process along was pretty intense. Â From the three locations and out of all the women athletes trying out, only 25 girls were selected from the three locations combine. Â That was just the first hoop to jump through. Â She made the cut and, from there, was sent to yet another tryout with the 25 chosen to Concordia University in Seward, where they narrowed the 25 girls down to just eleven.
The odds were rough for her.  Not only was the competition stiff,  but Mikaelyn was still nagged by her injuries from last season.  Mikaelyn dealt with most of last year's basketball season with a stress fracture injury in her foot.  She continued to play, but this created more agitation to the injury.  She sat out track season due to this, but still, the injury was pretty bad.  So, when she tried out she was still dealing with her injury.  Yet still, her talent prevailed over injury as she was chosen to hold one of the eleven positions.
After the initial excitement of making this elite team, she still was unsure if she would be able to play in the 1st tournament. Â She did all she could to play a role on the team from the start by doing a lot of physical therapy. Â Two weeks before the 1st tournament, she tried to shoot around and noticed that she was a bit out of shape with all the time she had taken off with rehab. Mikaelyn held strong though, by working hard, playing in the 1st tournament and getting stronger and more in shape each day.
Mikaelyn has seemed to start eating, breathing and sleeping basketball this summer. Â The team was involved in some of the most well-known tournaments to high school basketball. Â These tournaments took her to Kansas, Colorado and here in Nebraska. Â Not only were they making the trips to play ball, they were making the trips with a lot of success. Â The team finished first at both the MAYB at Bonner Springs, Kansas and at the MAYB at Colorado Springs, Colorado tournaments. Â They also finished in the top 8 teams out of 64 teams from all over the US at the Miss Basketball Tournament, Kearney, Nebraska. Teams playing at this tournament were from 11 of the 50 States.
The team would get together and practice before every one of the tournaments. Â Since these players were selected from all over the state, practice would be held in Kearney, then Columbus and even to Ogallala.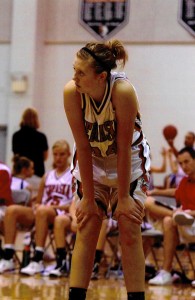 Mikaelyn spent a lot of time traveling for practice and games, but she not only found joy on the court. Â She said she has a lot of fun traveling with the team and watching movies on those long road trips. Â Those trips brought more than just basketball as well. Â They were able to fit in a bit of sight-seeing along the way as the girls got to go to the Garden of the Gods in Colorado Springs, which was a good time for the team.
Mikaelyn had a lot of fun this summer working on her basketball talent and looks to bring back what she has developed to the Huskies this season. Mikaelyn wants to be more of a leader and help the team understand what to do in certain game-time situations. One advantage she had this summer was the team brought many of the same philosophies and strategies as the Heartland Huskies hold. Â This helped her to gain more experience getting those repetitions in against a pretty high level of competition.
Mikaelyn's goal for the summer was to really work on certain aspects of her game, including driving to the basket more and to be a lot more physical.  She said playing with the team this summer has really helped her get better at those things and she is excited for the upcoming basketball season.
However, Mikaelyn understands she has got a busy fall of hard work for volleyball, which is quickly approaching. The Huskies have a team camp at Iowa State this weekend and two-a-days right around the corner. Â And with that, dare we say it, school is starting.
Mikaelyn's summer was a full one, but also memorable and very useful to take into her athletic years to come. Congratulations to you, Mikaelyn.
**If you go to www.ngba.info,  you can get the roster and coach information from the Pinnacle Bank All-Star Junior Team.  Click the 'Junior Team' and you can view the tournaments played.  The final summer record for the team was 18-1, there only loss being from an Oklahoma team at Miss Basketball in Kearney.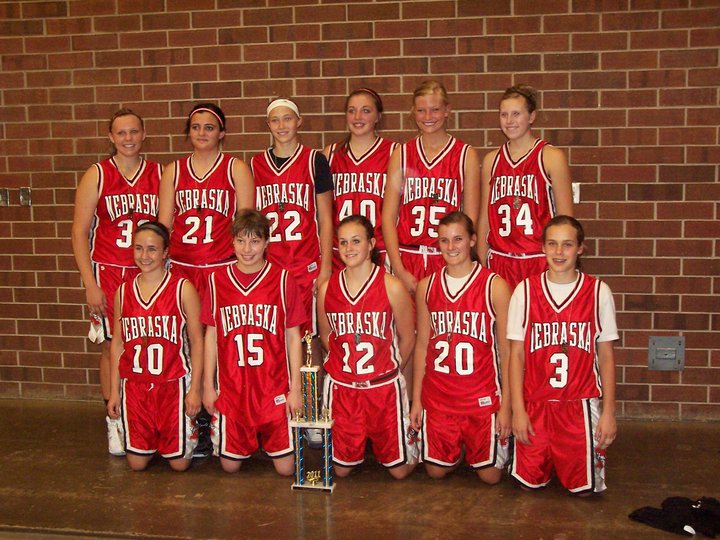 Comments
comments
Powered by Facebook Comments