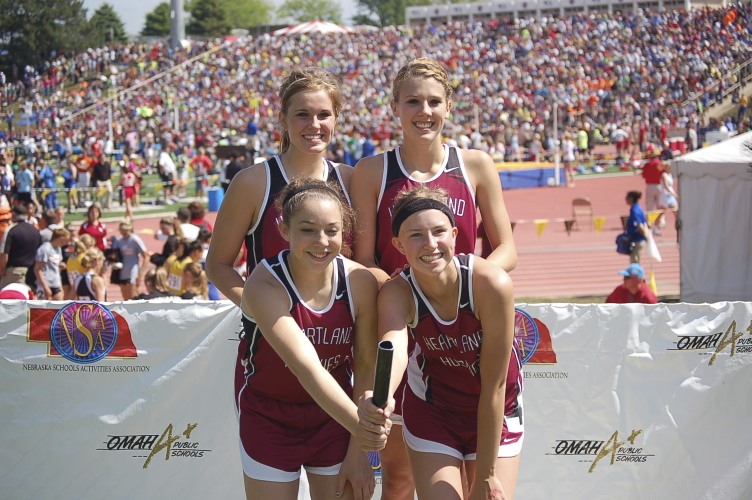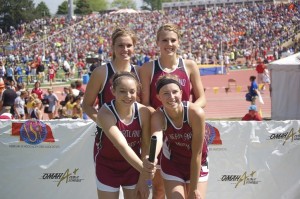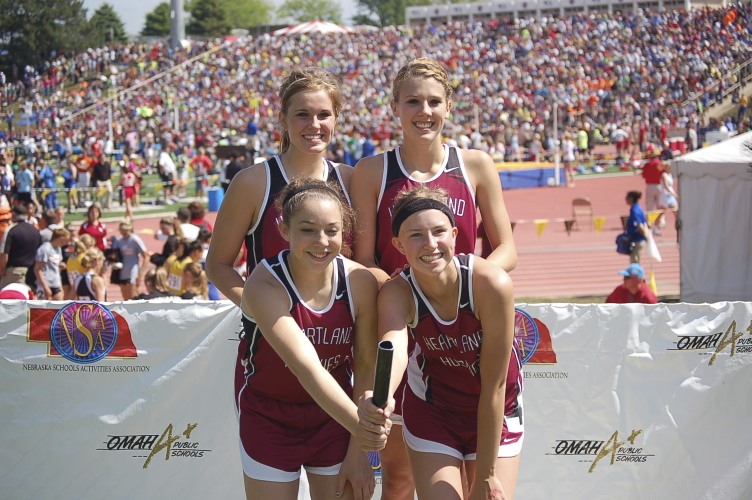 Although the number of Heartland Track qualifiers was small, it did not hold those four competitors from doing something special at the Nebraska State Track Meet held May 20-21 at Burke Stadium in Omaha.
State Track qualifiers were junior Jennifer Yoder (100m, 200m and 4×1), sophomores Sara Brune (100HH, 300LH, 4×1), Ashton Kroeker (4×1), freshman Bailey Carr (4×1) and senior Tori Bittinger (4×1 alt). Â This was first time appearances at the State Meet for Brune and Carr.
The team struggled through the rain and wind Friday with only Yoder making it to finals in the 100m. Â However, the team came focused to prove themselves in the 400m Relay held Saturday. Â They had one of the fastest times in Class C prior to the District Meet, but due to weather conditions at Districts, their performance landed them in the slow heat of the race at State. Â They knew they had to fight against time to stand a chance at the gold. Handoffs went off without a hitch and the team finished with a promising 51.5 seconds to put them first in their heat. Â Now they just had to wait and watch the faster heat compete to see where they fate would lie. Â The second heat took off and everyone seemed to hold their breath when the results were waiting to be posted on the Burke Stadium Scoreboard. Â It finally came; winner of the fast heat finished with 51.54 seconds. Â The girls did it, they just received a State Gold Medal. Â How sweet it was.
Yoder also turned around to compete in the 100m finals and finished 4th with a time of 12.78. Â The team ended up 15th overall in Girls Class C.
The experience was fun for fans, coaches and athletes alike. Â Heartland found success at State and it was fulfilling to watch it happen for them. Congratulations to Bailey Carr, Ashton Kroeker, Sara Brune and Jennifer Yoder; Class C State Champions!
[flickr-gallery mode="photoset" photoset="72157626673321803″]
Photos Courtesy of Jessica Siebert, Corbin Tessman, and Kelsey Bergen
Comments
comments
Powered by Facebook Comments