Soil health field day yields new insights for area farmers

(McCool Junction, Nebraska) — When input costs went through the roof in 2021 and 2022, Fillmore County farmer Jordan Uldrich decided that he needed a better strategy for fertilizer and weed management—one that wasn't going to break the bank, but that would still be effective. The following winter, "I got my PhD on YouTube," he joked. He watched hundreds of videos on soil health and decided to give cover crops a try on some of his acres to reduce the need for inputs in the 2023 growing season.
Uldrich was one of the speakers at a recent farmer-led soil health field day held in McCool Junction. The event drew a crowd of about 50 and was hosted by America's Conservation Ag Movement, Trust in Food, and the Farm Journal.
Uldrich spoke to the gathered farmers about lessons he's learned in year one of implementing cover crops. He won't know until harvest time if the investment will pay off. However, if there is little yield drag from the new management practices, he predicts that the changes he's implemented will save him $25 per acre.
"It doesn't have to cost us a bunch of money to try something new," he told his fellow farmers. "What I did only cost me my time, ingenuity, and some elbow grease."
Everyone has a few acres they could use to experiment with new practices that won't cause financial ruin if it doesn't work out, he suggested. "It would be foolish to not stand on our forefathers' shoulders, to move forward as the next generation of stewards of the land. There is no reason we can't help each other find a way to make the puzzle pieces of sustainability and profitability fit together for our future."
Building on Uldrich's message, Jenny Rees, Nebraska Extension educator, presented on a two-year study using perennial cover crops. While the study is still in progress, Rees shared information about what they have learned so far about the practice and how it might be incorporated on row crop acres in this area. She reminded producers in the room that they should take a broad view of the economic benefits of different management practices. The one-year snapshot of profit and loss might make it look as if practices like cover crops are too costly; however, if you zoom out to the two-to-five-year picture, the practices may pay off over time.
Rees's presentation included success stories as well as failures so that when other farmers get started with these practices, they can avoid making the same mistakes as those in the study. Rees works with the On-Farm Research program and invites farmers to participate to find out answers to their agronomic questions.
Some of the most interesting material from the field day took place outside. The weather was ideal for a soil demonstration from USDA NRCS State Soil Health Specialist Aaron Hird.
Hird showed soil samples from a conventionally farmed field and a no-till field to show the differences in soil structure and function. He also demonstrated a variety of indicators of soil health that were observable without special equipment or a laboratory, such as its aggregate stability and infiltration rate. Hird suggested that farmers who are curious about their soil health should reach out to their local NRCS office and schedule a visit with a soil specialist who could assess basic soil health indicators, collect soil for sampling, and provide recommendations. There is funding available through NRCS, local NRDs, and several other sources for practices that can improve the soil's function.
Jimmy Emmons, a Leopold Conservation Award winner, third generation Oklahoma farmer, and vice president of No-Till on the Plains, took the field day attendees to a nearby soybean field to show the benefits of leaving cover crop residue on the soil as armor against compaction from livestock grazing or farm vehicles. Livestock integration was a main theme of the field day, as there were several speakers that touted the soil health and financial benefits of adding livestock to row crop operations.
Emmons suggested that thanks to climate smart initiatives, there has never been a better time to get started with conservation agriculture practices. There is money available from public and private sources to reduce the burden of cost for producers who are making management changes for soil health.
Representatives from Ducks Unlimited and The Nature Conservancy also spoke at the event to let producers know about programs and funding available for conservation practices, such as the Nebraska Soil Carbon Project. This program, which is available to farmers in the Central Platte and Upper Big Blue Natural Resources Districts, provides funding and technical assistance to farmers who add cover crops, diverse rotations, and no-till practices to their acres.
York County producer Hank McGowan was one of the featured farmers for the event. McGowan talked about cover crops as a buffer against extreme weather variability (in recent years he has experienced hail, drought, and tornadoes) and how cover crops have greatly improved his soil's infiltration rate, reduced erosion, suppressed weeds, and increased his overall profitability.
Cover crops improve soil organic matter much faster than no-till practices alone, said McGowan, so they are a great solution if you're trying to restore function to degraded soil. McGowan has been adding new management practices and transforming his acres a bit at a time for the past few years. His goal is to move the needle even further to reduce synthetic nitrogen application in the future.
McGowan admitted that drilling in a cover crop in the fall does make harvest time more of a hassle, but it is manageable. The extra work in the fall leads to a simpler spring planting season, with less inputs needed.
While weed suppression wasn't his primary goal in planting cover crops, McGowan says he was surprised to see how effective the practice has been at combating marestail and waterhemp.
Adding rye to lock up residual nitrogen in the soil while also feeding his cattle has been an added benefit. McGowan says he is glad to be doing his part to address the nitrate problem in the drinking water supply in McCool Junction where he lives and farms, as the community recently had to drill a new well because the level of nitrate had gotten too high in the municipal water supply.
"These things will test your faith," said McGowan of cover crops and no-till practices, especially when your fields don't look as 'clean' as your neighbor's. However, his faith in conservation practices has paid off and he is seeing the dividends on his acres. "It's been working better than I expected it to. I was told it would take five years before I saw improvement, but it's not true. I saw some benefits immediately."
Producers interested in improving their soil can learn more about funding from the Upper Big Blue NRD for soil health practices through the
Water Quality Management Plan Incentive Program
and
Nebraska Soil Carbon Program
. Looking for more information on soil health? A regenerative agriculture conference is in the works for February 2024, featuring Mitchell Hora, farmer and CEO of Continuum Ag. Full details and registration for this event are at www.upperbigblue.org/regenerative-ag.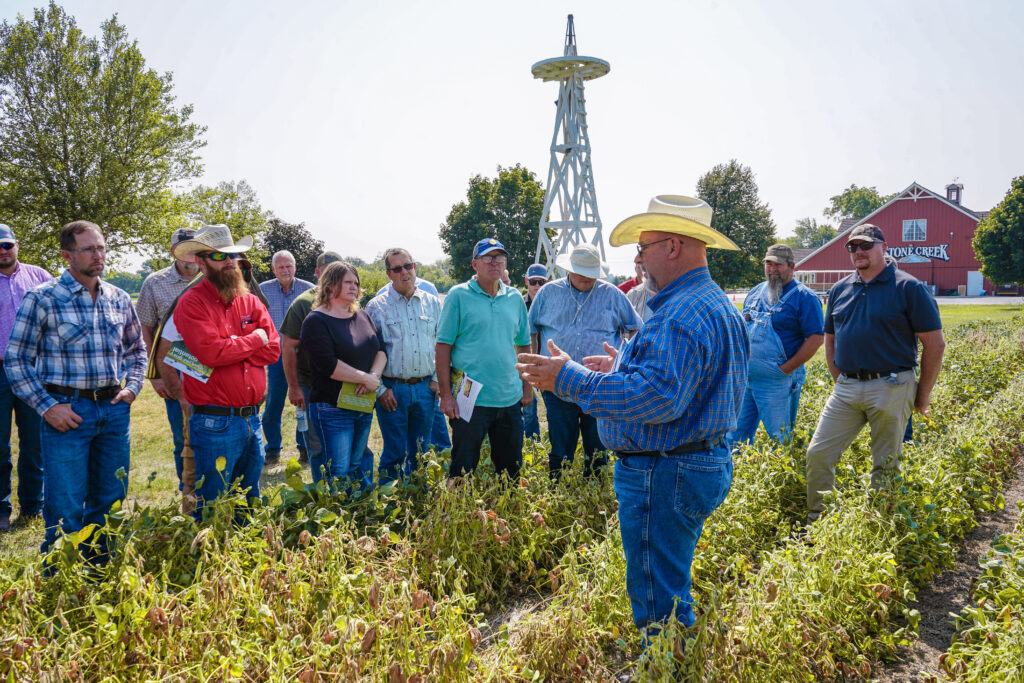 Comments
comments
Powered by Facebook Comments