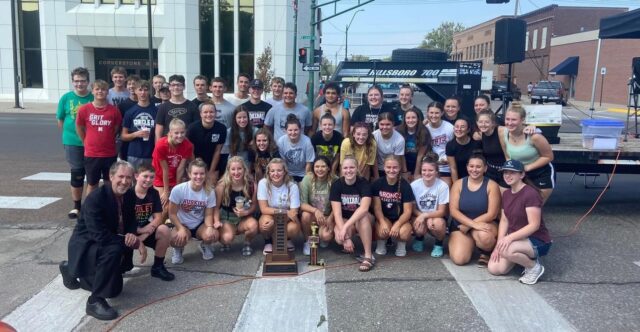 The Heartland High School Marching Band dominates at the 2023 Cornerstone Bank Marching Band Competition at Yorkfest.

The Yorkfest Parade on Saturday, September 9, has come and gone, but the coveted Traveling Trophy will stay with the Heartland High School Band. Not only did the band win the 2023 Cornerstone Bank Governor's Trophy for Best Overall Band and 1st in C Class, but they will keep the Traveling Trophy—again.
It goes to any band that wins three consecutive times, so with Heartland's consistent outstanding success, they've had it for the past three years and will start the cycle over this year.
"I'm very proud of the kids and the work they've put in so early in the season to win at Yorkfest. This is a very good group, and I've been pleased with their work ethic," said Band Director Royce Schweitzer.
Schweitzer said they were short about five days of practice this year because of how the calendar played out with when school starts and Yorkfest. "In preparation for Yorkfest, we had about three weeks of practice. We usually stay inside until we learn the music well enough so we don't hurt each other out on the street."
It helps when you have a band instructor like Schweitzer, who has been at it a long time. He's been teaching music for 51 years and 48 years at Henderson/Heartland. It's obvious from the band's success that he knows what he's doing and has prepared the band better than anyone in a short amount of time.
There are usually 12-16 bands competing at Yorkfest, and according to Schweitzer, the bands who do the early parades usually do well at the longer and more competitive ones like Harvest of Harmony in Grand Island.
The Heartland band and, previously, before consolidation, Henderson has been participating in the Yorkfest Parade since 1984. "We've only missed it a few times when a volleyball tournament conflicted with it. If we couldn't make Yorkfest, we went to Nebraska City for the Applejack Parade or to the Kearney Band Day," said Schweitzer.
Watch video of the Heartland band performing at Yorkfest courtesy Christine Quiring
Full Results:
CLASS A/B
1st York High School
2nd Fairbury High School
3rd York Middle School
CLASS C
1st Heartland Community School
2nd Cross County High School
3rd Centennial High School
CLASS D
1st McCool Junction High School
2nd Dorchester Public High School
3rd Giltner Public High School
Comments
comments
Powered by Facebook Comments