The idea of finding a way for his young sons to play football in youth league blew up into something Greg Boehr never could have imagined. Today, it's called the Farmers Valley Youth Football League. It consists of an 11-man division with eleven teams and an 8-man Division with 18 teams participating.
Back in 2012, Boehr took a few boys to play in the Blue Valley Youth Football League in McCool Junction just to see what it was all about. "I wanted to get a feel for what it was like, and that's when I decided to start our own league," said Boehr. By 2015, Boehr had established the Farmers Valley Football League, which was off and running.
"I never imagined it would grow to be what it is today, but it became popular because of how we approached youth football and the rules we tweaked to fit the game for 4th-6th graders," said Boehr. The league has blossomed, to say the least, with teams from as far west as Arcadia/Loup City, north to Newman Grove/St. Edward, south to Superior, and east to Malcolm.
Boehr's mission was always to make football attractive to younger players, emphasizing sportsmanship and their development. "We wanted to bolster the sport so these kids would be eager to join their individual school's junior high and high school programs. Growing the sport and making it a positive experience has always been our goal," according to Boehr.
Today, Boehr no longer coaches, but he is involved in the administrative side of the Farmers Valley Youth Football League. He takes care of recruiting new teams to the league, scheduling, rules, and organization. He was able to coach both his boys, Conner in 6th grade and Nolan in 4th-6th.
Since then, other fathers have stepped up and continued the program here in Henderson. The Henderson team has co-opted with Giltner and Sutton, and for some years, it has just been kids from the Heartland school district on the team.
Currently, the team is combined with Hampton and is called the H & H Coyotes. Their head coach is Dylan Bamesberger, and their assistant coaches are Eric Allgood, Chris Arnett, Jeff Gloystein, Brett Olsen, Taylor Siebert, and Steve Stebbing.
The Coyotes play in the 8-man league and have 28 kids on their roster. Seventeen players are from the Heartland school district, and eleven are from Hampton. They alternate their weekly practices in each community and take turns hosting their home Sunday afternoon games.
"It's been great to see the community support grow for this league and the exciting atmosphere at these Sunday afternoon games in the fall. The schools have always been accommodating to us and allow us to use their practice and football fields for the games," said Boehr.
Some of its rules make the youth league appealing to participants and parents.
There are specific limitations on what positions players who weigh over 150 pounds may play. No player over 180 pounds is allowed to play. The specifics of the rules for "heavyweights" are listed in detail on their website.
There is so much difference in physical maturity levels of kids in this age group, so this helps to keep the game fun and safe, according to Boehr. They also adhere to the latest helmet replacement and reconditioning rules, ensuring everyone is up-to-date with equipment which promoting safety for the players.
A mercy rule is also applied so that when a team has a 30-point lead, the clock will run continuously with stoppages for timeouts, possession changes, quarter changes, injuries, and penalties. Coaches are encouraged to play their junior varsity players so as not to run up the score.
They also play a 5th quarter for the junior varsity kids who don't get in the regular games. There are 18 teams in the league but two of them are developmental teams according to H & H Coach Steve Stebbing. These are teams just starting out and they schedule scrimmages to play them so they can get repeitions and acclimated to what a real game would be like but with their coaches doing the reffing.
The 8-Man league is divided into four conferences, and H & H is in the Central Conference. They had a great start playing their first game on Sunday, August 27, in Hampton, beating McCool Junction 34-6. Their next game was away against Centennial on Sunday, September 10, and they were ahead 30-0 before the game was called after the first half due to rain.
Their season will culminate in some playoff games between team leaders in each conference, and eventually, a league championship game will be played. Boehr emphasized how they try to schedule games between evenly matched teams with similar records so they are competitive.
Coach Stebbing believes the program instills these four core values: 1) Athletes will bring their best effort for every play and practice. 2) Be humble and respectful of others. 3) Seek to serve their teammates, school and communities whether on the field or bench. 4) Recognize being a member of a team helps you deal with many different issues.
H & H will host a matchup against the Friend Fusion team this Sunday, September 17th, at 2:30 p.m. at the Heartland Football field in Henderson. This game is important and will determine the Central Conference Championship. There is no admission fee to come out and watch these boys compete in this outstanding and well-run league.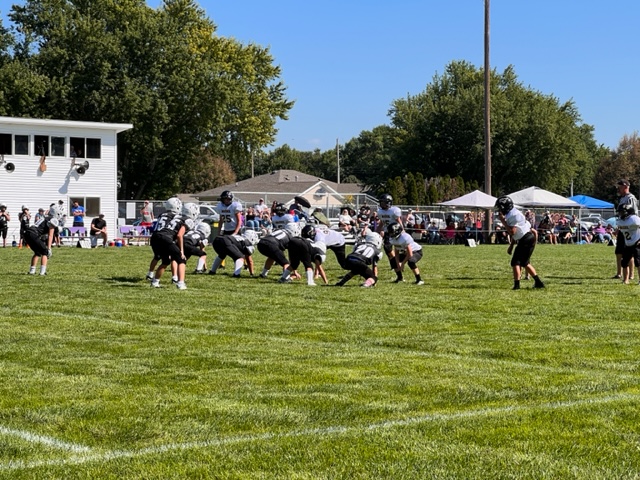 Comments
comments
Powered by Facebook Comments