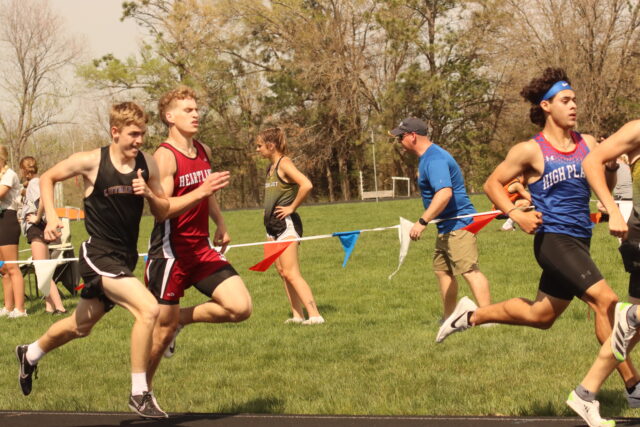 The Heartland track team had a good showing at a near perfect weather day at the D-2 District Track Meet in Oceola, Wednesday, May 11th. Two of the boys' relay teams are going to state (4 x 400 and the 4 x 800), Zach Quiring in the 800 and Garrett Regier in the shot put.
On the girls side Senior Mariah Tessman was the only Heartland girl who made it to state with her second place finish in the pole vault. "Mariah is our three time state qualifier in the pole vault and qualified with her vault of 10 ft.," said Coach Christa Lindsay.
"We faced tough competition in both the boys and girls divisions. Even with the tough competition our athletes rose to the occasion setting multiple season and career personal bests," said Coach Lindsay.
The 4 x 800 relay team was a new one just put together for districts according to Coach Lindsay. The 4 x 400 relay team set a team best record with their time of 3:37.90.
Heartland Boy State Qualifiers
4 x 400 Relay – 3:37.90
4th place
Luis Alvarez, Trev Peters, Zach Quiring, Nick Thieszen
High Plains won it with a time of 3:34.64, McCool was 2nd with a 3:35.78, and coming in 3rd was Nebraska Lutheran running 3:37.16.
4 x 800 Relay – 8:37.73
2nd place
William Nielsen, Trev Peters, Zach Quiring, Hudson Regier
McCool edged out Heartland, winning 1st with a time of 8:34.18
800 Meter Run – 2:06.07
3rd place – Zach Quiring
Zach came in a few seconds behind Lucus Corwin of Nebraska Lutheran, who ran 2:04.45, and winning it was Trenton Neville from McCool Junction, running a 2:03.43.
Shot Put – 44-00.00
3rd place – Garrett Regier
Alex Morner threw 47.01.00 for first place, and Beau LaCroix threw 46-06.00 from Mead for second.
Non-qualifying notable boys' performances:
400 M run – Trev Peters placed 7th, running a 53.29, and Luis Alvarez reached the top 10 in 9th place with a time of 56.14.
800 M run – Sam Quiring placed 10th at 2:24.72.
300 M hurdles – Hudson Regier placed 4th, running a 46.11.
High Jump – Langdon Arbuck went 5-08.00, placing 5th, and Carter Siebert was in 8th place with a jump of 5-06.00.
Pole Vault – Kaleb Ostrander PR'd with a vault of 11-00.00 for 4th place. The winning vault was 12-06.00 Lucas Beversdorf from McCool.
Long Jump – Zach Quiring took 7th place, jumping 18-03.50.
Triple Jump – Carter Siebert PR'd at 37-10.25, placing 8th.
Heartland Girl State Qualifier
Pole Vault
2nd Place – Mariah Tessman – 10-00.00
Non-Qualifier notable girls' performances
200 M run – Hayden Mierau placed 7th at 29.12.
400 M run – Isabel Johnson placed 8th at 1:07.90 a PR, and Grace Regier PR'd
at 1:08.57.
100 M hurdles – Laura Splinter PR'd with a 7th place finish running 20.35.
4 x 100 relay – 5th place finish at 55.78 – Lilly Carr, Isabel Johnson, Hayden Mierau, Hallie Tessman
4 x 400 relay – 4th place finish at 4:37.71 – Katrina Marie Epp, Isabel Johnson, Hayden Mierau, Grace Regier
Shot put – Allie Boehr was just shy of qualifying with a 4th place throw of 31-10.00, and she got 5th place in the discus at 89-01.
Pole Vault – Hallie Tessman went 8-06.00 for 4th place, and Emersyn Oswald PR'd at 8-06.00, tying for 4th place.
Click here for full D-2 District results
Photos below courtesy Deb Mierau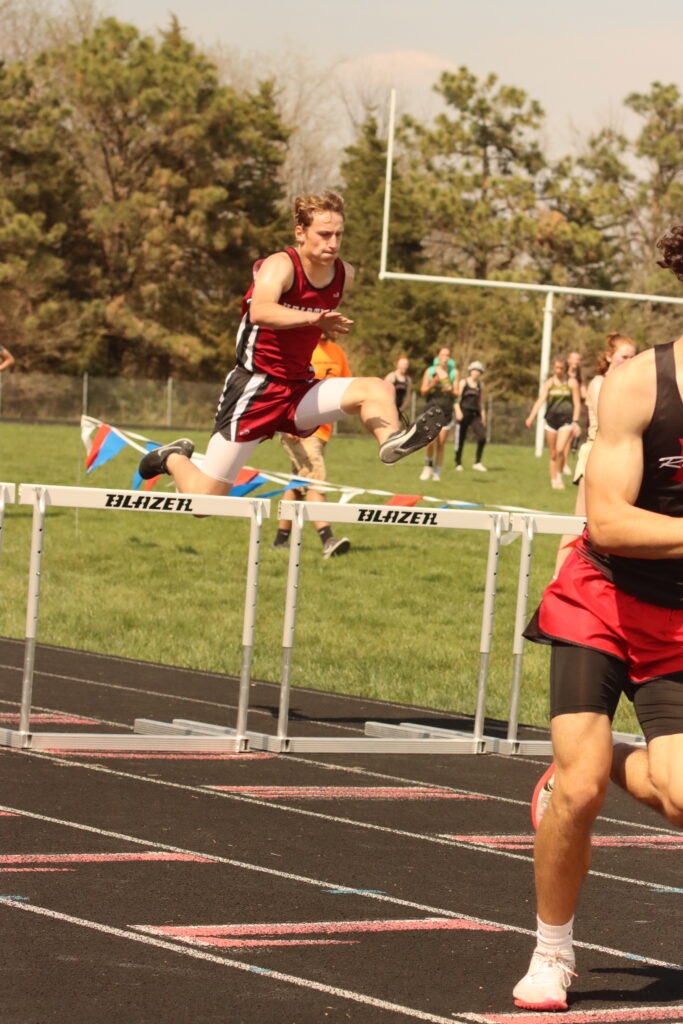 Photos below courtesy Olivia Casper