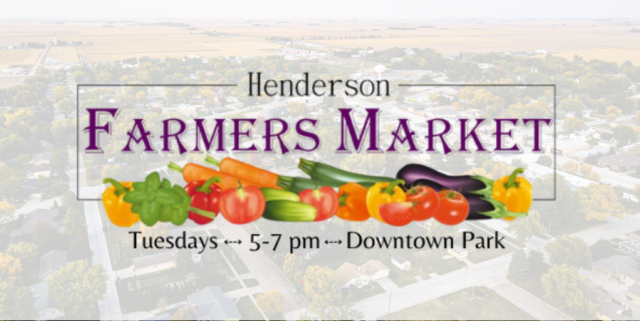 It's officially Summer! which means the 2022 Farmers Market is coming up, and it's coming up fast! Starting June 7th – Aug. 9th, every Tuesday evening from the hours of 5:00 to 7:00 p.m.
Come to the downtown park where vendor booths will be set up, and garden produce will be sold. Vendors registered so far are:
Balabans- Produce, canned goods, homemade noodles, soup mixes, jam and jelly cappuccino mixes, and more.
Brush Strokes- Children's books, hand drawn note cards, small pieces of artwork, Fret work.
TwoBakers- Prieska, New Year's Cookies
EyeKara- Crafts, crocheted items
Homestead Fed- Produce
A fundraiser meal will be served each week., the 2022 meal schedule is:
June 7 | Bethesda Preschool
June 14 | FEBC
June 21 | Henderson Health Care
June 28 | Class of 2024
July 5 | Community Garden
July 12 | Henderson Child Development Center
July 19 | Henderson Foundation
July 26 | TBA
August 2 | Heartland FFA
August 9 | Farmers Valley 4H Club
Check Facebook weekly for the meal menu and list of vendors on what they plan on bringing to the market here: Henderson NE Farmers Market.
If you're interested in selling homemade or homegrown products during this years Henderson Farmers market, please contact the Henderson Chamber of Commerce for a vendor packet by calling (402)-723-4228 or emailing, hchamber@mainstaycomm.net
Comments
comments
Powered by Facebook Comments