HESSTON, KANSAS–The Bel Canto Singers of Hesston College will present an outdoor concert of choral music May 7 at 7:00 p.m. at the Heartland School archway. Aidan Swartzendruber from Henderson is a part of this choir. Those attending are asked to bring their own lawn chairs for socially distanced seating, and if weather is not good, attendees can sit in their car and listen via a radio station.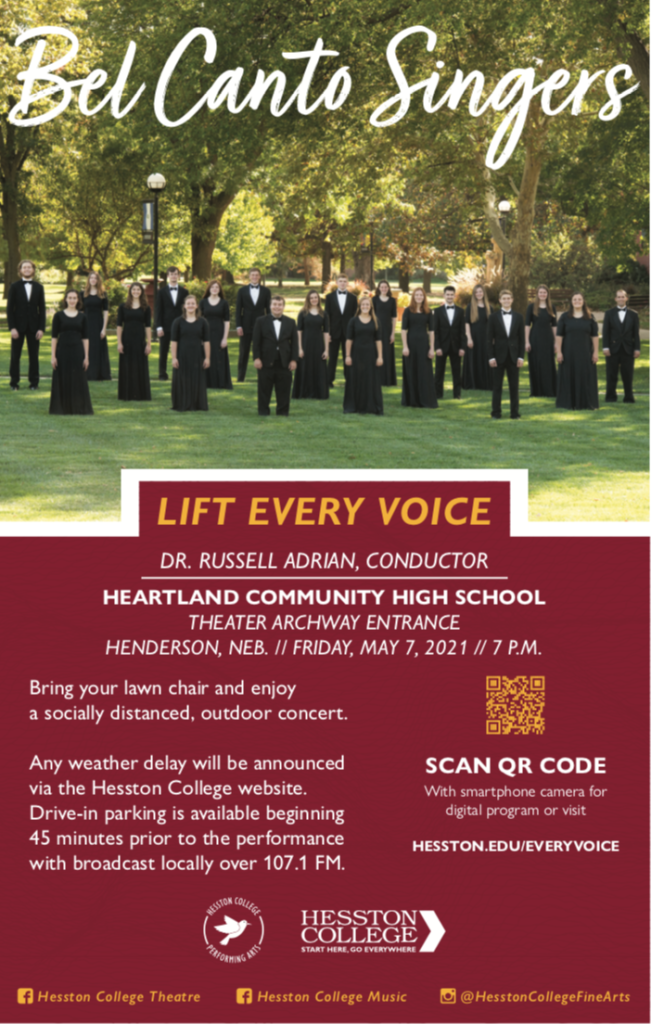 The program entitled Lift Every Voice is a culmination of choral works performed throughout the academic year and will include special music by soloists and small groups. The 18-member, mixed chamber choir is conducted by Dr. Russell Adrian and accompanied by Kenneth Rodgers.
The 2020-21 year marks the 37th season for Bel Canto Singers, the premier choral ensemble of Hesston College. The ensemble carries out ambitious concert and touring schedules annually. In order to meet the challenges that Covid-19 presents to traditional tour practices – acoustic performances, fellowship meals, and host home stays with congregations – the choir will be based on campus and perform a series of run-out performances to regional communities. Bel Canto Singers will move home base to Swan Lake Christian Camp in Viborg, SD in order to extend its tour reach to communities in neighboring states in which members come from. All performances will be held outdoors and concert attendees are asked to bring their own lawn chairs for socially distanced seating.
Concert information can be found at www.hesston.edu/EveryVoice
Friday, April 30, 7 pm: Hesston College Mullet Drive, Hesston, Kan.
Monday, May 3, 7 pm: Dyck Arboretum of the Plains with Marie Engle, Hesston, Kan.
Tuesday, May 4, 7 pm: First Mennonite Church, Hutchinson, Kan.
Thursday, May 6, 7 pm: Pleasant Valley Mennonite Church, Harper, Kan.
Friday, May 7, 7 pm: Heartland Community High School, Henderson, Neb.
Sunday, May 9, 4 pm: Salem-Zion Mennonite Church, Freeman S.D.
Monday, May 10, 7 pm: Bethel Mennonite Church, Mt. Lake, Minn.
Thursday, May 13, 7 pm: Banman Residence, 8538 Mette Street, Lenexa, Kan.
Friday, May 14, 7 pm: Tabor Mennonite Church, Goessel, Kan.
Members of Bel Canto Singers are:
Sopranos: Anna Banman (Lenexa, Kan.); Bethany Masters (Mount Eaton, Ohio); Kelly Miller (Archbold, Ohio); Adaylia Powers (Buhler, Kan.); Rachel Teeter (Hesston, Kan.).
Altos: Alyssa Burkholder (Goessel, Kansas); Meg Beyer (Harrisonburg, Va.); Madison Higdon (Kalona, Iowa); Natalie Ladd (Hesston, Kan.); Kara Longenecker (Harrisonburg, Va.); Alyssa Nolt (Shickley, Neb.)
Tenors: Luke Allison (Freeman, S.D.); Alexander Miller (Arlington, Kan.); Isaac Tice (Buhler, Kan.)
Basses: Ethan Klassen (Mt. Lake, Minn.); Xavier Jang (Siheung, South Korea); Caleb Oesch (Caldwell, Idaho); Aidan Swartzendruber (Henderson, Neb.)
Bel Canto Singers represents a broad sampling of academic pursuits, from science to nursing to music majors. Combining high artistic standards with unique performance opportunities, Bel Canto Singers offers first and second-year college musicians a breadth of experiences typically reserved for third and fourth year students. Recent juried appearances have included performances for The Swingles, Lorelei, VOCES8, Chanticleer, the King's Singers, Charles Bruffy, and the Rose Ensemble. Hesston College is a liberal arts college of Mennonite Church USA.
Comments
comments
Powered by Facebook Comments