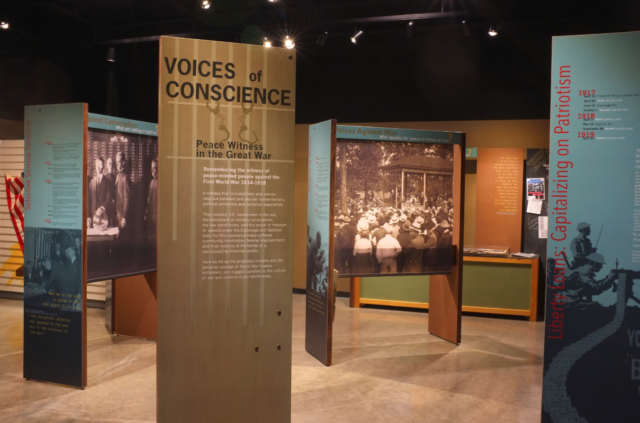 Henderson Mennonite Heritage Museum and Park is hosting a traveling exhibit highlighting stories of pacifists during World War I. It is titled "Voices of Conscience: Peace Witness in the Great War," and will be on display Saturday, July 13 through September 14. The exhibit remembers the witness of peace-minded people against the First World War 1914-1918, telling stories of Amish, Mennonite, Hutterite, Quaker, and Church of the Brethren pacifists, including men and women, religious believers, humanitarians, political protesters, and separatists. This exhibit lifts up the insights and personal courage of World War I peace protesters who suffered community humiliation, mob violence, and federal imprisonment.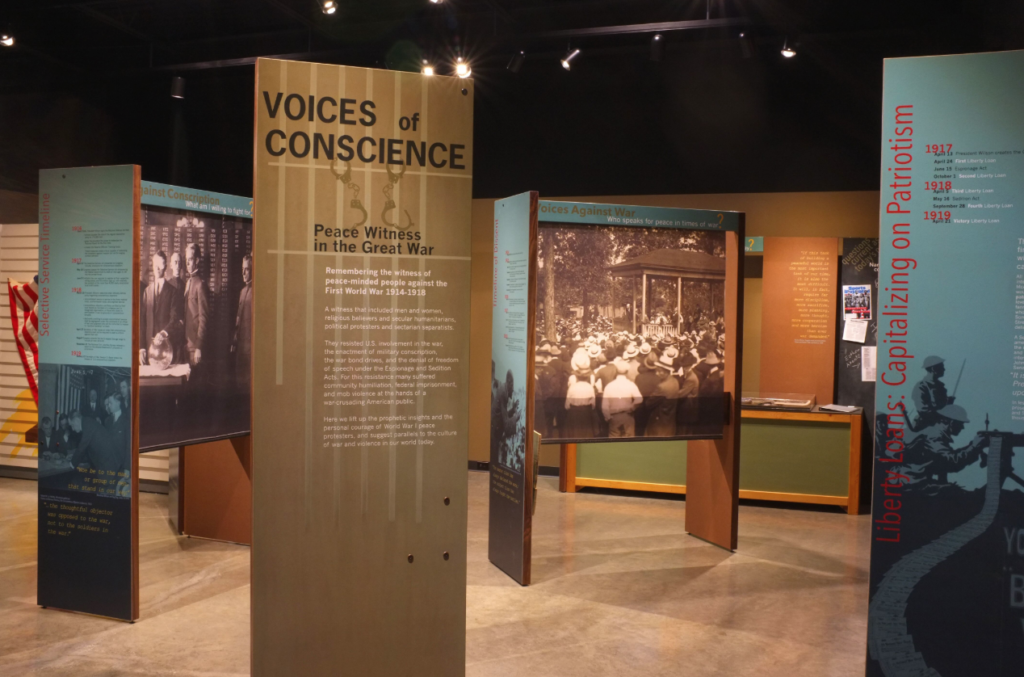 The exhibit is organized into ten themes and includes a recreation of an Alcatraz Prison cell, the site where Hutterite conscientious objectors were tortured for refusing military participation. Text and quotes, along with large-scale graphics and photomurals immerse visitors in the historical experience of witnessing for peace during "total war."
Developed by the Kauffman Museum in North Newton, Kansas, this exhibit premiered at the World War I Museum in Kansas City, Kansas, in the summer of 2017 and has been hosted throughout the United States in museums, churches, colleges, and universities. At the conclusion of its display at the Heritage Park, it will be on its way to Winnipeg, Canada.
Other events scheduled this summer in connection with these exhibits are:
July 21, 3 p.m. Grand Opening celebration at the Park
July 28, 6:30 p.m. Family movie "Friendly Persuasion" at Heartland Community Theater
August 18, 3 p.m. Sharing of local conscientious objector stories at the Park
Sept 13-15 Lecture series by Mark Thiessen Nation, "Discipleship in a World Full of Nazis" at Bethesda Mennonite Church, times TBA
Henderson Mennonite Heritage Museum and Park is located at 720 Road B, just one mile south of Henderson's I-80 exit #342. Open hours are Tuesdays through Saturdays, 1 to 4 p.m. or anytime by appointment. For more information, please call 402.723 5694 or 402.723.4252 or visit the Henderson Heritage Park Facebook page, website www.hendersonheritage.org or www.voicesofconscienceexhibit.org. This exhibit is made possible by the support of Humanities Nebraska.
Comments
comments
Powered by Facebook Comments