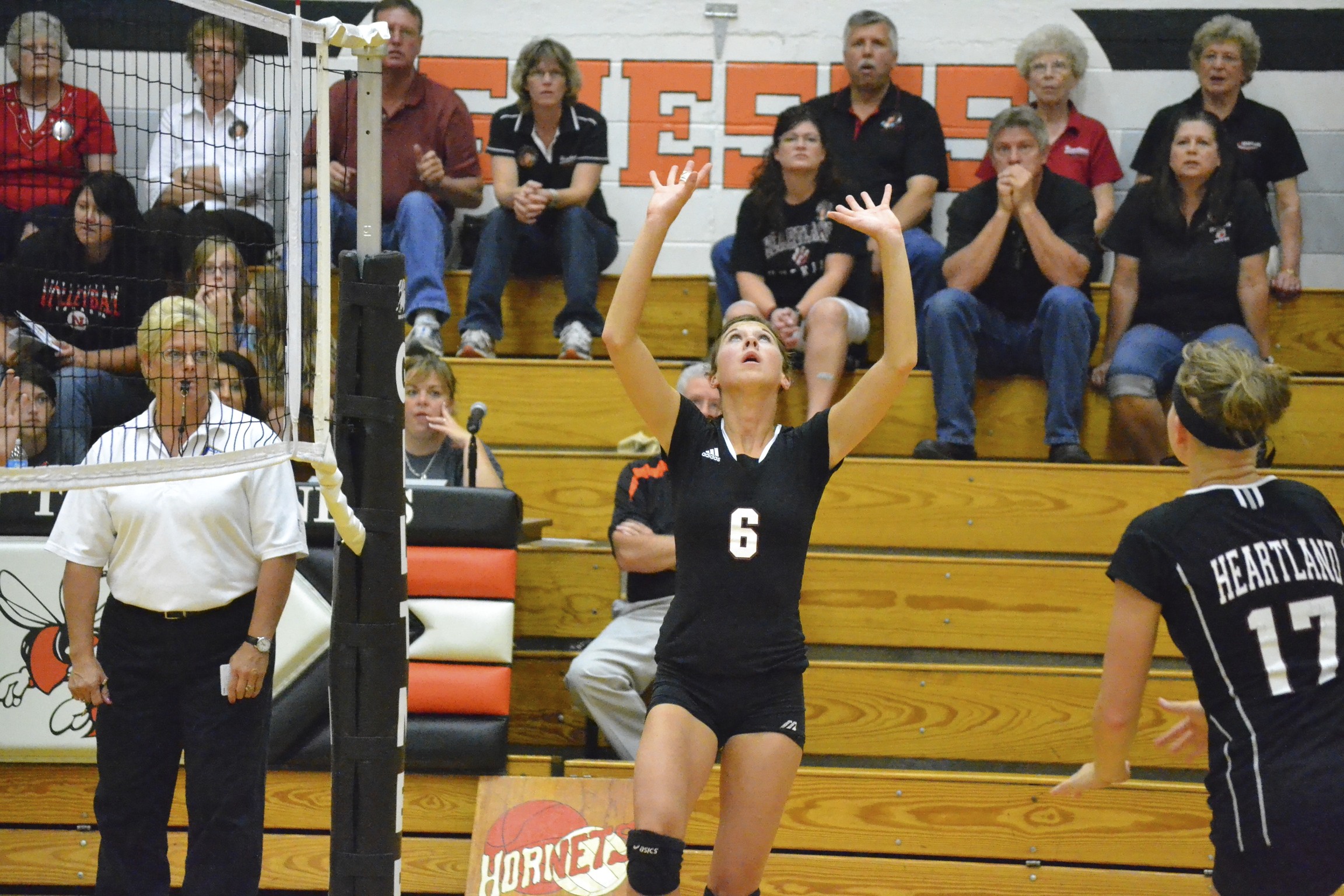 Despite a slow start at the Giltner Triangular, the Huskie Volleyball team picked up the momentum and brought home victories in both of their match-ups against Giltner and Doniphan-Trumbull last night.
The Huskies started off the Triangular facing the home team, Giltner. Â Giltner is a D-2 ranked #4 team and the Huskies did not get the jump start they wanted. Â Their game flow was a bit off and they ended up dropping the first set 13-25. Â The Huskies had to make some improvements in their play to come back from the deficit and beat the Hornets and they did just that. Â They started to bring the momentum back on their side and took the game from the Hornets in the next two sets, 25-23 and 25-21.
The Huskies took that momentum right into the next game against the Doniphan-Trumbull Cardinals. Â The team pulled together and never let up as they beat the Cardinals handeley in two sets: 25-13, 25-17.
The Huskies will be back on the court Thursday night at Milford to play in the Milford Triangular against Milford and Superior. Â The Triangular starts at 5:30pm, with games at 5:30/6:30/7:30pm. Be sure to follow our LIVE blog on the Huskie Sports Network.
---
Heartland vs. Giltner Statistics
Hitting: Kills/Attempts/Errors/Percentage: S. Brune 12-23-3-.390, A. Kroeker 9-19-2-.370, M. Dick 5-16-3-.160, M. Janzen 4-18-3-.180
Assists: M. Huebert 15, A. Bittinger 11
Digs: B. van den Berg 10
Blocks: M. Dick 1.5
Serve Receive: B. van den Berg 27, M. Hienber 8, M. Janzen 8, S. Buller 8
Aces: B. van den Berg 2
---
Heartland vs. Doniphan-Trumbull Statistics
Hitting: Kills/Attempts/Errors/Percentage:Â A. Kroeker 7-10-2-.500, M. Dick 6-10-0-.600, S. Brune 7-16-3-.250

Assists: A. Bittinger 11, M. Huebert 7
Digs:Â S. Brune 6, M. Dick 3
Serve Receive:Â B. van den Berg 14, M. Janzen 10
Aces:Â M. Dick 2
[flickr-gallery mode="photoset" photoset="72157627701787107″]
Comments
comments
Powered by Facebook Comments