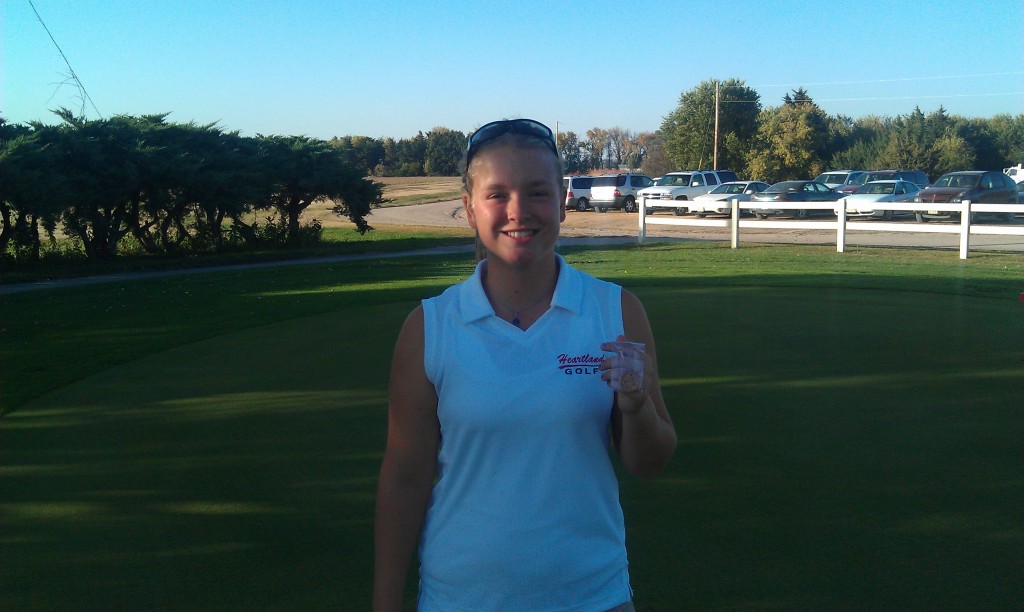 Girls Golf Results:
Jen Yoder: 110
Paige Mestl: 96 (8th Place Overall)
Sam Boardmand: 121
Kim Stort: 138
Kaitlyn Quiring:Â 138
Team Total:Â  465
We played our district golf tournament at Hidden Valley Golf Course in Central City.  It was a pretty long course for our girls to play and with the wind and the heat it was a tough day on the course.  I thought we played about average as a team.  Most of our scores were on pace with what we have shot on the year.
Individually, Jen Yoder had a few wholes that kinda made her score balloon a bit.  I think as the year went on she started to do some things much better on the course, but we were never quite able to get over the few holes per round that got her score up.  She had a good year as a whole, we will miss her next year.
Paige Mestl had a very nice day on the course.  I was very happy with her round and very glad she was able to work through some struggles and make it to state!  Paige really had to grind a bit to make it.  It was a great experience for her to have to really work to get there, and I think she has a chance to do well next week in Columbus.
Sam Boardman had a solid year for us.  She is really improving as a whole, but this course and it's length really challenged her.  Having to put together several shots is tough on Sam yet, but I look for her to really have a great year for us next year as she was much better this year then she was last year.
Kim Stort and Kaitlyn Quiring both struggled a bit with the length and quickness of the greens.  Kim will be gone next year, but she was a great addition to our team this year and I really enjoyed her on the team.  Kaitlyn has the chance to be back for 3 more years, and if she wants to work at it she will have a bright future.
As a whole I would have liked to see our scores be a bit lower, but having Paige make it to state was a great experience.  I enjoyed our season and look forward to watching Paige compete at state and to working with these girls next season.
Coach Jon Baehr
If you would like to purchase any of these photos click here to go to our Gallery
[flickr-gallery mode="photoset" photoset="72157627702051953″]
Comments
comments
Powered by Facebook Comments