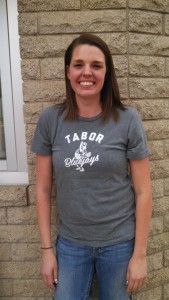 The Henderson community is fortunate to welcome Heidi Schmidt back to town for the third time she's lived here.
Schmidt spent her early childhood years in Henderson as the daughter of Pastor Garvie Schmidt of the Henderson MB Church (1987-1996). She attended Henderson Community School until the family moved to Oklahoma just after Heidi had started 5th grade.
True to her Mennonite Brethren heritage, Heidi enrolled in Tabor College and earned a Sociology degree while also competing in Cross Country and Track. Shortly after graduating in 2008, Heidi began working at Grace Children's Home as a house parent. She did this for two years before deciding to become a missionary through MB Missions. During her training in Abbotsford, Canada, Heidi met director Luke Haidle, now the current pastor at the Henderson MB Church, and his family. Little did they know they would all be reunited someday in Nebraska.
Heidi's willingness in missions led her to Portugal for 10 months and then to Peru for two years. During this time, she helped with a discipleship program and mentored high schoolers. As her missions commitment neared an end, Heidi found herself contemplating a return to Henderson where she felt God leading her.
This past March it became a reality as Heidi returned as the Administrative Assistant at Grace Children's Home. While many responsibilities fall under this title, a large role of hers is supporting the staff who live with the kids. Because she herself served as a house parent, she can easily empathize with them.
Settling back into this small Nebraska town, Heidi hopes to find her role in the community and to use her gifts well. With her heart for the children at Grace she commented, "I hope they leave knowing they are loved and that God has a plan for their life." While they are placed at the children's home and in the Henderson community she said, "I hope they see Christ here."
Welcome back Heidi!
Comments
comments
Powered by Facebook Comments