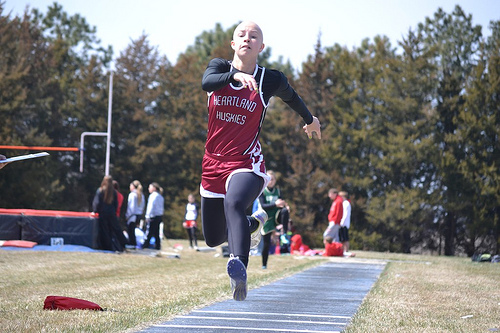 Ashton Kroeker began triple jumping in junior high and naturally continued into high school.  It didn't take long for her to make her mark as she broke the school's triple jump record of 34'5" held by Andrea Kroeker during her freshman year.  She broke it by two inches and set the new record at 34'7".
As she continued through high school, a torn ACL from a basketball injury and surgery on it put Kroeker out for her junior year of track.  While she recovered from this injury and began a new school year, she faced challenges with her knee swelling at the beginning of both volleyball and basketball.  It was no different story when Kroeker began this year's track season and was faced with frustration as her knee was swelling again.  The season was off to a slow start, and Kroeker was upset that she was not meeting her expectations.
With perseverance and determination, she continued to do what she could. At one particular meet this year, Kroeker warmed up and felt really good. Â In fact, she felt good enough to take her brace off to jump.
It was only uphill from there as Kroeker broke her previous school record by jumping 34'10.75" at the Sandy Creek meet.  But she didn't stop there, jumping 35'7.5" at Centennial and then 35'8" at Sutton, making that the current school record.
With a smile, Kroeker said, "It's pretty exciting to beat the previous school record by over a foot.  At the beginning of the year, I never thought I would go that far.  It was pretty amazing."
Ashton commented that it has been great to be coached by Jessica Siebert. Â They are on the same page about technique and methods. Â Kroeker also attributes her success to the physical therapy and weight lifting she did to recover from her ACL surgery. Â She believes she is stronger and faster now than before that incident.
A win at districts will take Kroeker to the Nebraska State Track Meet at Omaha Burke this weekend.  Ashton is very excited to compete there.  She made it to the state meet her freshman year, but didn't do as well as she wanted.  She is excited for another opportunity to do a sport she really enjoys.
Kroeker is scheduled to jump at 8:15 a.m. on Saturday morning. Â With her best jump, she is currently tied for second in the girls triple jump ratings.
After the state meet, Kroeker's track career won't end.  She will be triple jumping and doing sprints at Tabor College where she is headed in the fall.  There she will be pursuing a degree in Elementary Education with a coaching endorsement.
Congratulations to Ashton on an outstanding season, and good luck at state track this weekend!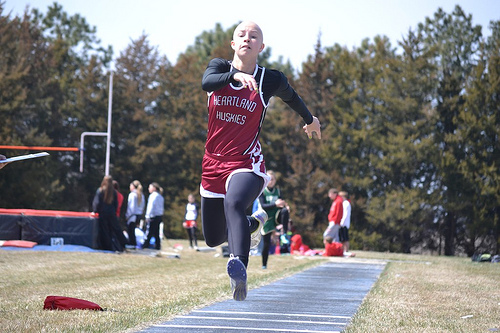 Comments
comments
Powered by Facebook Comments