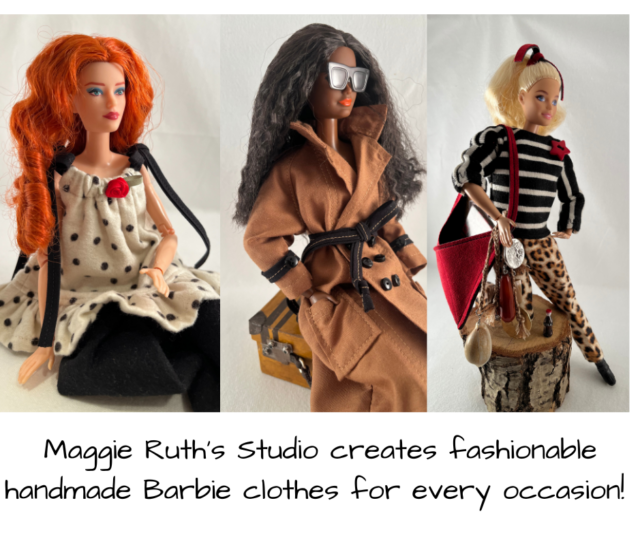 Maggie Ruth's Studio is all about Barbie!
The world's most beloved doll, Barbie, has gained plenty of attention this year since the release of the first live-action Barbie movie. But Cindy Friesen has been making Barbie come alive for the past two years with her perfect fitting handmade fashionable Barbie clothes in her sewing room right here in Henderson. 
The name for her business, Maggie Ruth's Studio, was inspired by her mother (Marion Ruth Friesen) and her late grandmother, Margaret (Maggie) Friesen, who were both accomplished seamstresses. Her mother said that Cindy, at age three, already would sit at her feet while she was sewing "armed with scissors and fabric scraps."
"My sewing skills progressed through 4-H, home economics classes at school, and even at college when I learned some higher skills in textile classes," said Cindy.
Her love and passion for sewing continued throughout her life as she continued to sew just about anything, including her own clothes, her daughter's dresses, curtains, pillows, and baby blankets.
Today, Cindy creates unique, meticulously handmade Barbie clothes. It all started a few years ago when her granddaughter was ready for a Barbie doll for Christmas. "I bought a little pattern and started experimenting. The more I sewed, I found I just couldn't leave it alone, but it was frustrating as well working on such a tiny scale," said Cindy.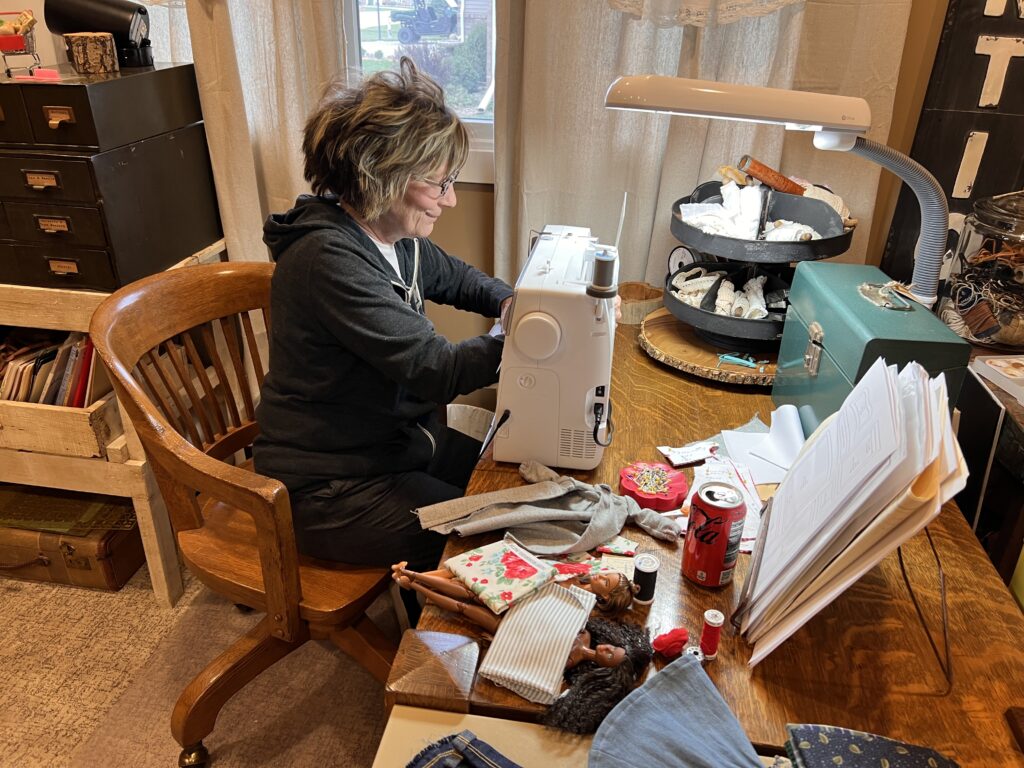 Cindy is always working on a new outfit for Barbie and has completed packaged outfits in stock.
But she wasn't deterred and began teaching herself the tips and tricks of sewing doll clothes by watching hundreds of instructional YouTube videos, reading books, and a lot of trial and error.
"After I got hooked on sewing for Barbie, I quickly upgraded my Bernina sewing machine with one that had more options for embroidery and more intricate stitching I needed," said Cindy.
She has always been fascinated by fabric, and her creations speak for themselves, reflecting her flair for fashion and beautiful fabric combinations. She frequents the Quilt Basket in York and loves browsing for fabrics at Material Girl in Grand Island. Her sewing room cabinet is packed with stacks of quarter pieces of fabrics she uses to begin her creations.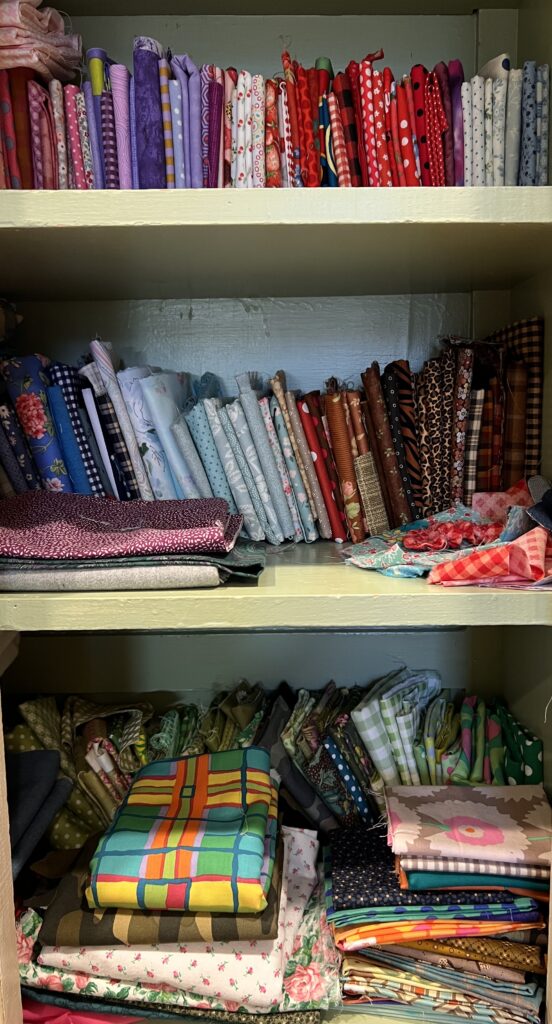 Here's just a sampling of the many fabrics Cindy keeps in her studio that help fuel her imagination.
She also began to realize that sewing Barbie clothes is all about fabric selection and fit. She learned that little girls preferred Barbie clothes without any velcro, and they usually love pink and purple. She uses snaps and elastic on her creations, making them easier to dress, and lines most of her pieces.
"For me, the creative process is usually sparked by a piece of fabric or an idea I may have seen on Pinterest. I don't have the complete outfit planned out, but it sort of just builds after I have chosen the fabric for my first piece of an outfit," said Cindy.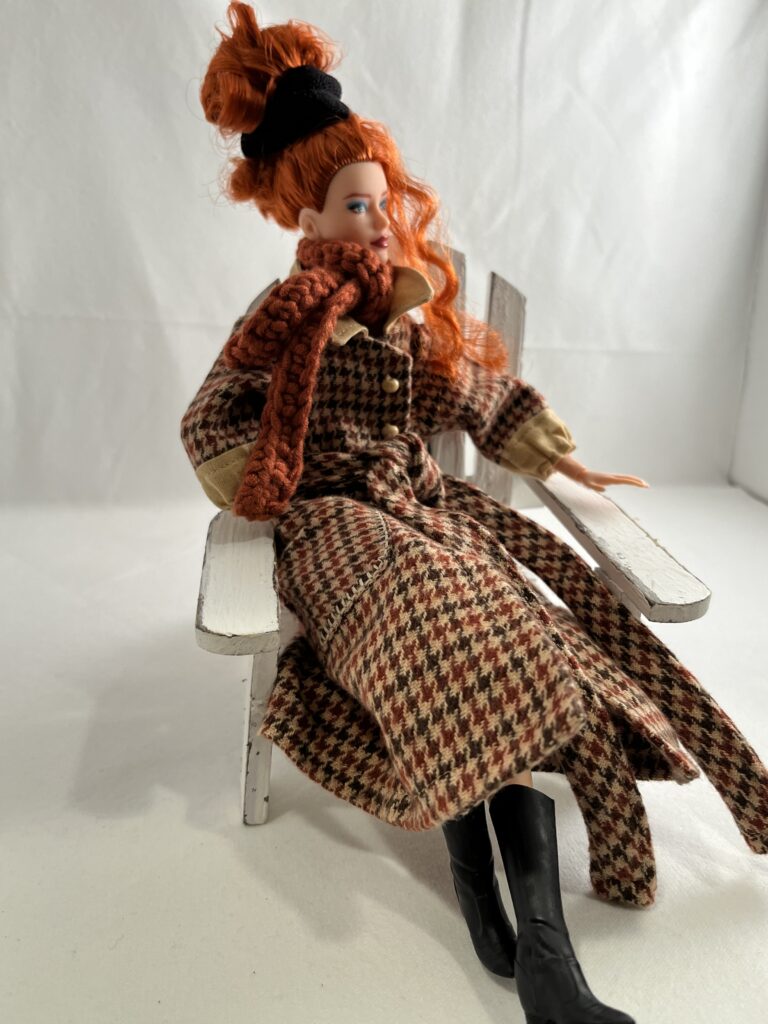 Barbie is all ready for cooler weather sporting her new jackets, scarves & hats!
Cindy admits that sewing Barbie clothes "appeals to the perfectionism in me!" Seams always need to be no more than 1/4", and she's found even a millimeter difference shows. She often needs to make her own adjustments to patterns so they fit Barbie properly. Midge was one of Cindy's original Barbies, which she still uses for fitting and modeling her outfits.
She scours the internet utilizing Pinterest and other sources for patterns to use. Interestingly, she's discovered that older patterns don't fit today's Barbies because the waist was smaller and a bit bustier than current Barbie dolls!
"I like to create outfits with a play theme that can spark a child's imagination, like going to school, camping, picnics, or having a sleepover in pajamas," said Cindy. That has led to another creative endeavor for Cindy, making accessories for Barbie.
She's learned how to use polymer clay to make food for Barbie, like loaves of bread and veggies. For Barbie's camping trips, she makes sleeping bags and pillows, and one of her favorite accessories is sewing purses and hats.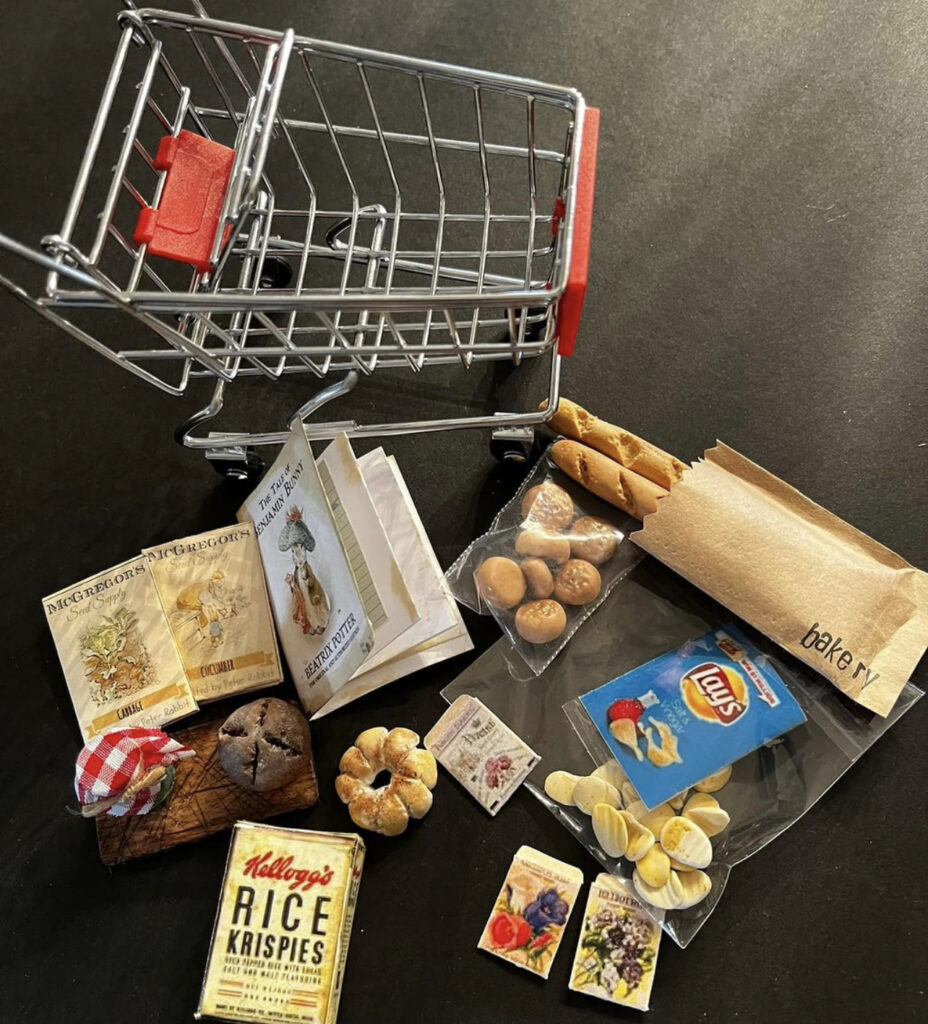 Here's just a few of the polymer accessories Cindy has created and baskets of handmade hats.
"In the future, I'd like to get into creating fancier dresses and a wedding dress for Barbie. I also want to learn how to use knitting and crocheting in my designs," said Cindy.
Cindy writes this on the back of her business card, "What's great about sewing your own clothes is that Barbie can finally be modest—that will be my promise to you. Hope your little ones enjoy the clothes as much as I do designing them!"
If you are interested in viewing some of her creations, feel free to give her a call at 402-694-1422. She has many of her ensembles in stock, and you can stop by and take a look. You can also see her designs on Instagram at maggieruthsstudio or on Facebook Marketplace.