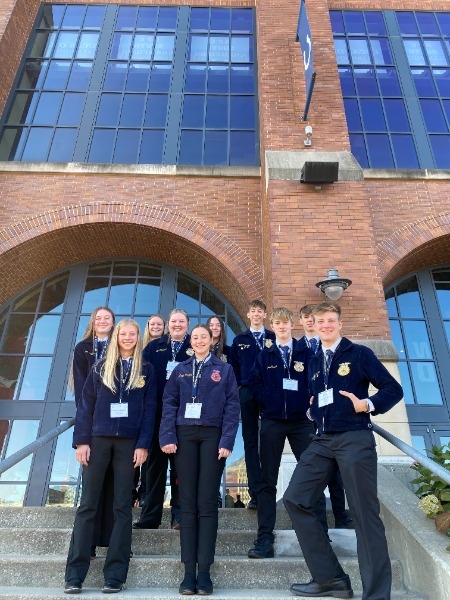 Reprinted from Heartland Community School website
Ten Heartland FFA members recently attended the National FFA Convention in Indianapolis, IN. The students departed on October 31, riding a charter bus with other chapters from McCool Junction, Bruning-Davenport, Palmyra, Freeman, and Falls City.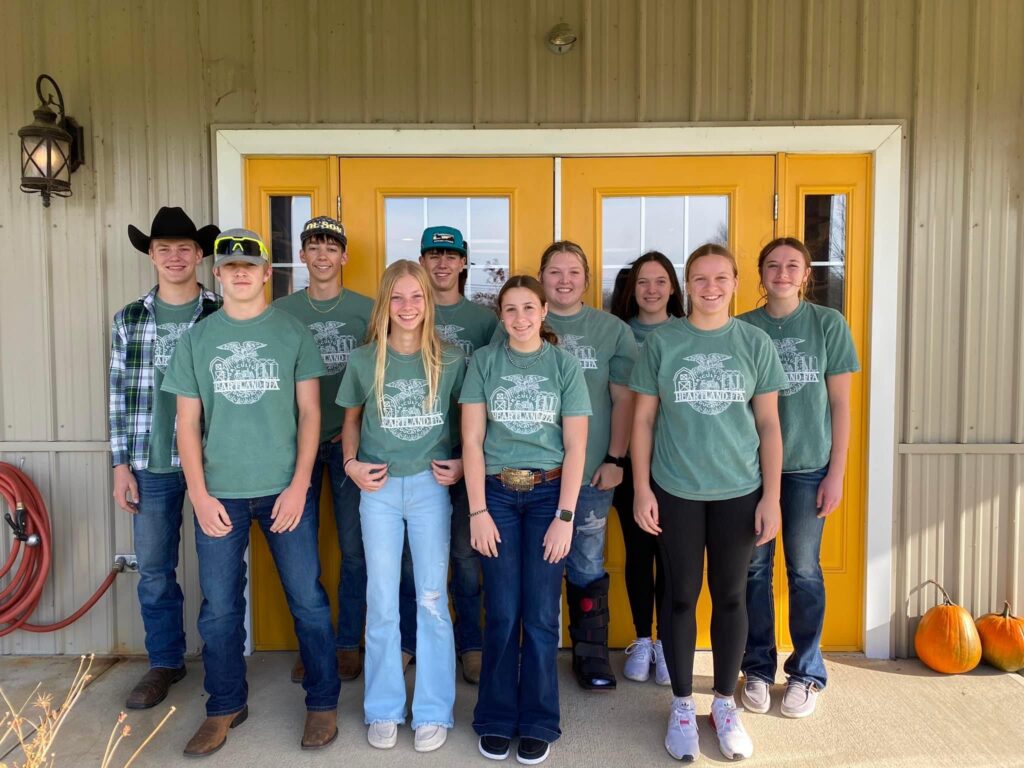 Pictured from L – R Back Row: Ben Janzen, Blake Goertzen, Braden Janzen, Lexi Inglsbee, Grace Splinter, Faith Hiebner; Front Row: Lane Farrall, Maddie Janzen, Emma Ott, Riley Quiring
Not only did members attend the National Convention, they also went on agricultural industry tours. On Tuesday, October 31, students took two industry tours. The first was at Shatto Milk Company in Osborne, Missouri. Here they learned about the milking and processing part of the dairy industry. Members were able to sample some of Shatto's dairy products which included seven different milks, two creamers, two butters, and four flavors of cheese curds, and sampled a scoop of ice cream. All products were made and produced at Shatto Milk Company.
The second tour of the day was at Battlefield Lavender located in Centralia, MO. This farm has diversified from just growing 16 varieties of lavender to also growing loofahs, and raising bees and chickens. Heartland members were taken into their drying barn where they have lavender hanging in bundles for consumers to buy to use as aromatherapy or for culinary purposes.
On Wednesday, the group toured Hummert International in Earth City, MO. Hummert is a greenhouse supplier and has a show room that can be visited so that potential customers can see what types of greenhouses are available.
They then traveled to Perryville, MO, where they first stopped at Stonie's Sausage Shop to learn about processing and smoking meats.
Their next stop was at the American Tractor Museum where they were able to stroll through the museum looking at antique tractors and had the opportunity to visit with Arley Berkbuegler, the mechanic for most of the tractors.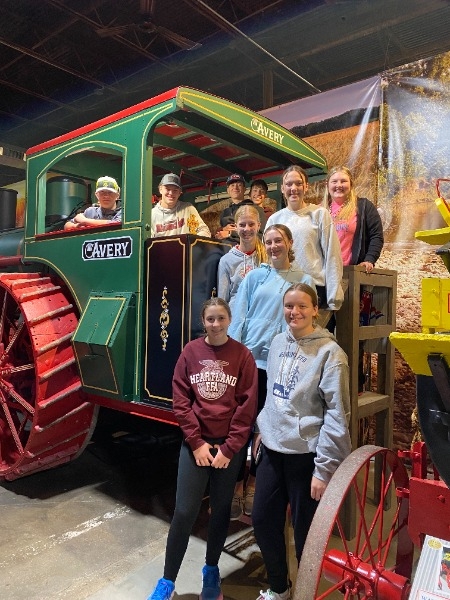 The last stop for the day took them to the Missouri National Veterans Memorial where they had learned about the Vietnam conflict and saw the sister wall to the monument located in Washington D.C.
On Thursday, members attended the opening session of National FFA Convention where they heard messages from Joe Hogsett, the Mayor of Indianapolis, Tom Vilsak, United States Department of Agriculture Secretary, and Juan Bendana, motivational speaker. Following opening session, members attended the Career Expo, attended workshops, and made friends from other states.
On Friday, members took four tours before ending the day at a rodeo. The first tour of the day was to Tuttle Orchards. Students learned more about apple production and processing. They also sampled five varieties of apples and were able to sample their homemade apple cider.
The next tour was to Abbott's Candies where members learned more about the history of the company, how to make caramels, and watched the process of covering the caramels with chocolate. Donkeys were on the next agenda. Members were able to pet the donkeys and take selfies with them.
The last tour was at Four Leaf Honey farm. This facility was once a horse veterinary facility, but after a change in careers, the vet decided he wanted to continue on with the bee farm that his grandfather started.
Heartland FFA members returned home on Saturday, November 4. This trip is always one that students look forward to, and it helps to educate them about various aspects of agriculture and our world that they might not otherwise have the opportunity to learn about.