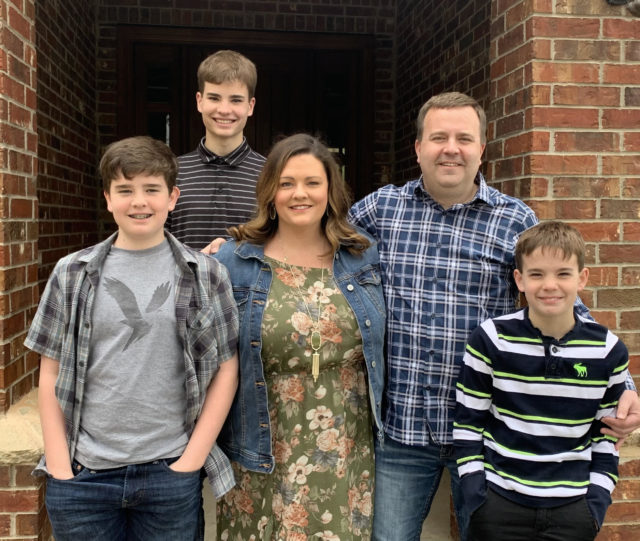 Written by Shannon Siebert
POSITIVES IN A PANDEMIC: How has the community of Henderson, Nebraska with a population hovering close to 1,000 reaped rewards from the COVID-19 Pandemic? This is the fourth in a series about how the pandemic has positively affected Henderson due to the acceptance of working from home and lifestyle changes.
Why would a family with three boys decide to leave McKinney, Texas an affluent suburb northwest of Dallas to move to Henderson, Nebraska?
Just a year ago Ryan and Jenny Goertzen and their boys–Jake age 16, Josh age 15 and Jack age 11, did just that. "I'm really confident about our decision to move here," said Jenny. Their kids have adjusted well and enjoy a smaller school where they have more opportunities to participate in sports and other extracurricular activities.
Prior to living in McKinney, they had lived in Omaha, Wisconsin and Oklahoma but they really loved their life in Texas. There were many factors leading to their move to Henderson but the effects of the pandemic set the stage for them to leave.
Ryan is a 1996 Henderson graduate who has enjoyed a fascinating career in the aviation industry. He grew up on the family farm with his parents Roger and Bev Goertzen but always had aspirations to become a pilot. After high school, he attended UNO and completed their pilot program, but his aviation journey has "soared" beyond his dreams of being a pilot.
He currently works for AAR, a global provider of aviation services for commercial and government customers. He is Vice President of Workforce Development and one of his primary focuses is working with colleges, universities and non-profits helping them establish aviation programs to help fill the great need for pilots and technicians in the industry.
Previously, he worked as the president of Spartan College of Aeronics and Technicians which trains pilots and technicians. Along the way while working, he obtained a master's degree in public administration.
"Working in aviation, I never really imagined moving back to Henderson. Occasionally during my career I thought about returning to farming but my passion for aviation was really strong," said Ryan.
When the pandemic hit they were looking to relocate on an acreage, but the Texas real estate market skyrocketed and that's when they thought seriously about moving back and purchasing the family homeplace instead.
"Our oldest son wants to farm and he likes farming like I like airplanes. He knows everything there is to know about tractors and is working part-time at the John Deere dealership in Aurora," said Ryan.
"In the McKinney school he attended, there wasn't anything like an FFA program or ag related classes for him," said Ryan. They also realized it would be tough for their kids to participate in extracurricular activities and sports in such a large school district where the competition is fierce.
Ryan has worked remotely since before the pandemic and he has since resumed traveling extensively for his job. "During Covid we realized we didn't really have to live here. The timing seemed right for the ages of our kids with Jake entering high school–so it was do it now or not," said Jenny.
It also helped to have built-in family and friends in the area. Jenny grew up in Grand Island but later moved to Oklahoma where her parents had relocated. She still keeps connected to some relatives in Nebraska so it wasn't like starting over by moving to Henderson.
Jenny admits she misses the convenience of having a large grocery store and shopping nearby, but she doesn't miss the hours she spent carpooling her kids back and forth from school and activities.
After moving back, they hit the ground running and purchased Ryan's family homeplace southwest of town which they are completely renovating. Ryan's grandparents had recently moved out of their condo located directly across from the Heartland School so it was available for them to move in while they finish their renovations.
Their commute to school is about two minutes now!
Both Jenny and Ryan have a strong interest and experience in education and hope to get involved as volunteers at Heartland. "I was involved in the McKinney PTO serving on their board and really believe it's important to have more parent/teacher interaction today so they can both understand what's going on," said Jenny.
Both Ryan and Jenny bring a wealth of experience and ideas to Henderson and we wish them the best as they dive into their new rural life.
Comments
comments
Powered by Facebook Comments