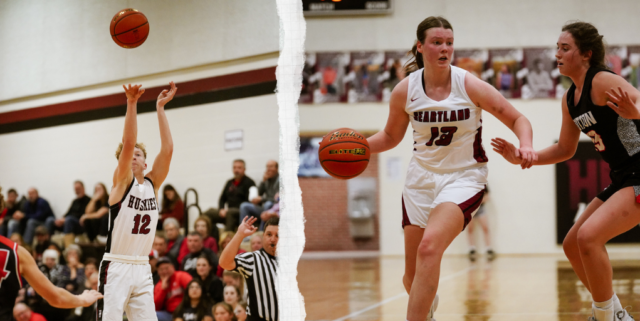 The Heartland Community Schools gym was busy once again last week with two more home games. The Girls and Boys teams hosted the Sutton Fillies/Mustangs on Tuesday and the Exeter-Milligan Timberwolves on Friday.
The Girl's team went up against a strong Fillies team who are now 3-1. The Huskies fell to Sutton on Tuesday 45-12. On Friday, the Huskies and Timberwolves went back and forth throughout but a couple of late bank shots by Exeter-Milligan propelled them to a victory over Heartland, 41-36. After four games their record is 1-3.
Despite missing Senior, Trajan Arbuck, who is out with an injury that occurred in the Osceola game the Boy's team picked up two wins last week. They defeated Sutton on Tuesday night 47-38. On Friday, they went up against Exeter-Milligan and got off to a hot start which led to a 66-22 win. Going into this week the Huskie Boys are now 3-1.
Girls Basketball
Tuesday, December 7
Final: Sutton 45, Heartland 12
Scoring: Riley Goertzen 2, Ava Tessman 2, Celesta Teijema 4, Cynthia Cerveny 2.

Friday, December 11
Final: Exeter-Milligan 41, Heartland 36
Scoring: Riley Goertzen 4, Celesta Teijema 9, Lilly Carr 8, Allie Boehr 4, Cynthia Cerveny 11.
Boys Basketball
Tuesday, December 7
Final: Heartland 47, Sutton 38
Scoring: Jake Regier 16, Trev Peters 14, Langdon Arbuck 10, Kale Wetjen 2, Merrick Maltsberger 5.
Friday, December 11
Final: Heartland 66, Exeter-Milligan 22
Scoring: Zach Quiring 8, Mason Regier 2, Tucker Bergen 2, Kale Wetjen 6, Jake Regier 13, Thayne Wetjen 7, Hudson Regier 2, Trev Peters 22, Langdon Arbuck 2, Merrick Maltsberger 2.
Comments
comments
Powered by Facebook Comments