Written by Brandi Clement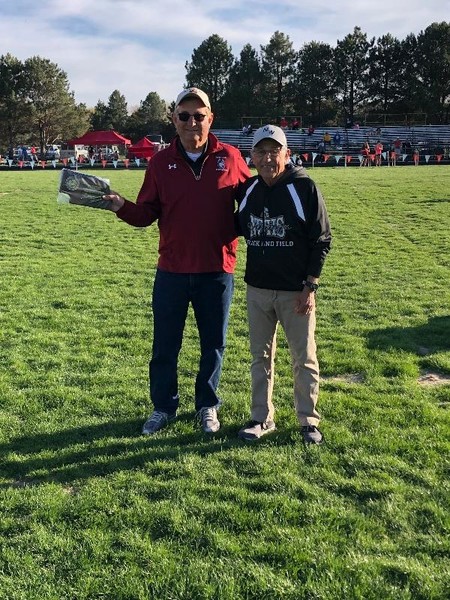 Fifty years ago, Coach Larry Vancura was hired at Henderson Community Schools to coach the boys track team. In the 1980's, the school conjoined the boys and girls teams, along with the junior high. This led Coach Vancura to assist even more athletes.
Recently, all the years of coaching culminated into Larry being presented the Coach of the Year Award while at the Central Nebraska Track Meet at Grand Island Northwest.
There have been many memorable moments throughout his time coaching at what is now Heartland Community Schools. Reflecting on his favorite events to instruct, he responded, "Sprints and the 4×100 relay are my favorite. Our school has had some great sprinters and relay teams on both the girls and boys track teams. My three sons were distance runners, and one of them holds four high school records." Though his children are now grown, Coach Vancura still admires their accomplishments as he continues to teach the younger generations.
A more recent highlight of the Heartland Community Schools Track Team under Coach Vancura was receiving second place at State Track in 2016. This was an unexpected placement as there was a bad hand-off during the 4×100 relay at districts. The relay team ended up qualifying for state with one of the additional top qualifying times and then ended up scoring second at the state track meet in that event. "Working with the athletes and seeing their hard work, both at practice and at meets, means more to me than winning a championship," stated Coach Vancura. He also explained that each day is different with practice and with the weather during the season. This last track season was the most unfavorable for meets, but the Heartland track team did a great job at staying positive and working hard.
Coach Vancura has aided many collegiate athletes to get where they are today. A significant percentage are attending in-state and out-of-state schools specifically for track. Here are a few of Coach Vancura's recent athletes who are competing at the collegiate level:
Sadie Carr – York College
Olivia Casper – University of Nebraska-Kearney
Ben Driewer – University of Nebraska-Kearney
Kyle Ott – Nebraska Wesleyan University
Brittany Quiring – Winona State University
Taylor Quiring – Tabor College
Kori Siebert – Wayne State College
"It's also special working with all the coaches over the years. I have a great bunch of assistants that are still coaches, some of which are former athletes," Coach Vancura shared. Hiding the Coach of the Year award from him before it was presented at the Central Nebraska Track Meet was a tough job. "The assistant coaches did everything to keep me around, coming up with all kinds of excuses. Receiving this award is humbling and was a complete surprise that day. Time has flown by, and when you're enjoying doing what you love, time goes by way faster."
There's no doubt that the school and our communities are thankful for Coach Vancura's longtime dedication to the sport and the athletes.
Comments
comments
Powered by Facebook Comments