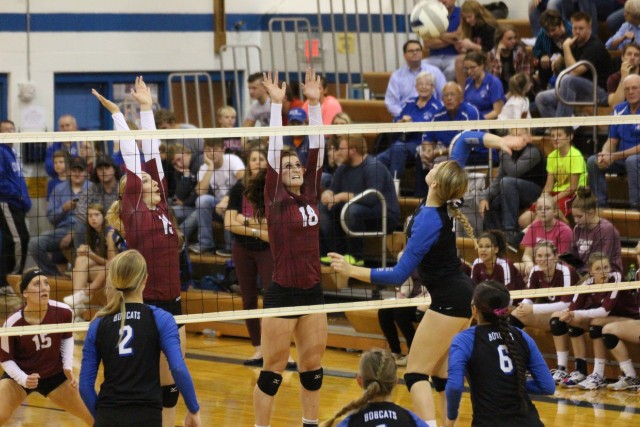 It's real hard to watch such a talented team miss the State Tournament in a weird turn of events, but the Heartland Huskie Volleyball team can rest assured knowing that their talent did not go unnoticed and they have a community very proud of their dedication and hard work. It was a pleasure to watch the team and their successes this season and it's unfortunate that it is a season complete without a State Tournament berth.

The Huskies went through the season one of the top teams in Class D1. They worked hard and exemplified talent to earn themselves a #3 spot in the wild card contention race for the State Tournament entering Sub-Districts. They came out strong in Sub-Districts held at Hastings St. Cecilia with a 3-0 win over Shelton.

The next game looked promising for the Huskies, but volleyball is a funny thing. The hits weren't hitting as they did the previous night for the Huskies and things were not falling favorably. The Huskies ended up dropping the Sub-District final game to Blue Hill 3-0.
FULL STATS FROM BOTH GAMES HERE
There was still light at the end of the tunnel as the Huskies held out to see if #2 in wild card points, Johnson-Brock, would win their District final match against Meridian. This would have punched the Huskies last chance ticket to State as #1 in wild card points, Elgin Pope John, had already lost and taken the first spot.
The Huskies' deciding match was a nail biter, even if you weren't there and only listening to score updates. The game of volleyball threw another curveball as J-B lost 3-1 and snatched what was the Huskies' last chance at being one of eight teams to continue on in the postseason with a trip to Lincoln.
Although it is hard to say goodbye to the 2016 season, it was sure fun to watch this team grow and perform at a top level. Congratulations to the Heartland Huskie Volleyball team on a great season. You have made the school and community proud.
Comments
comments
Powered by Facebook Comments