April/May Students of the Month:
Kindergarten-Thiesen: Jimmy Neely
Kindergarten-Peters:Â Miles Kliewer and Maddox Regier
1st Grade-Steever: Davin Antillon
1st Grade-Ratzlaff: Josie Friesen
2nd Grade-Goff: Victoria Shirley and Tucker Robinson
3rd Grade-Crouch: Andrew Franz, Reese Regier, and Devin Plummer
4th Grade-Hiebner: Merrick Maltsberger
5th Grade-Maltsberger: Mason Regier and Lisa Buller
6th Grade-Veerhusen: Madison Miller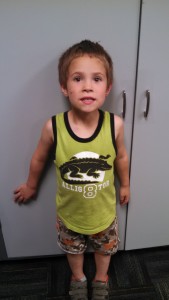 From these students, Jimmy Neely was selected to be interviewed for the Elementary Student of the Month.
Jimmy just finished up his Kindergarten year in Mrs. Thiesen's class. He explained that they had been learning about digital and analog time. Now he was able to look at different types of clocks to tell what time it was. He also enjoyed completing math centers in the classroom.
Outside of school, Jimmy said he enjoys being outdoors and playing at the park. He can usually be found exploring the big tornado slide.
Someday Jimmy dreams of being in the Army just like his dad was.
Comments
comments
Powered by Facebook Comments