March Students of the Month:
Kindergarten (Mrs. Thiesen): Meggan Friesen
Kindergarten (Mrs. Peters): Kinsley Friesen and Timmy Beck
1st Grade (Mrs. Steever): Mary Dente
1st Grade (Mrs. Ratzlaff): Kaidence Holbein
2nd Grade (Mrs. Goff): Brady Goertzen
3rd Grade (Mrs. Crouch):Â Hudson Regier and Fred Beck
4th Grade (Mrs. Hiebner): Maddie Maltsberger
5th Grade (Mrs. Maltsberger): Nathaly Argueta
6th Grade (Mr. Veerhusen): Heath Perez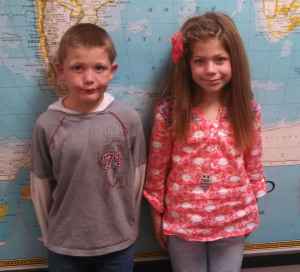 From these students, Kinsley Friesen and Timmy Beck were selected to be interviewed.
Kinsley and Timmy are in Mrs. Peters' Kindergarten class. They both commented many times throughout the interview how much they enjoy having Mrs. Peters as a teacher. One thing they are currently doing in class is reading Golden Sower books.
Art class in Kinsley's favorite subject because she really enjoys making crafts. Timmy's favorite is Music. They also both look forward to recess time and usually head for the tire swing and the jungle gym.
Someday Timmy wants to be a truck driver like his dad. Kinsley is having a hard time deciding if she wants to be a hairdresser like her mom or an art teacher.
Congratulations to all of the students selected!
Comments
comments
Powered by Facebook Comments