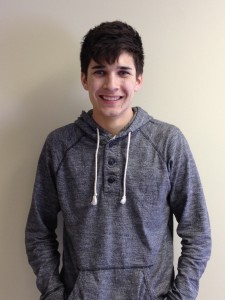 Senior Lincoln Ruybalid, this month's HeartlandBeat Student of the Month, has something to talk about. He was just awarded the RHOP (Rural Health Opportunities Program) scholarship for the Dentistry program. What that means is that Ruybalid will attend Wayne State College tuition-free next fall, and after successfully completing his studies there, he has guaranteed admission into the UNMC Dental College in Lincoln, Nebraska.  Statewide there were only four candidates selected for the Dentistry program, and it's an honor and accomplishment for him to be one of those few selected into RHOP.
"Lincoln has set such a great example for other students in that he is willing to become involved in educational opportunities that are presented to him such as online dual credit courses and the Career Academy," said Heartland Counselor Mrs. Koehler.
Ruybalid learned about the RHOP program after attending a Rural Career Day at UNMC in Omaha. It was there that he met former Henderson dentist Dr. Merlyn Vogt, who now is Director of Admissions and an Assistant Dean of Student Affairs at the UNMC Dental College. That got the ball rolling, and he decided to begin the application process for RHOP.
"I've always wanted to do something to help people, and it seemed natural for me to pursue a career in dentistry. My mother was a nurse, my sister is currently in nursing school, and strangely I always liked going to the dentist," said Ruybalid.
As part of the application process, Ruybalid visited the Wayne State College campus where he went through an interview with a panel of administrators and professors from UNMC, the Dental College, and Wayne State. "They were very interested in my leadership abilities and my desire to eventually practice in a rural setting," said Ruybalid. The RHOP program is designed to strongly encourage rural students to return to rural communities where they can pursue a healthcare career.
As a Heartland student, Ruybalid has participated in football, basketball, track, FBLA, and choir. One of his favorite hobbies is making videos. His most recent video that he made with a few other Heartland students for an American Government class won first place in the open division in a NETA (Nebraska Educational Technology Association) contest. Lincoln resides at home in Henderson with his parents Jon and Leslie and younger brother Sheppard.
Congratulations to Lincoln for all his accomplishments and being awarded the HeartlandBeat Student of the Month!
Written by Shannon Siebert
Comments
comments
Powered by Facebook Comments