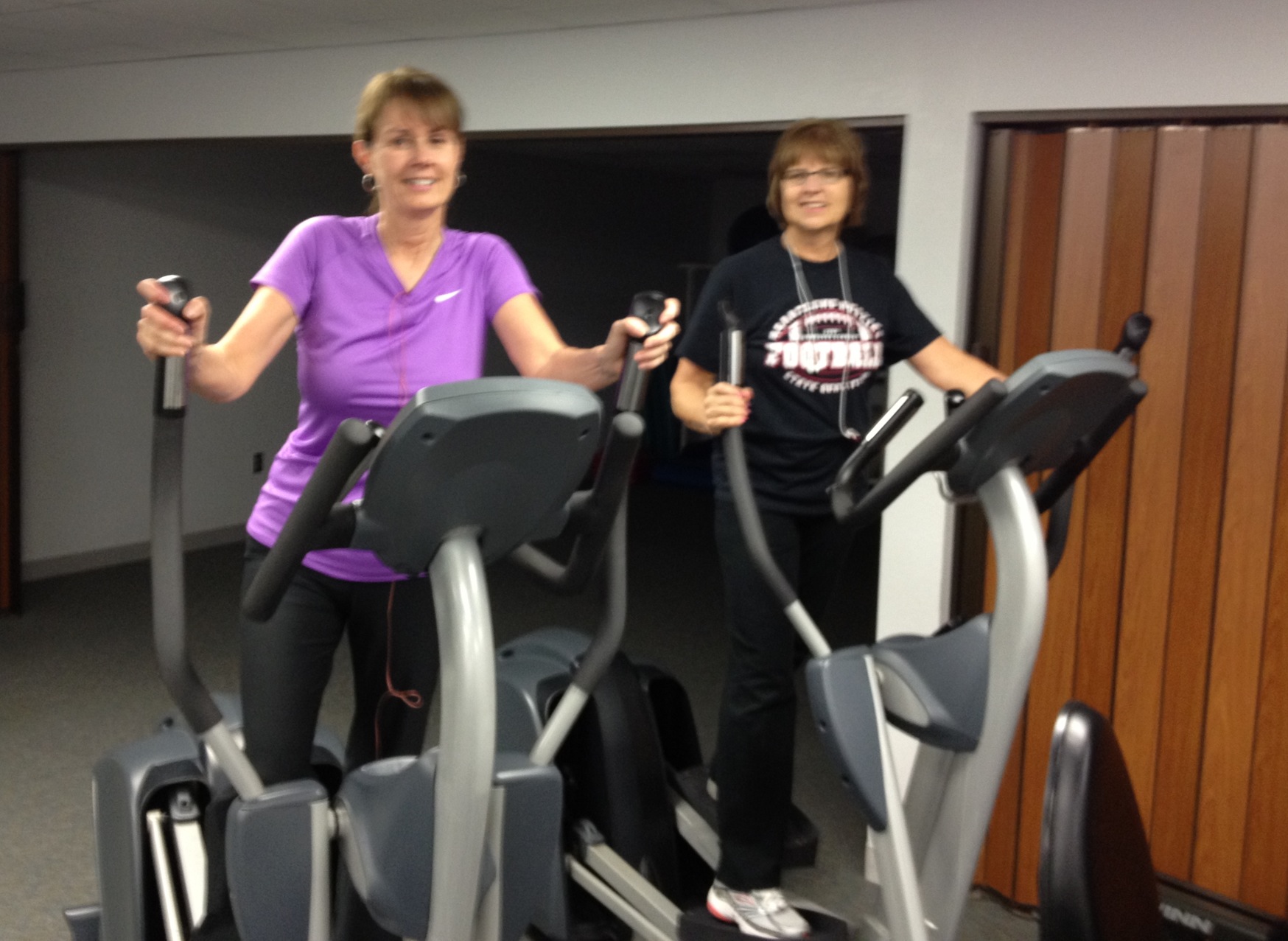 It's that time of year when many of us are seeing the visible results of taking in more calories than we burn. We can blame it on the weather conditions, time of year, lack of motivation and more excuses than I have room to list. But I want to encourage you that living in Henderson with our many amenities, there are ways to escape those winter blues and get fit!
For starters, go check out the Henderson Health Care Wellness Center located in the basement of the clinic. There is no enrollment fee and the membership rates are very reasonable with discounts for 3, 6 and 12 month memberships. Lowell and I joined for the first time this year and have found a great environment for working out. The social part of the Wellness Center has also been a surprise for me. It can be motivating to meet up with friends while working out making the time fly!
There are five treadmills, a variety of exercise bikes and two elliptical machines along with few small trampoline for kids too. I especially like the free weights and weight machine that have provided a challenge to my normal workout routine. Weight resistance training is important for women in keeping their bones strong. Hours are 5 A.M. – 11 P.M. seven days a week and depending on when you workout there are usually plenty of machines available.
If you're into techno gadgets a great App I use is iMapMyRide. You can log all your workouts, view your routes, elevation, pace, calories burned and time elapsed. Due to the mild winter I recorded walking 9 holes at Galaway Creek in January and logged in around 2.5 miles. So if you enjoy keeping stats and are motivated by viewing in real-time what you are doing, I would recommend this App. There is also a social network included with iMapMyRide that allows you to connect with friends and share your workouts.
My first choice is to walk outside but due to winter conditions that is not always possible or safe. Kudos to the City of Henderson for their policy of keeping the Lakeview walk path open whenever they clear the streets of snow. During the winter, Lakeview Park offers some great options for ice skating, sledding and cross-country skiing. This year is one of the few winters that I haven't been able to skate the lake but what a great workout when the ice is good. Ice thickness should generally be around 4 inches before skating is safe.
Just because we live in Nebraska doesn't mean you can't ski. The snow the past few weeks has provided some great skiing conditions around the lake and the varied terrain of the park makes for a challenging workout. Waxless cross country skis are easy to use and anyone can learn the simple technique for cross-country skiing and really get a good cardio workout. I just heard that a Zumba (Latin inspired dance fitness) class is being offered in Henderson on Mondays at 5:30 P.M. and has already filled up for the first 6 week session. Joni Huebert, a certified Zumba instructor from Aurora, is conducting these classes at the Henderson State Bank basement.
So don't be afraid to think outside the box this winter and try something new in your workout routine. Where we live and winter are no excuses for not being active and taking advantage of what our community has to offer. Go out there and "Get Fit!"
Shannon Siebert
Comments
comments
Powered by Facebook Comments