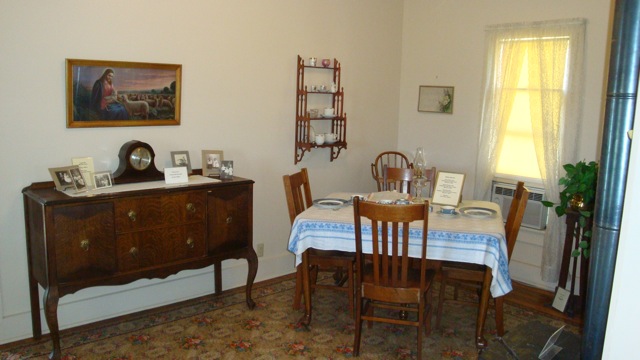 Need a new "dining" experience? Or maybe you want to have a small intimate dinner with friends or family in a restored turn of the century home. Henderson Heritage & Tourism is pleased to announce that their Farmhouse located at the Henderson Mennonite Heritage Park will be available for small group dining.
The Farmhouse was one of the first buildings moved to the Heritage Park. It was originally located on South Main Street in Henderson and was built by Klaus K. Friesen.  Frank and Tina Dick were the last residents of the home before they sold it to Bill Harris.  It was Tina's wish that the house be relocated at the Heritage Park and after Harris donated it to the park, she generously gave the funds for the moving costs. It has been restored as close as possible to its original state from what pictures and information was available by the committee volunteers.
It was first opened up for viewing in December 2004 and since then has been filled with furniture and antiques to fit its turn of the century style. Henderson Heritage & Tourism would like to further expand its use by opening it up for catered dining. It will be available for evening meals Monday – Friday and on Sunday afternoon for light lunch or Faspa. Seating will be available for groups of 6 – 12. Meals will be provided by local caterers and pricing will vary according to menu choices. Email your reservations to Leanna Kroeker at gkroeker@mainstaycomm.net or call 402-723-4807 after 5 P.M. on week days.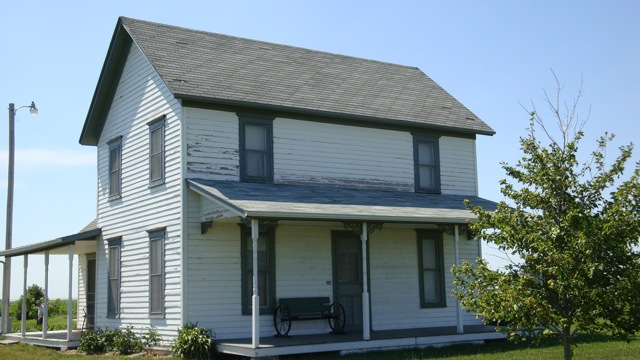 Comments
comments
Powered by Facebook Comments