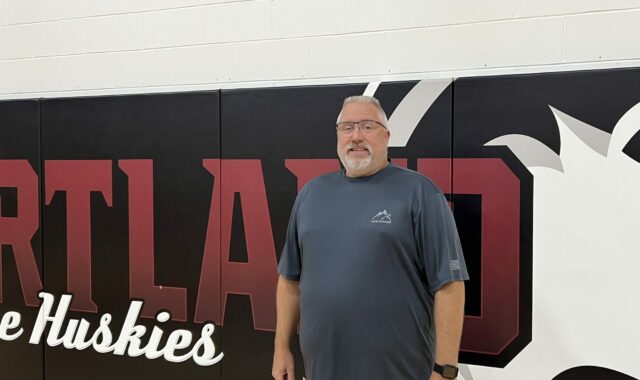 "We are excited about getting going this year. This team has a great attitude, work ethic, and excellent upperclass leadership," said Coach Wetjen about this season's Heartland Huskie girls' basketball team.
Coach Eric Wetjen will be coaching the girl's basketball team again this year. This is his second successive season to be coaching the girls' basketball program, but he's no stranger to coaching both the girls' and boy's teams as the head coach and assisting.
He came to Heartland in 2002 and first coached the girls' team for six seasons. He's had many stints off and on, coaching both basketball teams and assisting in track and football.  The girls' team lost four seniors from last year and hopes to improve their 3-17 record from last season.
This year's seniors include Allie Boehr, Hayden Mierau, and Reese Regier, who all have plenty of varsity experience to help lead their team, said Wetjen. "We have a fair amount of girls this year with game experience since we rotated in so many last year, which is definitely a bonus."  
Juniors Mia Hiebner and Emersyn Oswald will be rotating in as point guards. Their last season's varsity experience will definitely be helpful this year, according to Wetjen. Returning starters Allie Boehr (center) and Hayden Mierau (forward) will be a plus for this year's team as well.
"We're not super tall, but our quickness will be a real asset this season," said Wetjen. He emphasized the need to be in great shape because, in December, it will be fast and furious with nine games on the schedule.
Their numbers are a bit down this year, with only 17 girls out this season. Other guards on the team are KatrinaMarie Epp, Isabel Johnson, and Hallie Tessman. Jamisen Klein and Reece Regier will play in the forward positions for the Huskies.
Their season opener is something new this year. On Thursday, November 30th, Heartland will host the Fairbury Jeffs. Practice began for the Huskies on Monday, November 13, so with the Thanksgiving break, they will be working hard to be ready to play a bit earlier than usual, said Wetjen. 
Assisting Coach Wetjen will be Paige Peters, a new elementary teacher this year from Bancroft, where she played basketball. Her father, Rodney Peters, was an outstanding athlete from Henderson and has been a successful basketball coach at Bancroft/Rosalee for many years.